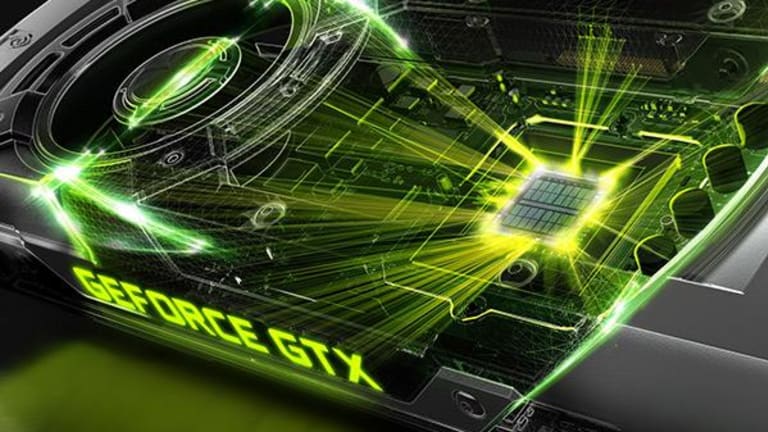 Nvidia Is the Key to the Stock Market Right Now, Jim Cramer Reveals
Get your notepad out.
What a week in the markets.
Jim Cramer: Seismic Grocery Deal Leaves Lots of Losers
How do you say game change? How do you say disruption? How do you say brand new world? I will tell you how to say it: Amazon to buy Whole Foods for $13 billion.
Today is a day that will live in infamy for everyone who sells food in this country. I don't care if you are Kroger  (KR) - Get Report or Walmart  (WMT) - Get Report or Target  (TGT) - Get Report or Costco  (COST) - Get Report or Supervalu  (SVU) or Dollars General  (DG) - Get Report and Tree  (DLTR) - Get Report or the recent German entrants, this purchase changes everything.
That's because Amazon  (AMZN) - Get Report , which has struggled with food, has found the Trojan horse in the industry and the Achilles heel all at once. It's a veritable Homer, or home run, judging by the price appreciation in the Seattle giant.
I don't think people realize how big this is. Amazon is like a mechanized army and air force fighting against the cavalry. This purchase, which will bring Amazon's non-union workforce and fabulous delivery system to food, will, in one fell swoop, do what it did to the mall. How do you compete against a non-unionized company that knows what you want and, with an Amazon Prime membership, will give away eggs or milk or soda and not even have to worry about what it does to the bottom line? That's what could happen here.
I know Whole Foods (WFM) only has some 400 stores around the country. But that's what it looks like now. Whole Foods had plans to expand to three times that in a few years' time, plans that were pretty much held up as the company struggled with growth and got sidetracked by a small-store format that didn't scale as it would like. Then it got bogged down by JANA Partners, an activist fund that militated for a sale and, yes, got one.
I know anyone in grocery was crushed by this today, and that makes sense, at least initially. It is that much of a disruption to have a company that wanted to clothe and entertain you decide that it now wants to feed you, too. The barriers to food were proving mighty difficult to Amazon because of the need to have to be fresh, something Walmart has bragged about endlessly.
Now it has a distribution system and a nameplate that can make it all happen and it happens for a pittance, a fraction of the market value it gained by making the acquisition.
Not only that, but this deal comes right on the heels of a truly dismal quarterly forecast from the biggest and the best in the industry, Kroger, which yesterday pretty much admitted it would have to compete on price because of all the new entrants in the field, including two German companies, Lidl and Aldi, that are committed to giving you the best for the least, a deadly combination for everyone else.
Of course, this move doesn't just roil the grocery stores. The suppliers have to be worried that Amazon can tell them how much they are going to pay for their goods. The food business is tough enough, who needs this aggravation?
So, let's deal with the winners and the losers here.
The first winner is, obviously, Amazon. It knows so much about you, it is so mechanized, that it can simply explode the model. You know what I hate about Whole Foods? The lines. But Amazon can perfect the cellphone payment system very quickly to eliminate the checkers, a principal cost of doing business.
At the same time, Whole Foods has had a very hard time dealing with loyalty programs and delivery. Amazon basically is one big loyalty program with the best interface and, at the same time, if it wants to it can harness Uber to do the food delivery -- Uber already has about $3 billion in delivery sales.
Next winner, obviously, the shareholders of Whole Foods. No reason not to hold on, by the way. There is no antitrust action -- it is a very fractured industry and the Justice Department won't spend much time on this while at the same time, who knows, maybe Walmart decides it has to buy it.
Other than that? No winners.
Losers? First, you have to start with the highly levered Supervalu, which is in no shape to compete whatsoever. It's only a $3 stock. No thanks.
Next is Kroger, which has a unionized workforce and is already struggling with deflation. I didn't know how Kroger could compete yesterday after that downbeat rap about all the other companies seeking to take share. Now it's even more uninvestible.
Then there's Target. This company's been struggling with food as it is. You have to wonder if it should even bother now, or if it can outsource food to Kroger like it did drugs to CVS (CVS) - Get Report . If I were Brian Cornell, the Target CEO, I would call Kroger today.
Suppliers to Whole Foods would be next, chiefly United Natural (UNFI) - Get Report , which does about of a third of its business with Whole Foods, but also Hain (HAIN) - Get Report , which is in SEC purgatory, not being able to issue its financials because of accounting issues. I don't think either can be owned right now. My doctrine says you can't own Hain anyway until the legal issues are behind it, even as I think it is on the verge of being resolved.
The dollar stores made a big bet on food not that long ago and I they've done well with it. Their stocks were initially crushed by this but I question how bad off they really are given that their shoppers probably have very little overlap with either Whole Foods or Amazon Prime. They are, however, up against a wounded Kroger. I can't think of a reason to buy them other than that they are cheap. That's not enough.
Costco? Tough call. They are hurt by food deflation and Amazon will bring food deflation galore. This is simply not good for them. Is 5% down enough to reflect that? Lots of analysts love Costco, so I would like to see if there are downgrades before I would wade back in, but it sure is tempting.
Walmart is the one that is most intriguing because it is doing so well. I think it can bounce back, but again, why not wait to see if there is negative chatter vs. defense? Walmart can deal with any sort of price pressure, it's just that numbers will have to come down if Amazon moves fast to take over this business.
In some ways, I feel it is too small to talk about individual stocks after this purchase. I feel like it is an industry that overnight has gone from being not so hot to being hideous. No, grocery stores will not go the way of Borders. I don't think they will even go the way of Barnes & Noble (BKS) - Get Report . But if Amazon automates and digitizes and uses it powerful artificial intelligence and knowledge of its customers, then the sheer ease and expense of it all will weigh mightily on this industry. The company is simply too destructive and disruptive. That's probably why the stock of Whole Foods has traded through the $42 price tag of the deal. Some people must think that someone, namely Walmart, comes in. I say even Walmart would end up bringing a knife to this gunfight with Amazon, but it is OK to hold on to because, again, there are no antitrust issues.
Most of the stocks have had a nice bounce-back from the misery of the morning. Somehow I believe many will see those levels again. So be cautious. The revolution is here. Amazon's desire to clothe and feed and entertain every American will be realized. And if you are fighting this tank with horses, you will get slaughtered.
Action Alerts PLUS, which Jim Cramer co-manages as a charitable trust, has no positions in the stocks mentioned.
Originally published June 16 at 1:38 p.m. EST
Jim Cramer: Here's the Key to This Market 
This money's floating around everywhere, but the place to watch is the battleground of Nvidia (NVDA) - Get Report . First, the stock didn't break down through its low of last week.
Second, the negative hit job on it this morning from a brokerage was from a guy who has been dead wrong for ages.
Third, Nvidia's end markets are all very strong.
All I can say is that Kroger (KR) - Get Report and its negative commentary may have driven money away from retail, which is back on the hot seat.
Watch Nvidia.
It's the key to this market.
Nvidia shares rose 3.7% to $157.21 at Monday's close.
Action Alerts PLUS, which Jim Cramer co-manages as a charitable trust, has no positions in the stocks mentioned.
Originally published June 15 at 11:42 a.m. EST
Read More Trending Articles:
Tesla Could Explode to Record Highs As Company Reportedly Comes Closer to Making Cars In China
Costco Sees an Extremely Damaging Flush In Aftermath of Amazon's Big Whole Foods Deal
Intel Just Got Smoked By AMD In the Race to Unleash a Super Chip
McDonald's Joins 5 Other Mega Brands In Ditching the Olympics
Action Alerts PLUS, which Jim Cramer co-manages as a charitable trust, has no positions in the stocks mentioned.