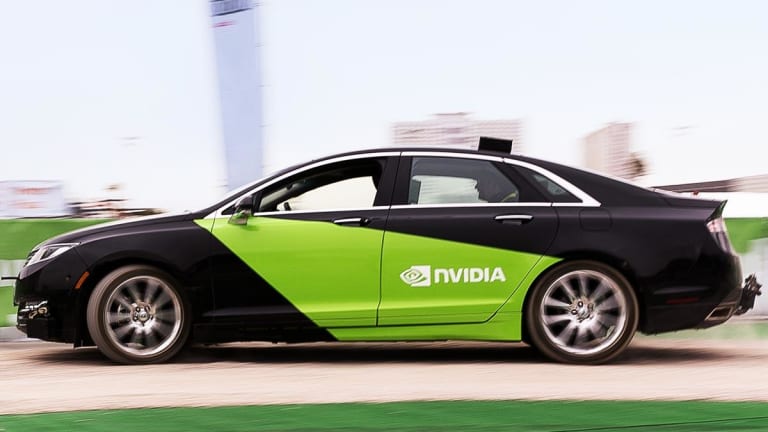 Nvidia Is Still Blowing Away Technology Industry Rivals
Wall Street darling Nvidia continues to be the name to beat in many areas of the tech market. Here's a quick reminder into the company's dominance.
Don't fret Nvidia (NVDA) - Get NVIDIA Corporation Report bulls, the surging chip giant remains well ahead of rivals even if the recent stock action suggests otherwise.
Nvidia shares have trailed the Nasdaq Composite undefined since late June as investors book profits ahead of second quarter earnings on Aug. 16. Remember, Nvidia saw a mixed response to its strong first quarter results back in May. At the time, investors called out some weakness in the auto chip business and in chips used in cryptocurrency mining to head for the hills.
Shares went onto nicely recover, until the latest bout of relative under-performance.
But given the company's widening competitive advantages in the chip space, it will be hard for investors to stay away from Nvidia for too long.  
"We see many reasons to maintain our 2-year-old bullish thesis on Nvidia," says Arthur Wood analyst Jeff Johnston. "They are the leader in some of the fastest growing areas in tech and should continue to be so for the next several quarters. Additionally, they are well positioned to maintain/grow their dominant market share position in their legacy markets."
Here is what Johnston's research is saying about Nvidia right now. 
Datacenter 
It's all about competitive advantages with Nvidia.
"Our checks indicate that Nvidia enjoys a 12-18 month lead in the burgeoning AI/deep learning datacenter market, and as time goes on, the exit barriers for Nvidia's customers to adopt alternative solutions will only go up. This competitive advantage is rooted in the stability of NVDA's platform, their extensive libraries, and the flexibility offered to developers," Johnston says.
Amazon's (AMZN) - Get Amazon.com Inc. Report blowout second quarter should also excite Nvidia fans.
"Our checks during the July quarter revealed strength in Nvidia's Datacenter business with Amazon. The strength is primarily driven by AWS' (Amazon Web Services) new cloud platform dubbed the EC2 P3 Instances which uses Nvidia's industry-leading Volta GPU.  
Adds Johnston, "This is a big deal and cannot be underestimated as there is a significant shortage of AI engineers in the market. Therefore, by streamlining the development process Amazon - with Nvidia's help - is using technology to expand development capacity which will further entrench Nvidia into the AWS ecosystem."
Gaming
In the gaming chip market, Johnston says Nvidia's upcoming Volta-based product could expand the company's "dominant" market share position.
Says Johnston, "There have been reports about a buildup of GPU inventory in the channel and that some of Nvidia's customers have canceled orders. We are not picking up any such concerns about inventory levels, and the recent price movement seems to have more to do with product transitioning type pricing versus clearing an unexpected amount of excess inventory."
Cramer is also upbeat on Amazon, this is why.