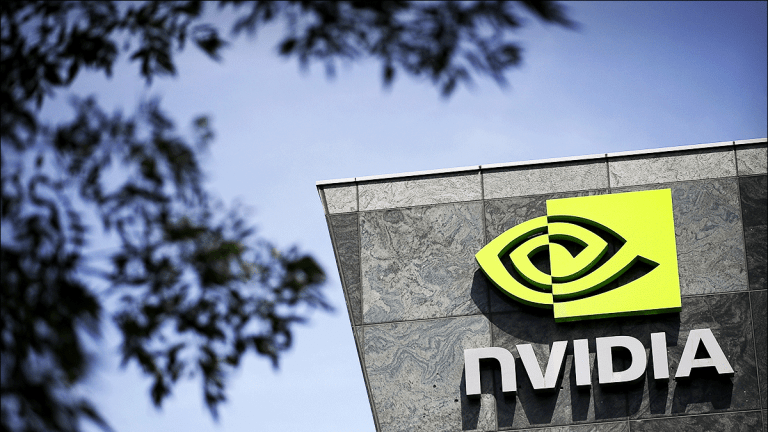 Publish date:
Nvidia Gains After Forecasting a Second-Half Rebound: 5 Key Takeaways
The graphics chip giant's quarterly sales guidance was light, but its full-year outlook implies demand will improve meaningfully later in the year.
The graphics chip giant's quarterly sales guidance was light, but its full-year outlook implies demand will improve meaningfully later in the year.
Nvidia (NVDA) - Get Report rallied post-earnings with the help of a full-year outlook that suggests revenue will meaningfully rebound later this year.
On Thursday afternoon, Nvidia reported January quarter (fiscal fourth quarter) revenue of $2.21 billion (down 24% annually) and non-GAAP EPS of $0.80 (down 53%). Revenue was in line with the guidance Nvidia issued in its Jan. 28th warning; EPS beat a $0.77 consensus.
Nvidia also guided for April quarter revenue of $2.2 billion, plus or minus 2%. That implies a 31% annual drop at the midpoint and -- with the qualifier that investor expectations appear to have been lower than this -- is below a $2.32 billion consensus.
Notably, in spite of its April quarter outlook, Nvidia is forecasting that revenue for its fiscal 2020 year, which ends in Jan. 2020, will be flat or down slightly. That compares favorably with a consensus for revenue to drop by about $500 million annually to $11.2 billion.
Nvidia rose 5.3% in after-hours trading to $163.30 thanks to the numbers. Shares have made new 2019 highs, but are still down 43% from a fall peak of $292.76. GPU archrival AMD (AMD) - Get Report , which in January also issued a light quarterly outlook and healthier full-year outlook, rose 1.6% to $23.50.
Here are some notable takeaways from Nvidia's report and call.
1. Gaming GPU Sales Plunged, But Nvidia Expects a Second-Half Pickup
Nvidia's Gaming segment revenue, which covers sales of gaming GPUs and console processors, fell 46% sequentially and 45% annually to $954 million. The company repeated that a mid-range GPU inventory overhang that followed a plunge in demand from crypto miners (or perhaps former crypto miners at this point) weighed on sales, and so did lower console processor sales, Chinese macro pressures and softer-than-expected sales of high-end, Turing-architecture GPUs.
But Nvidia expects its fiscal 2020 Gaming revenue to only fall slightly, though next quarter gaming sales are expected to remain soft as remaining excess channel inventory gets cleared.
The company sees strong demand for notebook gaming GPUs -- which are not affected by the crypto overhang -- helping. It also expects demand for Turing GPUs overall to pick up as more games supporting Turing's real-time ray tracing and AI inference capabilities become available. The reviews provided this week for ray-tracing's impact on the visuals provided by first-person shooter Metro Exodus, one of the first games to support ray-tracing, were generally quite positive.
2. Slower Cloud Demand Is Weighing on Server GPU Sales
After recording over 50% growth in prior quarters, Nvidia's Datacenter segment, which covers sales of server GPUs and hardware, grew just 12% annually (and fell 14% sequentially) to $679 million. CFO Colette Kress called the Datacenter slowdown a broad-based one that was impacted by macro uncertainty. But she added that Nvidia saw several major cloud customers pause their orders towards the end of its fiscal year. That's in line with the outlooks given by Intel (INTC) - Get Report and several other cloud suppliers. (The cloud customers make heavy use of Nvidia's GPUs within their AI/deep learning training systems.) 
However, also in line with the outlooks given by other suppliers, Kress and CEO Jensen Huang insisted that the cloud spending pause is a temporary one, and that demand will pick up as cloud giants keep growing their AI-related investments. The fact that cloud spending on data center construction remains high is an encouraging sign.
Huang also insisted that competition isn't weighing on Nvidia's Datacenter sales, as some cloud giants deploy ASICs for certain AI workloads and AMD sees its server GPU sales grow from a much smaller base. And he declared several times that Nvidia has four new growth drivers for its Datacenter business: deep learning inference workloads (currently accounting for less than 10% of data-center revenue); the use of GPUs for server-side graphics rendering (driven by Turing); the adoption of GPU acceleration for data science and standard machine learning workloads (this is enabled by Nvidia's new RAPIDS software platform); and the sale of pre-configured hardware systems that contain Nvidia's GPUs to enterprises.
3. Workstation and Automotive Sales Remain Healthy
Nvidia's professional visualization (workstation GPU) sales rose 15% to $293 million. Kress noted new applications in fields such as data science, AI and VR content creation were driving growth, as was demand for thin-and-light workstations.
Automotive revenue rose 23% to $163 million, something that was attributed to "adoption of next-generation AI cockpit solutions and autonomous vehicle development deals," partly offset by lower infotainment processor sales. Nvidia has been de-emphasizing its infotainment business as it pursues opportunities involving autonomous and semi-autonomous driving systems. Volvo cars featuring an Nvidia-powered, Level 2-plus, driver-assistance system are expected to enter volume production in early 2020.
4. Spending Growth Is Expected to Slow
Thanks in large part to strong R&D spending growth, Nvidia's adjusted operating expenses rose 24% annually in the fourth quarter and 27% over the whole of fiscal 2019. But operating expenses are expected to be flat sequentially in the first quarter of fiscal 2020 and grow by only a high-single digit percentage over the whole of fiscal 2020.
5. Buybacks Are Picking Up
Three months after adding $7 billion to its stock buyback authorization, Nvidia disclosed it spent $700 million on buybacks. The company also repeated a prior goal of spending $3 billion on buybacks and dividends by the end of fiscal 2020 (that implies fiscal 2020 spending of $2.3 billion).
With Nvidia possessing $5.4 billion in net cash (cash minus debt) and still expected to produce $3.4 billion in free cash flow this fiscal year, the company has ample room to further step up its buyback activity if it wishes.
TheStreet's Eric Jhonsa previously covered Nvidia's earnings report and call through a live blog.