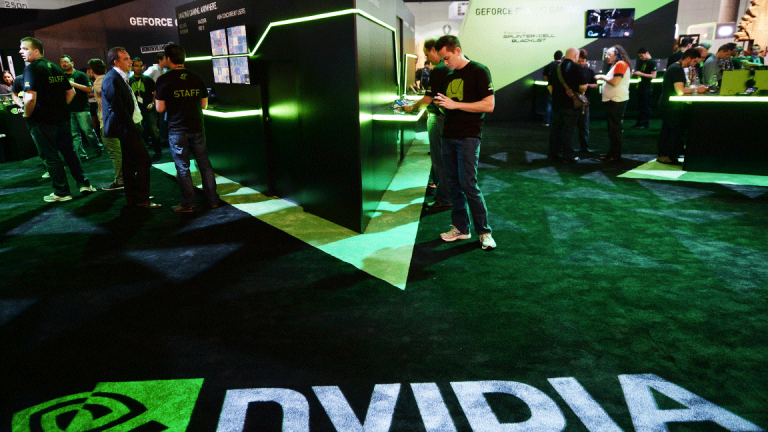 Nvidia's Cautious Outlook Causes Investors to Take Bite Out of Chip Sector
Nvidia warned that quarterly revenues would fall short of expectations due to weaker-than-expected demand amid slowing economic growth in China.
Nvidia Inc.'s (NVDA) - Get Report weak fourth-quarter revenue guidance took a toll on all chipmakers Monday morning, sending the entire sector tumbling sharply. 
Nvidia plunged roughly 13% Monday morning and took rivals down with it. Advanced Micro Devices Inc. (AMD) - Get Report , which like Nvidia makes GPUs, dropped 8.3%, while Micron Technology Inc. (MU) - Get Report shares were down 2.3%, Intel Corp. (INTC) - Get Report fell 1.5%, Qualcomm Inc. (QCOM) - Get Report declined 1.5%, NXP Semiconductors (NXPI) - Get Report fell 1.4%, Qorvo Inc (QRVO) - Get Report fell 0.8%, and Broadcom Corp. (AVGO) - Get Report fell 2.2%. The Philadelphia Semiconductor Index was down 2.2% on Monday.
Before the market open on Monday, Nvidia announced that sales for the three months ending on January 27, its fiscal fourth quarter, would come in at $2.2 billion, compared to earlier guidance of $2.7 billion, due to weaker-than-expected demand for its gaming and datacenter products. It attributed the weaker demand to slowing economic growth, particularly in China. 
The company also said GAAP and non-GAAP margins would be hit by charges of around $120 million, adding that a number of deals for its Turing graphics chips failed to close over the final months of the year because of customers waiting for lower prices.
"Q4 was an extraordinary, unusually turbulent, and disappointing quarter," said CEO Jensen Huang. "Looking forward, we are confident in our strategies and growth drivers."The foundation of our business is strong and more evident than ever -- the accelerated computing model Nvidia pioneered is the best path forward to serve the world's insatiable computing needs."
"The markets we are creating -- gaming, design, HPC, AI and autonomous vehicles -- are important, growing and will be very large," Huang added. "We have excellent strategic positions in all of them."