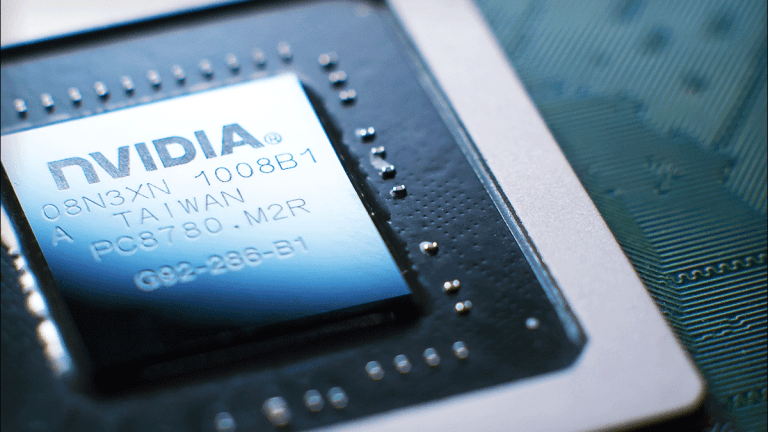 Nvidia Is Back in Top Form and Its Shares Are Too Cheap to Be Ignored for Long
Investors' under-reaction to Thursday's strong results represents a buying opportunity.
Nvidia (NVDA) - Get Report  is having a terrific year thus far, up 54% compared with the S&P 500 (SPY) - Get Report which is up 25%. What about Nvidia's crypto hangover? It's nothing but a distant memory now.
Nvidia's Q3 2020 results demonstrate that it is in great shape having firmly turned a corner on last year's performance, with strong cash flows and a cheap valuation. Nvidia is a great bargain opportunity and here's why:
Muted Market Reaction? No Problem!
Nvidia's Q3 2020 beat the on the top-line and bottom-line of its consensus, yet investors underreacted with shares wavering after-hours on Thursday and flat on Friday in pre-market trading. Why? Arguably because investors wanted more in the way of positive surprises, given the strong performance Nvidia's stock has had thus far during 2019.
But if this time last year investors were waking up with a massive sell-off, Nvidia today shows that this management team's ability to execute is first class.
The All-Important Guidance
Nvida's Q4 2020 guidance does not include Mellanox's acquisition, which is expected to complete in early calendar 2020.
As the graph above highlights, Nvidia's revenue growth rates are once again unstoppable. It clearly reminds investors that Nvidia has put its troubles in the rear-view mirror.
Furthermore, if the top-line prospects look good, the one standout item this quarter was its free cash flows which were a record high of $1.5 billion compared with just close to $340 million in the same period a year ago.
Having said that, digging through Nvidia's cash flows statement, it shows that Nvidia is benefiting from its previously written-off inventory that is supporting this quarter's strong cash flows. 
Looking Forward
During Nvidia's earnings call, CEO Jensen Huang proclaimed that Nvidia's ray tracing capabilities are unmatched with those in the industry, going as far as to call Nvidia's RTX graphics card a "home run."
One blemish on Nvidia's Q3 2020 results was that its automotive unit is not picking up as much momentum as many in the investment community had hoped for. When Huang was questioned about this on the call, he retorted that he remains highly confident of its potential. He then highlighted that there will be some nascent developments in late 2020 and early 2021, but that these will start in earnest in 2022.
Valuation - Large Margin of Safety
The above table requires some interpretation. Superficially, it appears that Nvidia's P/Sales ratio trades at a large premium to that of its peers. However, this is simply a function of Nvidia's revenues converting to cash flows at such a high margin.
Similarly, it appears that Nvidia's P/cash flows from operations ratio of approximately 31x is not in the bargain basement -- and this is would be a fair comment. However, it should be noted that not only does Nvidia require minimal amounts of capital expenditure, evidenced by it only amounting to $350 million in first nine months of this year, and $600 million in the last two years. In other words, Nvidia is incredibly asset-light.
How does Nvidia spend so little on capital expenditure, yet manage to grow at such a strong clip? Because, as Huang argues, Nvidia today is becoming more of a software company.
Moreover, Huang believes that having the world's best GPU is only the starting point. Nvidia's key competitive advantage is having the right software platform to enable artificial intelligence, data analytics, health care, robotics or self-driving cars to operate in an ever-increasing software-rich environment.
The Bottom Line
Nvidia has a lot of potential, and although it is not priced in the bargain bin, it has plenty of runway ahead to reward long-term patient shareholders. Readers should react to investors' under reaction.
Nvidia is a holding in Jim Cramer'sAction Alerts PLUS Charitable Trust Portfolio. Want to be alerted before Cramer buys or sells NVDA? Learn more now.
The author is long NVDA.