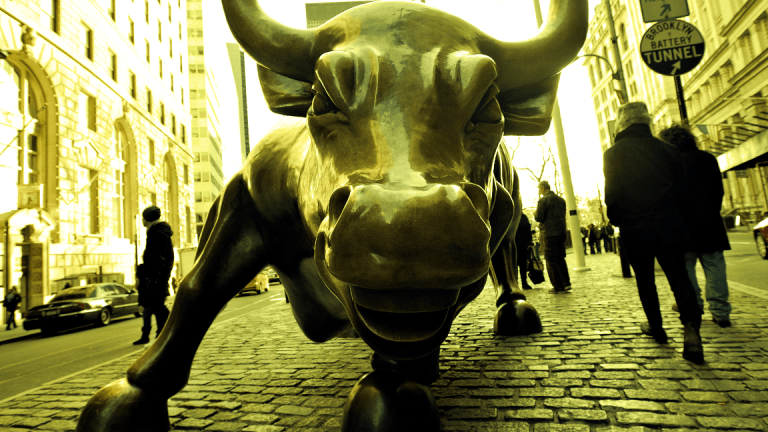 Nvidia, Amazon and Some 20 Other Great Stocks to Buy in August
These are the names for investors to consider in what will likely be a volatile August.
All is not so wonderful on Wall Street as we start August.
Yes, we got news in July's waning days that U.S. gross domestic product rose 4.1% during the second quarter -- a pace unseen since 2014, and not very common since I was a much younger man. But the 800-pound gorilla in the room remains America's trade dispute with China and the fight over U.S. intellectual-property rights.
President Trump has threatened to move beyond his initial tariffs of 25% on $50 billion of Chinese imports to a 10% tariff on every single good that China sends us. Does the apparent agreement by Trump and European Commission President Jean-Claude Juncker on U.S.-European trade prompt Chinese President Xi Jinping to come to the negotiating table?
Or, does the U.S.-EC agreement to rework the multilateral World Trade Organization agreement possibly mean that the two will line up together against China? (Washington and Brussels share many of the same gripes against Beijing.)
Lastly, the idea of renegotiating the North American Free Trade Agreement between the United States, Canada and Mexico remains very much unresolved as we enter August. However, Mexican President-Elect Andres Manuel Lopez Obrador does at least seem to be able to get along with Trump far better than Obrador's predecessor did.
How am I playing all of this? Well, I'm running with 63 open positions as I write this -- 64 if you count cash. Let's run through some of them by sector:
Banks
I'm still long Citigroup (C) - Get Report , Goldman Sachs (GS) - Get Report and JPMorgan Chase (JPM) - Get Report . Jim Cramer's Action Alerts PLUS member club is also bullish on all three names.
I thought about cutting back exposure when my June thesis on banks rallying following successful government "stress tests" failed. But fortunately, I read my fellow columnist Doug Kass' viewpoint on the subject and added to all three of these stocks near to their recent lows.
All three subsequently performed very well in July. (Thanks, Doug!)
What one community banking CEO told TheStreet about Trump's tariffs. 
Defense
This sector had been great one for me for some time, but turned into quicksand toward July's end. I've been forced to manage risk in both Northrop Grumman (NOC) - Get Report and Raytheon (RTN) - Get Report  using options (call options on Northrup and put options on Raytheon). Plus, I bought more shares of each at what turned out to be more or less a bottom (at least so far).
Raytheon is holding in Action Alerts PLUS.
I paid for all of that by selling my stake in General Dynamics (GD) - Get Report on its late-July strength. Elsewhere in the segment, Boeing (BA) - Get Report , Lockheed Martin (LMT) - Get Report and Kratos Defense & Securities Solutions (KTOS) - Get Report have all held up well for me.
Boeing CEO Dennis Muilenburg told TheStreet he is bullish on defense spending. 
Energy
My thinking about the energy sector evolved after listening July's earnings call from Schlumberger (SLB) - Get Report , and now I prefer exploration-and-production companies over oil-services firms.
Schlumberger CEO Pall Kibsgaard's supply-side thesis convinced me that West Texas Intermediate will eventually hit $80 a barrel. As a result, I remain long not only Schlumberger, but also BP Inc. (BP) - Get Report , ExxonMobil (XOM) - Get Report , Halliburton (HAL) - Get Report and Royal Dutch Shell (RDS.A) .
BP and Schlumberger are holdings in Action Alerts PLUS.
Industrials
I'm back in General Electric (GE) - Get Report , but there's a lot of hair on that one. Still, the risk/reward ratio favors a small upside. I was also able to sell both puts and calls on the name at favorable premiums. so my basis is below $12 vs. the $13.63 the stock closed at on Tuesday.
GE's Chief Financial Officer Jamie Miller told TheStreet an analyst day is coming up.
Technology
The semiconductor stocks remain a big, China-related question mark going forward, but the world goes nowhere without semis these days.
That's why I'm still long on Intel (INTC) - Get Report , KLA-Tencor (KLAC) - Get Report , Lam Research (LRCX) - Get Report , Micron Technology (MU) - Get Report and Nvidia (NVDA) - Get Report . Although all of these positions are smaller than they used to be, I've also started to rebuild my semiconductor exposure in select spots.
Elsewhere in tech, I still like gamer stocks like Activision Blizzard (ATVI) - Get Report and Ubisoft (UBSFY) . I'm also still enamored with my software/cloud plays -- Adobe (ADBE) - Get Report , Microsoft (MSFT) - Get Report , Salesforce.com (CRM) - Get Report , Spotify Technology (SPOT) - Get Report , and of course, FANG component Amazon (AMZN) - Get Report .
Speaking of the FANGs, I went flat on my short of Netflix in response to its earnings report. I also reduced my long of Alphabet (GOOGL) - Get Report on earnings results as well. Both moves helped me gloss over mistakes made elsewhere.
As for Facebook (FB) - Get Report , I took a pass on its post-earnings tumble last week. I was going to sell some deep-out-of-the-money short-expiration options on both sides ahead of the social-media giant's earnings report. However, I was unexpectedly stuck doing a live TV interview just as the closing bell rang and couldn't make the trade. Unfortunately, that would have netted me some light revenue.
Nvidia, Microsoft, Salesforce, Amazon, Alphabet and Facebook are holdings in Action Alerts PLUS.
At the time of publication, Guilfoyle was long JPM, C, GS, BA, KTOS, LMT, NOC, RTN, XOM, RDS.A, BP, SLB, HAL, LRCX, KLAC, NVDA, INTC, MU, ATVI, UBSFY, ADBE, CRM, MSFT, SPOT, AMZN, GOOGL and GE stock, as well as GE and NOC call options. He was also short MU call options and put options on ADBE, BP, GE, JPM and RTN, although positions may change at any time.