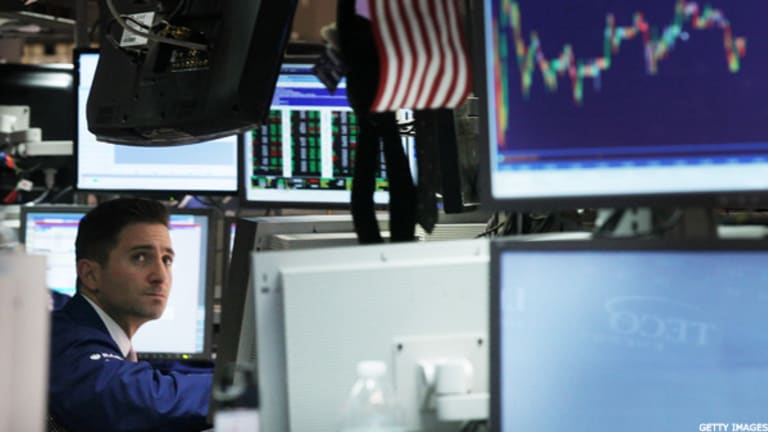 NVDA, LABD, TWM: Rev Shark's Views
Rev Shark steps in for Jim Cramer this week and shares his views on the three factors that will drive market action in 2017.
Jim Cramer shares his views every day on RealMoney. Click here for a real-time look at his insights and musings.
Dip Buying Wanes at Year's End
Posted at 11:24 a.m. EDT on Wednesday, Dec. 28, 2016

One of the big dangers near the end of the year is that the Santa Claus rally action tends to create some complacency. Traders can become downright euphoric over some of the action and can be caught by surprise when a swift reversal occurs. A good example of that is NVIDA (NVDA) - Get Free Report , which had an upgrade and a gap-up at this morning's open only to drop several percentage points.
NVDA isn't the only thing acting poorly. Nothing that performed well Tuesday has managed any decent follow-through. Northern Dynasty Minerals (NAK) - Get Free Report , which led small-caps yesterday, never managed to make it into positive territory Wednesday.
At this time of year, we don't have dip buying working in the same way. There is a much greater tendency to sell and not rush to re-enter. There are wash-sale issues, and also many market players are looking to start the year with a clean slate. I know I am psychologically inclined to hold very little into the new year simply because I like the idea of a fresh start in the new year.
The good news is that this shake-out should give us some setups, but the bad news is that the last few days of the year are more about positioning than charts or fundamentals. I'd be much more inclined to do some dip-buying right now if it wasn't the end of the year this weekend.
A couple of names on my radar are AK Steel (AKS) - Get Free Report , which was looking ready to break out this morning before the market reversal. Sino-Global Shipping America (SINO) - Get Free Report had an interesting news item this morning, and I'll be watching to see if it can regain the early session highs. I have some S&P Biotech Bear 3X (LABD) - Get Free Report and ProShares UltraShort Russell 2000 ETF (TWM) - Get Free Report and may add if we don't see some bounce soon, but this is not a market that is going to be very easy with volume so thin.
At the time of publication, Rev Shark was long AKS, SINO, LABD and TWM, although positions may change at any time.
Action Alerts PLUS, which Cramer co-manages as a charitable trust, has no positions in the stocks mentioned.
Rev's Forum: 3 Factors That Will Drive the Market Action in 2017
Posted at 7:45 a.m. EDT on Thursday, Dec. 30, 2016

"Predicting rain doesn't count. Building arks does."
-- Warren Buffett
We are kicking off the last day of the year with a positive start, but extremely thin trading caused some unusual action in currencies overnight and the likelihood is that we will have some random action today.
This is the time of the year when market pundits roll out their market predictions. Although no one is very good at it, the business media likes the easy headlines and fills up some space during the slow holiday period.
I purposely forego making major market predictions, as I believe it creates mental and psychological biases that can impact the way I manage my trades. I want to freely admit I don't know what will happen in 2017, so that I will be ready to react to whatever may develop.
Nonetheless, I do find it helpful to contemplate the major factors that are likely to drive the action in the year ahead. We can react faster and more aggressively if we are watching for the early signs of a major shift in the market.
There are three factors that are going to determine what happens to the market in the year ahead: the central banks, the business cycle and politics. Those are pretty general ideas, but we have to keep them in mind as we navigate the market action.
Central banks have been the primary factor driving this market since the Great Recession. Nothing has mattered more than low interest rates. It is now becoming clear that the days of endless accommodation are slowing. We still have bankers in Asia and Europe pressing to keep rates lower, but they are running out of ammunition. In the U.S., the Fed is clearly signaling that it has started to slowly increase rates and the bond market has reacted swiftly.
The bears have always believed that it would be the central banks that ended the long running uptrend. The old saying about not fighting the Fed worked very well to the upside; now the question is whether it will work to the downside.
The other factor that will have a huge impact on the market in 2017 is the business cycle. We have experienced one of the slowest, but longest cycle recoveries over the past eight years. It has been low interest rates rather than economic growth that has driven the recovery and now we have to wonder if growth can finally accelerate to the point that has been anticipated for many years.
Barack Obama had the great fortune to be elected at the very bottom of the business cycle. There likely would have been a better economy over the past eight years simply because of the natural business cycle. We can debate whether or not his policies aided the cycle or hurt it, but there is no question that the cyclical nature of economics drove the action and now we are at a late point in the cycle.
That brings us to politics. Many pundits believe that the presidency of Donald Trump will be the most important factor driving the market in 2017. While the Trump administration has the ability to prolong the positive business cycle, there is much that is not under its control. Tax and trade policies will have some impact, but the business cycle and monetary issues are far more powerful.
While I'm optimistic about a better business and economic environment under President Trump, I'm concerned that the business cycle and the lack of support from central banks will keep the market contained.
As always, there will be great market opportunities. We really don't need to know where the indices will be, a year from now. We need to recognize that there will be some major themes and trends during the year, and if we embrace them in a timely manner we will do well.
At the time of publication, Rev Shark had no positions in the stocks mentioned.
Action Alerts PLUS, which Cramer co-manages as a charitable trust, had no positions in the stocks mentioned.
Action Alerts PLUS, which Cramer co-manages as a charitable trust, has no positions in the stocks mentioned.