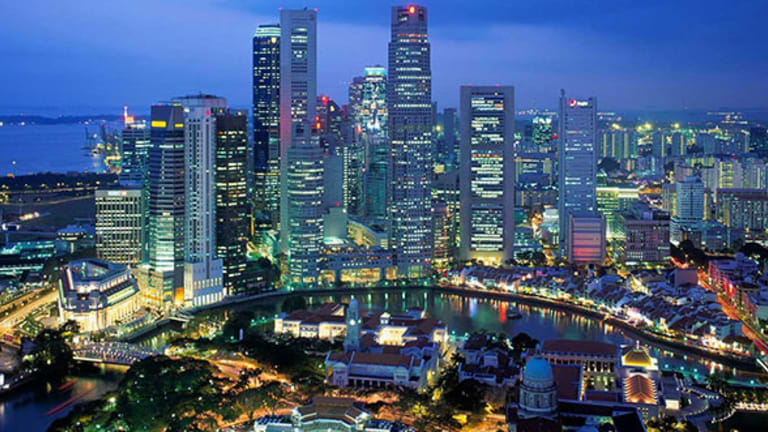 nuTonomy Unveils Driverless Cab Service Test in Singapore
The trial is designed to demonstrate how a driverless cab would operate in an urban environment.
nuTonomy, a small driverless car and ride-sharing startup founded by two Massachusetts Institute of Technology researchers, has begun testing its vehicles in Singapore's "one north" district.
The trial is designed to demonstrate how a driverless cab would operate in an urban environment. It's one of several ventures announced during the past year in a field that continues to attract new entrants determined to upset conventional models of personal transportation.
In the first stage of the test, nuTonomy is employing human driver/engineers to sit behind the wheel to take control of the vehicles, if necessary. Customers are able to hail a ride via smartphone. The six-vehicle fleet includes battery-powered Renault Zoe and Mitsubishi iMiev models.
Singapore's one north district is a 2.5-square-mile area of mixed commercial and residential buildings.
Singapore has been promoting advanced mobility startups to find ways of easing crowding and transportation problems. On Aug. 1, Delphi Automotive  (DLPH) said it will launch a similar self-driving ride-hailing taxi service in the nation as soon as next year. Meanwhile, Volvo cars and ride-sharing service Uber will start tests of driverless cabs in Pittsburgh before the end of this year.
"When you are able to take that many cars off the road, it creates a lot of possibilities. You can create smaller roads, you can create much smaller car parks," said Doug Parker, nuTonomy's chief operating officer. "I think it will change how people interact with the city going forward."
The startup was co-founded by MIT researchers Dr. Karl Iagnemma, chief executive officer, and Prof. Emilio Frazzoli, chief technical officer.
In May, nuTonomy announced completion of a $16 million Series A funding round led by Highland Capital Partners, which included what the company called "significant participation" by prior investors Fontinalis Partners and Signal Ventures. The round also included investment from the Singapore Economic Development Board and Samsung Ventures.
Fontinalis reported is backed by Bill Ford Jr., executive chairman and a major shareholder of the Ford Motor  (F) .
All of the world's major vehicle manufacturers have accelerated research and planning efforts to engage self-driving technology, especially for cities where private ownership and operation of vehicles is increasingly impractical and uneconomic.
How much of the technology automakers will develop on their own and how much will be created by suppliers is unclear: This week Delphi and Mobileye  (MBLY) , an Israeli software maker, announced they will collaborate to offer a "turnkey" driverless system that could be purchased by any automaker. The two companies said they will demonstrate the system at next January's Consumer Electronics Show in Las Vegas and will offer the system for sale in 2019.
Doron Levin is the host of "In the Driver Seat," broadcast on SiriusXM Insight 121, Saturday at noon, encore Sunday at 9 a.m.
This article is commentary by an independent contributor. At the time of publication, the author held no positions in the stocks mentioned.