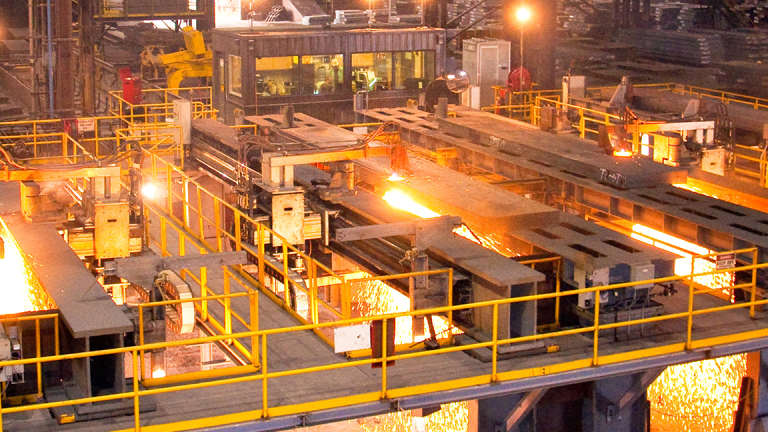 Nucor Shares Retreat Despite Nearly Doubling Q2 Earnings
Nucor reports earnings on the first day of the auto tariffs hearing at the U.S. Commerce Department, as Europe Union retaliates against foreign steel.
It's an interesting day for Nucor to report earnings, just as the trade war is going to a new level.
Nucor Corporation (NUE)  retreated 1.4% to $64.67 on Thursday, despite nearly doubling revenue and earnings on steel mill product groups and in the wake of European Commission imposed tariffs on foreign steel inflows announced in the morning.
Nucor reported second quarter earnings of $2.13 per share on Thursday morning on $683.2 million in revenue, beating consensus estimates of $2.09 per share and the second highest quarterly earnings in company history, according to the results.
"The primary driver of the improved performance was our steel mills segment, which experienced higher average selling prices and increased profitability across all steel mill product groups, with the strongest profitability increase at our sheet mills," Chief Executive Officer John Ferriola said in a statement Thursday morning.
Analyst sentiment predicted Nucor to set the pace for similar steel manufacturers after the company pre-announced favorable second quarter earnings would almost double from the first quarter from $1.10 per share on $354.2 million consolidated net revenue to between $2.05 to $2.10 per share.
Reported second quarter revenue was $6.5 billion, topping slightly the consensus estimate of $6.46 billion.
Thursday is a stormy day for Nucor's earnings results.
In Washington, D.C. on Thursday, auto manufacturers, dealers and other were expected to push back against proposed tariffs on imported cars at the start of the two-day public hearings of the U.S. Trade Commission. The body is considering whether foreign car imports harm U.S. national security.
The NYSE Arca Steel Index has risen 1.1% in yesterday's trading, as many steel producers face increasing pressures in escalating global trade war.
Also on Thursday, European Union is introducing tariffs of 25% on U.S. steel and aluminum imports. The tariffs will only apply to amounts in excess of the average of the last three years. The tariffs are a direct response to measures enacted by President Donald Trump's trade commission in June of 25% on imported steel and 10% on aluminum. The European measures apply to 23 steel product categories.
In the long term, the steel names could prove resilient, according to analysts.
Still, steel and downstream stocks could be a relatively robust area of the metals market where lower near term base metal prices and higher near term domestic metal prices might hurt earnings, says Goldman Sachs equity analyst Matthew Korn wrote in a note last week.
Korn raised his domestic steel price projections 2H18 to an average of $855/ton HRC vs $920/ton spot and $659/ton rebar vs $698/ton spot price.
Morgan Stanley analyst Piyush Sood wrote that executives from the steel industry expected a stable outlook for steel prices through the fall and then some seasonally related weakness in the fourth quarter.
Nucor is part of Jim Cramer's Action Alerts PLUS member club.