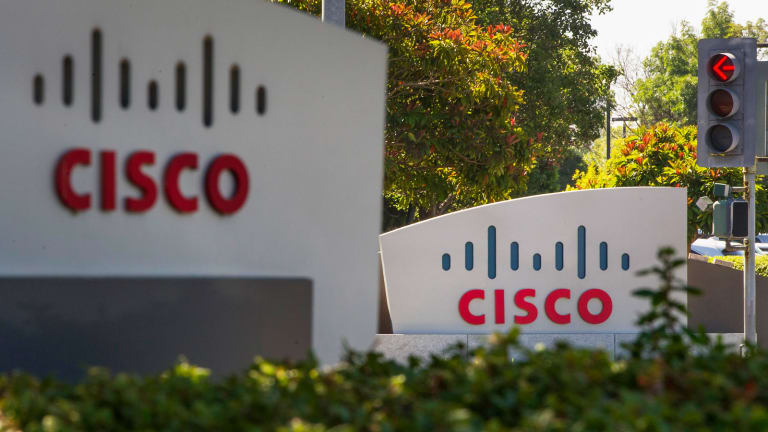 Want to Buy Cisco? Now Is Your Opportunity
Investors looking to participate in bargain-priced Cisco will struggle to find a better opportunity than right now.
The past 12 months had been great for Cisco Systems  (CSCO) , with its share price up more than 15% vs its Nasdaq benchmark, which was unchanged over the same period. Then, Cisco delivered earnings after hours on Wednesday that delivered surprisingly dim outlooks.
Given the shaky market overall, realistically, traders will be looking to lock in gains. Cisco's solid cash flows, share repurchases, and dividends make it an attractive stock to invest in when it dips.
Unimpressive Outlooks Shock Investors
The network equipment maker's guidance for its fiscal first quarter pointed toward 1% growth on the top-line.
While Cisco's deferred revenue (a leading words indicator) was down 6% from the same period a year ago, Cisco Chief Financial Officer Kelly Kramer reminded investors that Cisco's adoption of ASC 606 meant that Cisco wrote off $2.8 billion from its deferred revenue at the start of the fiscal year. Analysts and investors should actually look toward its remaining performance obligations, or RPO, which include both deferred revenue plus unbilled deferred and represents total committed non-cancelable future revenue, with a figure which stood at $25 billion in the fourth quarter of 2019.
Nonetheless, during an anxious market where investors are concerned about a potential slowdown in the economy, anything less than stellar guidance is being met with negative investor sentiment, seen in Cisco's 7% selloff after-hours on Wednesday.
Getting Some Perspective: Growth Rate
As the graph above reminds investors, Cisco's growth rates have a history of being slightly volatile. However, this hasn't stopped Cisco from being a consistently strong cash-generating machine.
During Cisco's Q&A on its earnings call, Kramer guided investors for patience, noting that once the company gets over its 2020 fiscal first quarter, first-half revenue in 2020 should pick up once again.
Shareholder Capital Returns: Share Repurchases and Dividends
Cisco's balance sheet carries approximately $33 billion of cash and equivalents, offset by about $25 billion of debt. Thus, on balance, Cisco has a net cash position of $8 billion, leaving it with plenty of flexibility and dry powder.
Looking back to the same period a year ago, Cisco carried $35 billion of debt and Cisco's management was then determined to bring down its debt to a more manageable load before considering what was its best means for releasing pent-up shareholder value.
Consequently, given its strong balance sheet, together with its consistently strong cash flows, management felt that a careful balance between dividends and a share repurchase program was its best strategy going forward. To that end, Cisco will be deploying approximately 50% of its free cash flow toward dividends and opportunistic share buybacks.
Valuation - Reasonably Valued
As the table above shows, Cisco's current P/Sales multiple had expanded slightly of late. For example, including Cisco's after-hours selloff, investors are being asked to pay up close to 4.2 times its trailing revenue, which comes across as a premium valuation compared with what investors were previously paying, on average, over the last five years.
However, when weighing up the fact that Cisco has been extremely disciplined in bringing down its net debt position over the past five years, together with the fact that Cisco's profits margins are industry-leading, it makes sense to pay up for quality.
The Bottom Line
Cisco's share price saw a selloff in what was already a very shaky week for investors. Given Cisco's strong market share, together with its terrific management, investors looking to participate in bargain-priced Cisco will struggle to find a better opportunity than right now.
Cisco is a holding in Jim Cramer's Action Alerts PLUS member club. Want to be alerted before Jim Cramer buys or sells CSCO? Learn more now.
Watch Today's Jim Cramer LIVE Replay:Jim Cramer on Recession Fears: 'Dial Back the Hysteria'
Michael has no positions in any stocks mentioned.