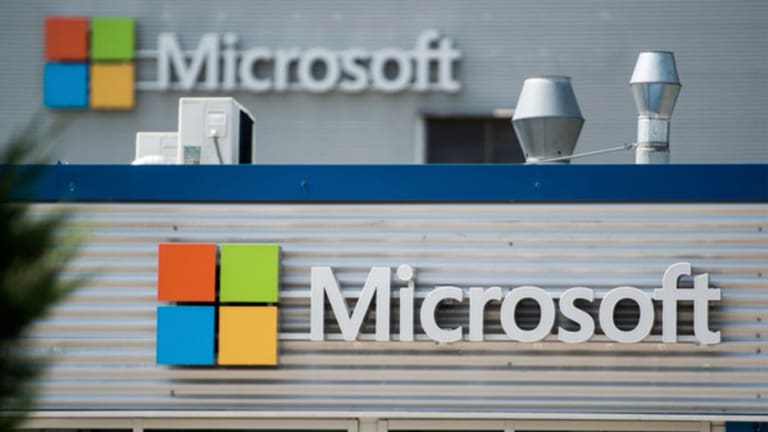 Publish date:
Now Is a Good Time to Buy Microsoft
The tech giant has made some wise acquisitions, and its expanding cloud services business is likely to benefit the company.
The tech giant has made some wise acquisitions, and its expanding cloud services business is likely to benefit the company.
Microsoft (MSFT) - Get Microsoft Corporation (MSFT) Report is one of those great stories that never get old.
Microsoft built a powerhouse business in the personal computing operating system space courtesy of its Windows line of products, but it has since diversified into new territories by buying Skype and now LinkedIn, creating the Xbox game console and exploring digital services with MSN and Bing.
Now the next frontier is the cloud. Growth in this space is slated to drive the stock upward even beyond the 11% gains Microsoft recorded in July. It's a stock to buy. Shares fell slightly in Friday trading. 
Microsoft's stock, which has been beating its software peers and the S&P Total Return Index for three consecutive calendar years, is perched near record highs.
The company looks different under its high-energy CEO Satya Nadella. That explains why investors are betting big on Microsoft once again.
Since becoming CEO, Nadella has changed how Microsoft looks and works. 
The focus on the cloud is paying off. Revenues for Azure, the company's enterprise cloud platform, increased by 102% in the fourth quarter, with double the computer usage year over year.
Azure is important if you're a Microsoft investor or are planning to become one. It's a growing collection of integrated cloud services -- analytics, computing, database, mobile, networking, storage and web.
In terms of market share, it is the second-largest player in the cloud infrastructure market, behind only Amazon Web Services (AWS).
Microsoft is investing over $15 billion in this area. Profitability should see a huge boost once the investment phase is over, and investors should take note of that.
Microsoft has smartly made itself the only vendor recognized as a leader across Gartner's Magic Quadrant for IaaS, PaaS, and SaaS solutions for enterprise cloud workloads.
This is massive and places Microsoft in a unique position in the booming cloud computing space. With Azure gaining currency, cloud infrastructure and services are seamlessly extending and interoperating with on-premises Microsoft infrastructure. In turn, this makes a powerful sales pitch for existing Microsoft clients, who want a solution for on-site IT and off-site cloud IT.
Rivals like VirtuStream (part of EMC, Rackspace, and VMware have been left behind.
Trading at a forward price-to-earnings (P/E) ratio of 18.5 times, Microsoft shares are certainly not expensive like Amazon (54.2 times). The company also offers a solid 2.4% dividend yield, backed by 12 straight years of rising payouts.
In another three years, this all-weather stock should be even higher than it is now.
---
85% Accurate Trader gives his Personal Guarantee:"Give Me 9 Minutes a Week and I Guarantee You $67,548 a Year."What if I told you I know a way you can see a $67,548 per year - or more - in profitable trades just by following this simple step-by-step process? The trader who is sharing this secret has been right more than 8 out of 10 times, turning $5,000 into more than $5 million for himself. Click here to see how easy it is to follow his lead and collect thousands of dollars in "Free Money" every month.
This article is commentary by an independent contributor. At the time of publication, the author held no positions in the stocks mentioned.