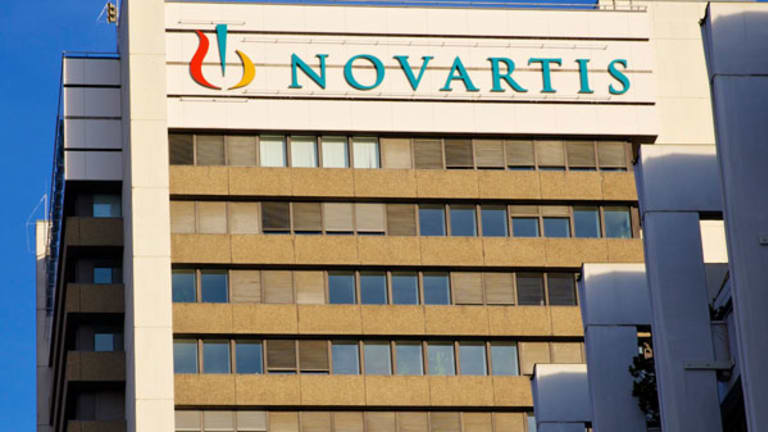 Publish date:
Novartis Beats Third-Quarter Earnings Forecasts on Growth Products, Cost Cuts
The group's blood cancer drug Gleevec also holds up better than expected against generic competition.
The group's blood cancer drug Gleevec also holds up better than expected against generic competition.
Swiss pharmaceuticals company Novartis (NVS) - Get Report said on Tuesday that growth from new drugs and cost cuts mitigated the impact of patent expiries, as it posted third-quarter earnings that beat forecasts.
The company, whose Gleevec blood cancer drug held up better than expected in the quarter amid a generic onslaught, also reiterated that full-year sales will be broadly stable on 2015, with operating profit potentially falling by a low single digit percentage, depending how much it invests in its new Entresto heart drug.
Novartis on Tuesday said third-quarter sales fell by 1% to just under $12.13 billion, while core operating profit fell 3% to about $3.38 billion. Core earnings per share also fell 3% to $1.23. The earnings measures came in 4% and 3%, respectively, above consensus expectations, while sales were in line with forecasts, noted Jefferies analysts.
"Novartis delivered a solid Q3 despite the Gleevec generic impact in the US, due to the strong performance of our growth products," said Novartis CEO Joseph Jimenez in a statement. "We are continuing to invest for the future, as we manage the Gleevec loss of exclusivity in 2016 and 2017."
The group said Entresto pulled in sales of $53 million in the quarter, up from $32 million in the second quarter, but below the $58 million of revenue analysts were expecting, according to Jefferies. Novartis reiterated that it expects full-year revenue of $200 million from the product.
Novartis in January announced plans to separate its cancer unit from the rest of the pharmaceuticals business along with the departure of head of pharmaceuticals, David Epstein.
The restructuring highlighted the importance of oncology to Novartis following the integration of the cancer drugs it acquired from GlaxoSmithKline (GSK) - Get Report as part of a near-$20 billion asset-swap last year in which Novartis handed the U.K. company its vaccines.
Oncology growth prospects for Novartis include Tafinlar + Mekinist, for metastatic melanoma, where sales rose 29% in constant currency  in the third quarter, Promacta/Revolade, which posted 44% growth, and Jakavi, with pulled in 47% more revenue than year earlier.
Novartis is also attempting to revive its flagging Alcon eyecare business. On January it said it would refine Alcon's focus to surgical and vision care, while moving ophthalmic drugs to its pharmaceuticals division. Quarterly Alcon sales fell 2% in dollar terms to $1.4 billion, weaker than expected. Sales from its Sandoz biotech unit also lagged expectations, falling 1% to $2.5 billion.
But the pharmaceuticals division, and even Gleevec, performed better than forecast. Gleevec sales of $834 million compared with forecasts of $738 million of revenue from the drug, Jefferies noted.
Novartis shares closed down 0.4% on Monday in Zurich at Sfr74.60. The stock has drifted down 14% in the past year.