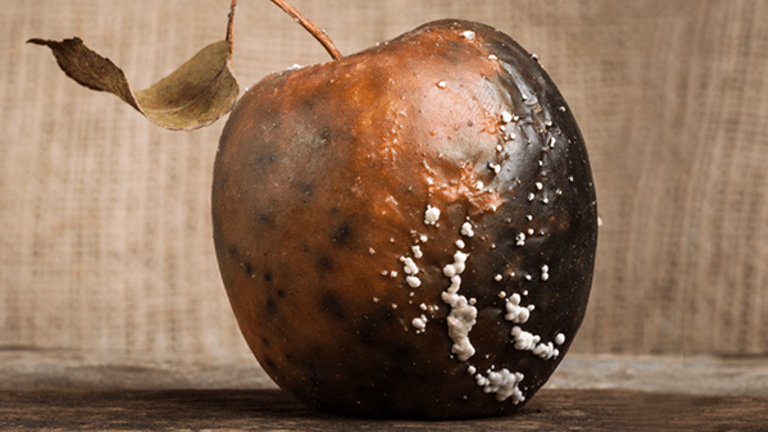 Apple Is a Sell, Doug Kass Reveals One Key Problem
Time to dump Apple.
Here are some of Doug Kass' top thoughts from the week.
Noticing the Negatives

While the bulls and passive investment vehicles (ETFs) and strategies (volatility trending and risk parity, etc.) have had their way with things, I see some negatives Wednesday:
* While good news is not yet being sold, it can be said that good news is not being bought (see Rev Shark).
* Though the DJIA is +265 points over the last five trading days (or so), the S&P Index is down. That is, a couple of stocks are supporting the senior index.
* The league-leading FANG is for sale.
* Banks have had a strong move, but a contained rise in interest rates, a relatively flat yield curve and a slowing domestic economy provide near-term headwinds.
* Transports have soured -- and that includes autos, planes and rails.
* The 10-year yield continues to tell a message about growth.
* A weakening auto market and a stretched housing market (in home price terms) do not augur well for domestic economic growth nor for cyclical stocks -- like 3M (MMM) - Get Report , which has been rolling over.
* The Russell Index is conspicuously weak against the other averages.
To be sure, there is nothing conclusive (regarding the lost momentum), but as Grandma Koufax used to say, "Dougie, from the acorn grew the tree."
Position: Short Amazon (AMZN) - Get Report small.
Originally published Aug. 2 at 2:35 p.m. EST
More of What's Trending on TheStreet:
An Admittedly Minority View of Apple
Apple Inc.'s (AAPL) - Get Report small top- and bottom-line beats due to better iPad unit sales, expanding service revenue, mix improvement to iPhone 7 Plus, steady installed base growth and higher gross margins (up 44 basis points relative to expectations) and operating margins (up 61 basis points compared to estimates) were eclipsed by strong guidance for the September quarter (in the range of $49 billion to $52 billion versus an estimated $49 billion).
I believe the shares of Apple are fully priced, at best, as I think the earnings growth rate for the company is less than the consensus views it.
But mine continues to be a minority view.
Position: Short AAPL small.
Watch More with TheStreet:
5 Ways Companies Are Using AI to Secretly Change Your Life
Around the World in 5 Insane Pizza Hut Pizzas
Tesla's Elon Musk Is All Jokes as the Model 3 Accelerates into "Production Hell"

Doug Kass fills his blog on RealMoney every day with his up-to-the-minute reactions to what's happening in the market and his legendary ahead-of-the-crowd ideas. This week he blogged on:
How to notice the negatives.
How to have an admittedly minority view of Apple.
Click here for information on RealMoney, where you can see all the blogs, including Doug Kass'--and reader comments--in real time.
Action Alerts PLUS, which Jim Cramer manages as a charitable trust, is long AAPL.