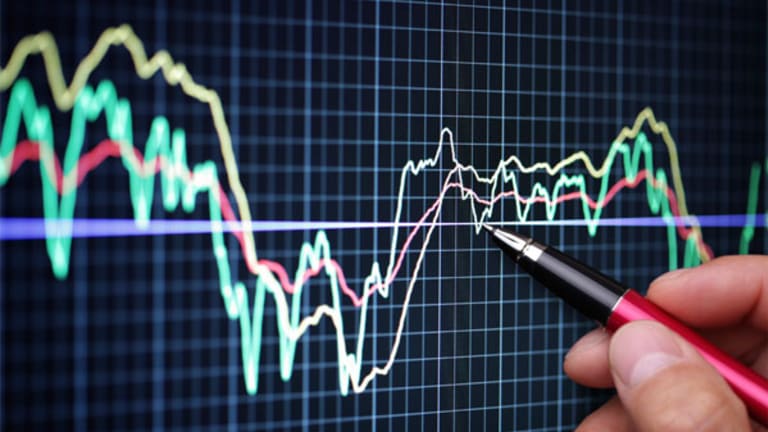 Not Mae West; Recent Activities: Best of Kass
In highlights from this week's trading diary and posts, Kass discusses Mae West and his latest trading activities.
Doug Kass fills his blog on RealMoney every day with his up-to-the-minute reactions to what's happening in the market and his legendary ahead-of-the-crowd ideas. This week he blogged on:
How Kass is totally not like Mae West in stocks and bonds.
How Kass has been trading lately.
Click here for information on RealMoney, where you can see all the blogs, including Doug Kass'--and reader comments--in real time.
I'm the Polar Opposite of Mae West When It Comes to Stocks and Bonds
Originally published June 23 at 9:03 a.m. EST
"I only like two kinds of men, domestic and imported."
-- Mae West
When I was a "yute" in this investing game, I was told that lower oil prices would be a boon to the consumer and retail activity as well as a spur to economic growth.
Now, with the price of crude oil dropping to new multimonth lows and apparently mired in the $40-to-$50 range for quite a while going forward, another quiver in the "short bonds" arrow has been put in place.
While I believe the risk/reward is about 3 to 1 or 4 to 1 negative for equities, it is my view that over the intermediate term the risk/reward is something like 6 to 1 or even 8 to 1 negative on bonds.
I am negative on both stocks and bonds and at the polar opposite to Mae West, who only liked two types of men -- domestic and imported (see quote above).
I have added to my iShares 20+ Year Treasury Bond ETF (TLT) short in each of the past 10 trading days
Position: None.
My Trading and Investing Activity in Thursday's Session
Originally published June 23 at 8:04 a.m. EST
The terra is getting less firma.
From my perch, the market is growing more fragmented and unpredictable. Leadership is narrowing, new highs are moderating and volume is declining.
I would reduce time frames and raise cash to larger-than-normal levels. Though I am living in the ursine world, most should not short unless you are very disciplined.
Besides travelling I spent most of Thursday adding to my large net short exposure by virtue of more individual shorts and the reduction of some longs.
There were some buys, however: I added to Twitter  (TWTR) and established a new long in Dillard's  (DDS) , which I placed on my Best Ideas List and which managed a $2 advance in the trading session. (Nordstrom  (JWN) also leaped ahead Thursday). I continue to increase the size of my Energy Select Sector SPDR (XLE) investment.
Importantly, I reduced Allergan (AGN) back down to tag ends after its $33 rise in a few short weeks. I hope I can replace the stock I sold at lower levels. AGN remains on my Best Ideas List and is my favorite large-cap long for 2017.
I re-established a small long in ProShares UltraPro Short QQQ (SQQQ) .
My bottom line is that, in S&P terms, the market holds about 3.5 times more downside than upside--an unfavorable reward v. risk.
Position: Long TWTR large, AGN small, JWN, DDS, XLE, SDS large, SDS calls, SQQQ small; short SPY.
Action Alerts PLUS, which Cramer manages as a charitable trust, is long AGN.