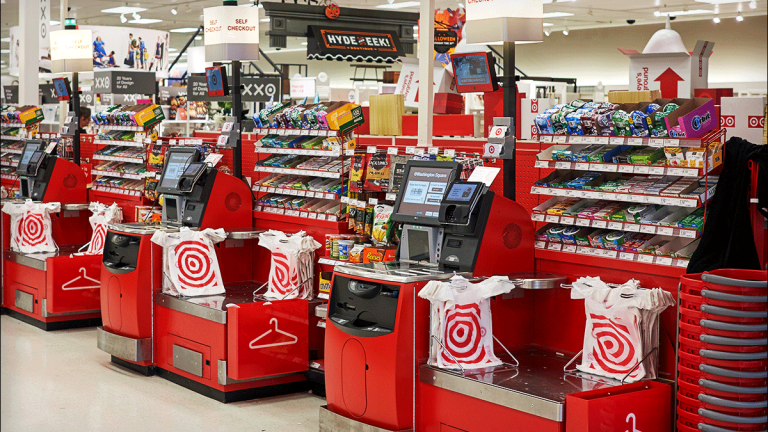 Riding the Retail-Stock Roller Coaster? Hang On and Read On
We've seen a bevy of big-box retail earnings results in recent weeks. Let's take a look at the good, the bad and the ugly.
It's been an up-and-down earnings season for retail names. What's a whipsawed retail-stock investor to do?
No. 1 Wal-Mart (WMT) - Get Report set the tone with a solid report, signaling strong consumer sentiment and sending its shares up a few percent. A week later Target (TGT) - Get Report knocked its Q3 report out of the park, beating on the top and bottom lines and pushing its shares up more than 14% to records.
Target, though, came a day after Kohl's (KSS) - Get Report  reported weaker guidance, sparking a 19% selloff in the name.
In the past week we've seen both Home Depot (HD) - Get Report and Lowe's (LOW) - Get Report post similar reports, though Home Depot fell some 4% in response to lowered guidance while its rival's shares popped more than 5% because it raised its expectations for 2019.
And most recently Macy's (M) - Get Report reported its Q3 results, including a top-line miss and a bottom-line beat, causing its stock to fall roughly 2% on top of its double-digit selloff earlier in the week.  
Now that the post-earnings dust has settled a bit, it's time to take a look at the valuations in the retail space to see whether investors should be adding names to their holiday-stock-shopping lists.
Wal-Mart
Wal-Mart beat Q3 expectations on the top and bottom lines. The Bentonville, Ark., company posted revenue of $128 billion in the quarter, up 2.5% year-over-year. Earnings came in at $1.16 a share, up 7.4%. U.S. same-store sales grew 3.2%, also beating Wall Street expectations of 3.1%.
Wal-Mart's transaction volumes were up 1.3% from a year earlier, and average ticket size grew 1.9%. The brick-and-mortar giant also continued its digital growth, with e-commerce sales coming in 41% higher than they did in the year-earlier quarter.
And the company increased its fiscal 2020 earnings-per-share guidance slightly, posting expectations of high-single-digit growth.
All this data pushed Wal-Mart shares to all-time highs while its trailing-12-month price-to-earnings multiple has expanded as well.
Wal-Mart shares are up 31% in 2019 to date, pushing up the stock's p/e multiple to near 24 times. You have to go back to the mid-2000s to find Wal-Mart trading at such a high premium.
Wal-Mart has proved that it can compete well with Amazon (AMZN) - Get Report and its growth outlook remains bright, though the stock appears overbought at current levels.
Target
Target saw the biggest upward move in response to earnings, popping in response to its top and bottom-line beat. Target beat expectations with 4.5% same-store sales growth as well.
Gross margins fattened 1.1 percentage points to 29.8%. And digital sales rose 31%, now accounting for roughly 7.5% of the company's total sales pie. Management also raised guidance, with the midpoint of the new 2020 fiscal range coming in at $6.35.
Even after Target's double-digit rally, the Minneapolis company's shares are priced relatively cheaply at 20 times earnings. Target shares have nearly doubled year to date, but even after all of this momentum, they're still cheaper than Wal-Mart's.
And not only are Target shares carrying a lower multiple, they also offer better growth prospects. With this in mind, Bank of America Merrill Lynch raised its price target for shares to $150, citing the success of the company's same-day-delivery program as well as improved foot-traffic trends.
Macy's
The iconic department-store name's Q3 included $5.17 billion in sales, down 4.3% year over year, and seven cents a share of adjusted earnings. The EPS figure beat analysts' expectations of a loss of 1 cent a share, yet it was still weaker than the earnings of 27 cents a share Macy's generated a year earlier.
Macy's management attributed the results to the late arrival of cold weather, continued tourism issues, and weaker-than-expected low-tier mall performance.
The Cincinnati company's fiscal 2020 outlook wasn't much brighter, as management reduced its sales outlook to a drop of 2% to 2.5%. Macy's also reduced its 2020 earnings outlook by roughly 9.5% at the midpoint of the current guidance range.
Same store sales were down 3.5% in the quarter and a substantial turnaround isn't in sight.  This, on top of news that the company disclosed an October data breach, continues to pressure the bulls.  
The market acknowledges this outlook with the 5 times price-to-earnings premium that it has applied to Macy's. For years, this company's market cap has slumped below the expected value of its real estate holdings. In other words, the market is placing a negative value on the retail operations.
Macy's shares were selling for nearly $70 in 2015 before the e-commerce onslaught began. Today, they're trading for less than $15.
The one silver lining of this selloff is that contrarian investors brave enough to buy Macy's today receive more than a 10% dividend yield.
This yield alone has the potential to result in strong returns from here, though the market wouldn't have let the yield creep so high if it wasn't concerned that the dividend was safe.
Being that Macy's is having a really hard time growing its bottom line, the dividend-sustainability fears appear well placed. To me, it looks like a dividend cut is in order here, so buyer beware.
Kohl's
Kohl's has been the biggest Q3 loser in the retail space thus far.
The Q3 data weren't terrible: The company returned to positive same-store-sales growth in 2019, posting 0.4%. Management remained positive on the coming holiday shopping season and seemed really excited about the partnership with Amazon (AMZN) - Get Report .
The Menomonee, Wis., retailer beat revenue expectations for the quarter, but this wasn't enough to persuade the market to overlook the disappointing full-year guidance. Management lowered its 2019 estimate to the $4.75-$4.95 range, which implies roughly negative 14% performance year-over-year.
Analysts currently expect a drop in earnings per share in 2020 and 2021. Kohl's multiple fell to 9 times trailing-12-month earnings, where they've found support several times in the past couple of years.
This company has yet to prove that it can ultimately compete in this new digital retail environment, but at this 9-times level investors are presented with an interesting risk/reward balance.
Kohl's also pays a 5.7% dividend, giving bullish shareholders a reason to stick around.
As with Macy's, though, I wouldn't call Kohl's a sleep-well-at-night-type of company for income-oriented investors. I wouldn't be totally surprised to see management cut the dividend in the near term if they can't turn the bottom line around.
Home Improvement 
When it comes to the home-improvement space, the share-price movement was interesting.
Head to head, the reports appeared to give Home Depot a better quarter than Lowe's. Home Depot's U.S. same-store sales increased 3.8%, versus Lowe's 3% print. Home Depot's gross margin was 34.5% compared with Lowe's 32.4% result.
Both companies are guiding for 2% revenue growth in 2020. Home Depot expects to see same-store sales grow 3.5% next year while Lowe's estimates 3%. But although the operating results were fairly similar, the share prices of these two companies moved in opposite directions. 
Home Depot is down more than 8% from recent highs whereas Lowe's has rallied roughly 3.5% since it reported Q3 results. These moves are due to market expectations. 
HD came into earnings season priced to perfection. The Atlanta company has been viewed as the best-in-breed name in the space for years now and the market has shown a willingness to pay a premium for shares.
Yet with the company lowering guidance on several fronts, the 23.5-times multiple couldn't hold. Today, Home Depot shares trade for roughly 22 times, closer to its long-term average of around 21 times. 
Lowe's, Mooresville, N.C., came into earnings season priced much lower, at roughly 20 times. After its Q3 pop, Lowe's shares are trading at 21.3 times trailing-12-month figures, significantly narrowing the valuation gap.
Both names appear fully priced, though they continue to offer some of the best bottom-line and dividend-growth metrics in the retail space.
Amazon, Home Depot and Kohl's are holdings in Jim Cramer's Action Alerts PLUS Charitable Trust Portfolio. Want to be alerted before Cramer buys or sells these stocks? Learn more now.
Nicholas Ward is long Home Depot, Lowes, and Amazon.