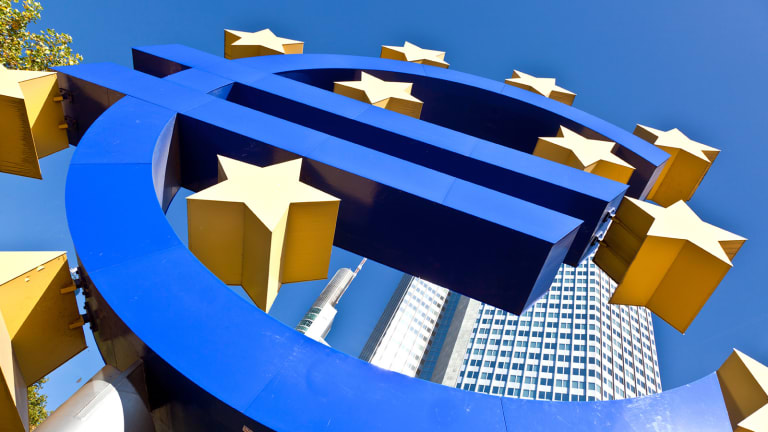 Not All European Stock Indices Are Created Alike
Some are more liquid and open than others, says Matteo Andreetto, CEO of STOXX.
Not all European stock indices -- or the ETFs based off them - are created alike. Some are more liquid and open than others, said Matteo Andreetto, CEO of STOXX.

"The Euro STOXX 50 is not only based on rules and is very transparent, but also is the underlying of the most liquid futures instrument in Europe, the Euro STOXX 50 Futures which is listed on Deutsche Borse, our parent company," said Andreetto.

The EURO STOXX 50 Index provides a blue-chip representation of "super-sector" leaders in the Eurozone. The index covers 50 stocks from 12 Eurozone countries: Austria, Belgium, Finland, France, Germany, Greece, Ireland, Italy, Luxembourg, the Netherlands, Portugal and Spain.

The SPDR Euro STOXX 50 (FEZ) - Get SPDR EURO STOXX 50 ETF Report  is the exchange traded fund tracking the index. The fund is down 3% year-to-date. It's worth noting that in seeking to track the performance of the EURO STOXX 50 Index, the FEZ employs a sampling strategy, which means that the fund is not required to purchase all of the securities represented in the index. Among the stocks currently in the fund are Total SA (TOT) - Get Total SA Sponsored ADR Class B Report  at 5.4% of assets, Sanofi SA (SNY) - Get Sanofi Sponsored ADR Report , 4.3%, Bayer AG (BAYRY) - Get Bayer AG Report , 4.2%, and Anheuser-Busch Inbev (AHBIF)  at 4.16%.

STOXX also runs the Global Broad Infrastructure Index, which is made up of infrastructure stocks globally, ranging from AT&T (T) - Get AT&T Inc. Report  to the Canadian National Railway. This index is represented in ETF form by the FlexShares STOXX Global Broad Infrastructure ETF (NFRA) - Get FlexShares STOXX Global Broad Infrastructure Index Fund Report , which is up 7.5% thus far in 2016.

"There is a significant imbalance in infrastructure both in the developed world and in developing countries because infrastructure is an area where everybody wants to invest," said Andreetto. "So we combined conservative stocks like railroads with technology like AT&T provides."

Elsewhere, Andreetto said STOXX offers a range of indices, many of which are still unrepresented by ETFs. For example, the STOXX TRU U.S. 100 index has 100% exposure to U.S. revenue sources, unlike its S&P counterpart.  And STOXX has a comprehensive family of low carbon indices for environmentally conscious investors, although there are no ETFs based on them yet.