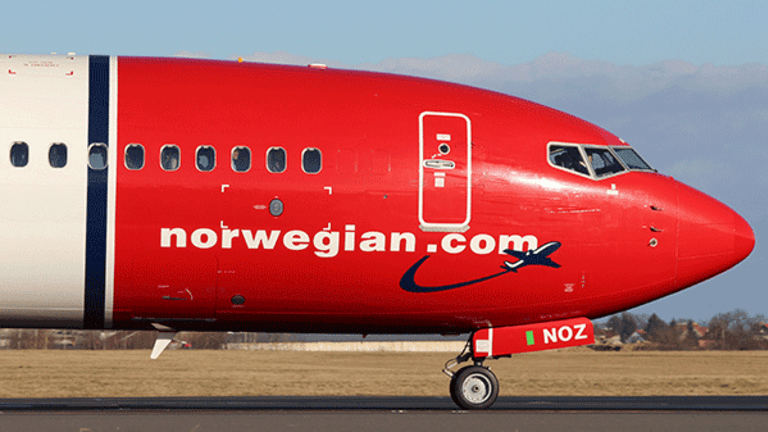 Norwegian Air Affiliate Signs Surprise Deal With IAM, the Biggest U.S. Airline Union
Norwegian Air Shuttle signs a labor deal with the IAM, the largest U.S. airline union, covering U.S. flight attendants at an affiliate, Norwegian Air International.
In a surprising step, the International Association of Machinists agreed to represent flight attendants at a U.S. affiliate of Norwegian Air. a Norwegian airline group that is shaking up trans-Atlantic travel with a low-cost model and a confusing array of affiliated companies including multiple airlines and a labor contractor and that had, until now, met with fierce resistance from the entire U.S. airline labor movement.
The IAM, the largest U.S. airline union, said late Wednesday that it has been recognized as the representative of the 40 U.S.-based flight attendants who will fly for Norwegian Air International, one of the affiliated companies.
Dublin, Ireland-based Norwegian Air International will begin trans-Atlantic service this summer from Stewart, N.Y. and Providence, R.I., with narrowbody Boeing 737 Max aircraft.
The startup of U.S. flight was delayed for three years while NAI awaited approval from the U.S. Transportation Department. That approval was opposed by the big three U.S. carriers and by labor unions who argued that incorporation in Ireland represented an effort to evade labor protections that would have remained in place for a Norway-based company.
IAM's deal is with OSM Short Haul, a contracting company that is 50% owned by Norwegian Air.
"We are delighted to welcome OSM-Short Haul flight attendants into the IAM family," said Sito Pantoja, IAM general vice president, in a prepared statement. "Once the Department of Transportation granted NAI a foreign air carrier permit, we mobilized to make sure US-based flight attendants working NAI flights had IAM representation.
"The IAM also bargained both an initial collective bargaining agreement to ensure that NAI's U.S.-based flight attendants have all the benefits and guarantees of a union contract," Pantoja said.
The announcement comes on the same day that results will be counted in a union election among flight attendants at
Norwegian Air Shuttle's
450 U.S.-based flight attendants.
The flight attendants, based in Fort Lauderdale, Fla., and New York, are voting on whether to join the Association of Flight Attendants, the largest flight attendant union. They too work for OSM.
In general, IAM and AFA work together. For instance, both represent work groups at United Continental (UAL) - Get United Airlines Holdings, Inc. Report , where IAM is the largest union, representing fleet service employees and agents, while AFA represents flight attendants.
Before a 2010 merger between United and Continental, IAM represented flight attendants at Continental while AFA represented flight attendants at United. Afterward, AFA took over representation of all flight attendants, primarily because the United flight attendant group was larger than the Continental group.
Both IAM and AFA have their largest airline presence at United, where IAM represents about 30,000 fleet service and customer service agents, while AFA represents about 25,000 flight attendants.
It is unclear what impact the IAM announcement deal will have on Norwegian's future U.S. operations. Spokespeople for both Norwegian and OSM declined to comment.
With expansion by Norwegian Air International stymied, Norwegian Air Shuttle has been expanding rapidly in the U.S. A difference is that Norwegian Air International operates Boeing 787s on the trans-Atlantic, while Norwegian Air Shuttle plans to operate with 737s.
IAM said it wasn't necessary to call a union election because OSM agreed to recognize IAM as the collective bargaining agent after more than 50% of the flight attendants signed union cards.
That reflects the impact of a recent memorandum between Norwegian and the International Transport Workers Federation, a union of European unions. The memorandum provides for the company's neutrality in union organizing campaigns.
"The historic agreement between the ITF and OSM Aviation paved the way for both union representation and contractual improvements to pay, benefits and working conditions for the flight attendants of the growing company," Pantoja said.
The five-year deal brings immediate pay raises; the creation of specialty classifications that will bring future step increases; increased per-diem payments, monthly flight supplements, an additional paid holiday and the protection of a grievance procedure.
This article is commentary by an independent contributor. At the time of publication, the author held no positions in the stocks mentioned.