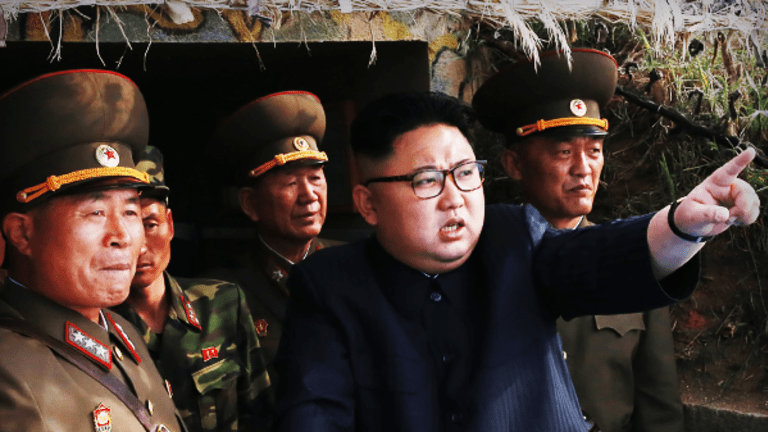 North Korea Fires Missile Over Japan
The missile landed in the Pacific ocean early Tuesday morning, according to the Pentagon.
North Korea has fired a missile over northeastern Japan, the Pentagon said Monday evening.
"We assess North Korea conducted a missile launch within the last 90 minutes," the Pentagon said in a release. "We can confirm the missile launch by North Korea flew over Japan. We are still in the process of assessing this launch. North American Aerospace Defense Command (or NORAD) determined the missile launch didn't pose a threat to North America. We're working closely with Pacific Command, Strategic Command and NORAD and will provide an update as soon as possible.
The New York Times reported Monday evening that the people of Japan had received a text alert that advised them to take cover.
Japan's public broadcaster NHK World reported that the missile was launched at 5:58 a.m., broke into three pieces and landed in the ocean near Cape Erimo in Hokkaido at 6:12 a.m. There were no reports of damage. The government of Japan called an emergency meeting to decide how to respond. There have been no reports of damage.
This missile launch follows three short-range missile tests over the weekend by North Korea and comes as tensions escalate between the U.S. and the country's leader, Kim Jong-un.
Earlier this month, President Donald Trump said that threats to the U.S. from North Korea would be met with "fire and fury like the world has never seen." Currently, the U.S. and South Korea are engaged in annual military drills that have in the past drawn a response from North Korea. The New York Times reported last week that North Korea said the drills would "throw fuel onto a fire."
In a series of Tweets Monday evening, Sen. Lindsey Graham (R., S.C.) responded saying that the move was a "big escalation of conflict" and that sanctions against the country weren't working. He called on the Trump Administration to respond.
The futures market fell on following the news, as did the Japanese Nikkei.
Dow futures were down 0.41%, or 90 points to 21,701 at 7:30 p.m. ET. Nasdaq futures were down 0.66% and S&P futures were down, 0.55%.
Japan's Nikkei Average was down 124.42 points, or 0.64%, at 19,325.57 in early Tuesday trade.
Gold rose .57% to 1,322.70, as did Bitcoin, up 0.88% against the U.S. dollar, to $4,377.33
More of What's Trending on TheStreet: