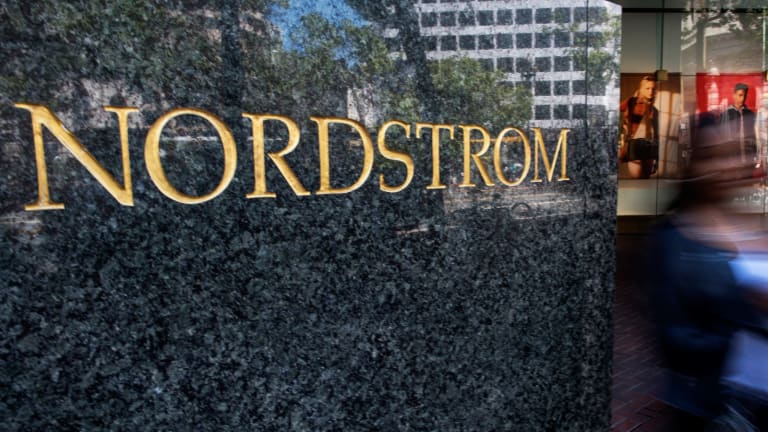 Nordstrom, Five Below Look Good, Finish Line Needs More Energy
Retailers Nordstrom and Five Below are doing very well, while Abercrombie & Fitch and Finish Line face serious challenges, says a top retail analyst.
NEW YORK (TheStreet) -- Nordstrom (JWN) - Get Free Report and Five Below (FIVE) - Get Free Report are two retailers that are doing well and will continue to do so, said Dan Hess, chief analyst at Merchant Forecast. Hess is bearish, however, on Abercrombie & Fitch (ANF) - Get Free ReportFinish Line (FINL) .
Nordstrom has not only done a good job on its apparel offerings this year, but the retailer has also added sales events to its calendar without hurting its margins, Hess said.
"For the first time ever, instead of three sales a year, Nordstrom's will have nine sales a year, and those sales are going to drive incremental traffic," said Hess, who's firm provides research on retailers to the mutual fund and hedge fund industries. "We see it as a top line story without hurting margins."
Shares of the upscale department store have dropped more than 7% in 2015. Earlier this week, Nordstrom sold its U.S. $2.2 billion consumer credit card portfolio to Toronto-Dominion Bank (TD) - Get Free Report. Under the deal, Nordstrom will receive a large chunk of net revenue generated by the credit card accounts.
At the other end of the retail spectrum, Hess is bullish on discount retailer Five Below, viewing it as an expansion opportunity. As of March 17, Five Below operated 370 stores in 22 states. Hess sees the company's store count increasing to 2,000 with outlets eventually stretching from coast to coast.
"They just entered Alabama with great success, and Florida is next, which will be a home run," Hess said. "They don't have a single store in California. Investors are concerned about mall-based concepts that are vulnerable to online sales. Dollar stores like Five Below are insulated from those types of attacks."
Shares of Five Below have fallen more than 16% so far in 2015.
Meanwhile, Hess is bearish on shares of Abercrombie & Fitch, which is still searching for a CEO following the departure of Mike Jeffries last December.
"Aside from its leadership issues, Abercrombie & Fitch sells a single look, and today's teenagers want a diversified look," Hess said. "Kids today do not want to look the same as everybody else, so stores that only offer limited choices of tops, skirts and shorts are at a disadvantage to the fast fashion guys who are stealing share."
Abercrombie & Fitch has seen its shares sink 30% year to date.
Finally, Hess is negative on Finish Line, saying the sneaker seller lacks spunk, despite the fact that it's shares are up 6% this year.
"We have never seen the gap between what is happening at Finish Line and Foot Locker (FL) - Get Free Report to be greater," says Hess. "Foot Locker stores are loaded with energy and newness, and Finish Line's outlets are tired. They are missing out on the key launches. They need to re-energize their efforts at Finish Line."
Disclosure: TheStreet's editorial policy prohibits staff editors and reporters from holding positions in any individual stocks.