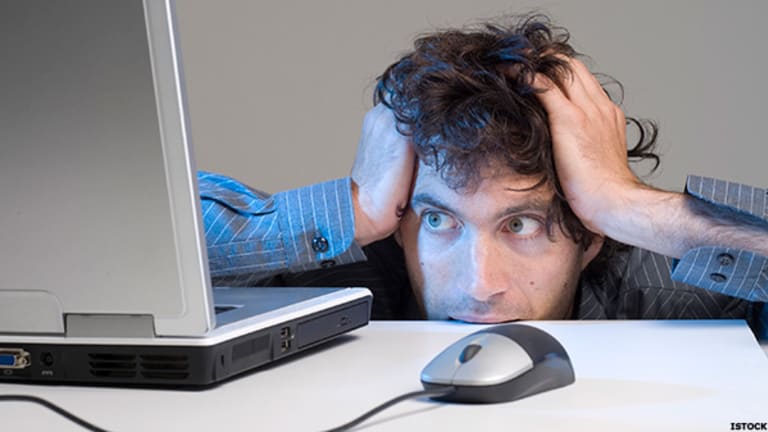 Publish date:
Nobody Likes This Rally; The Shine Is Off the Apple: Best of Kass
In highlights from this week's trading diary and posts, Kass discussed why he's absolutely not buying Apple now,
In highlights from this week's trading diary and posts, Kass discussed why he's absolutely not buying Apple now,
Doug Kass of Seabreeze Partners is known for his accurate stock market calls and keen insights into the economy, which he shares with RealMoney Pro readers in his daily trading diary.
This past week, Kass discussed all the reasons not to be afraid we're seeing 2008 redux, and why he thinks the market may have just bounced off its near-term bottom.
The Rally that Nearly Everyone Hates
I'm not much of a technician, but the S&P 500 has now broken through the resistance level that three previous attempts failed to breach. (I discussed this further in my opening missive today.)
Originally published Jan. 29 at 12:19 p.m. EST
We're now more than 100 handles above the S&P 500's "noon swoon" from last Wednesday, and I suspect more players will now more comfortably view that bottom as a "capitulation low."
Although nothing in the investing game is certain, breaching the $191-$191.50 resistance level on the SPDR S&P 500 ETF (SPY) - Get Report could galvanize traders and investors to make the next move higher. Considering the magnitude of the decline we've seen recently in individual stocks and sectors, that could be a surprise to many.
I currently have the biggest list of individual long positions that I've had in more than a year. These include my recently added longs of the Blackstone Group (BX) - Get Report , DuPont (DD) - Get Report , Goldman Sachs (GS) - Get Report and Procter & Gamble (PG) - Get Report .
The bulls have become bears -- and the few market watchers who've been expecting a bounce haven't been particularly convinced, and many saw any rally as just a brief respite in an overall bear market.
But the contrarian view of a more-meaningful rise appears to be gaining weight in probability.
Position: Long PG, GS, DD, BX
'Crapple'! How 'Peak Apple' Is Moving Closer Into Focus
Originally published Jan. 27 at 10:04 a.m. EST
"Men (it has been well said), think in herds. It will be seen that they go mad in herds, while they only recover their senses slowly, one by one."

-- Charles Mackay, Extraordinary Popular Delusions and the Madness of Crowds
The more I listened to the conference call from Apple (AAPL) - Get Report yesterday afternoon, the more I saw "Peak Apple" with more clarity.
Stated simply, Apple's quarterly results and message behind it were "Crapple."
"Stay hungry. Stay foolish."

-- Late Apple co-founder and CEO Steve Jobs
Steve Jobs famously gave a moving commencement address at Stanford University's 2005 graduation ceremony where he uttered the above four words and made them famous.
But I believe it's now foolish to own Apple shares. If I owned the stock, I would sell it -- as my analysis continues to suggest that the company's best days are behind it. I think AAPL's future sales-and-profit outlook is worse than consensus expectations, and that the tech giant's valuation faces numerous headwinds.
Is Wall Street Defending the Indefensible?
Despite bullish protestations from the sell side and numerous large Apple stockholders (e.g., Carl Icahn), my negative view has been firm and consistent over the past year. (This chart chronicles AAPL's underperformance since year-end 2014.)
I now expect Apple to produce three consecutive quarterly earnings-per-shares results over the balance of the company's fiscal year that are down on a year-over-year basis.
And I project lower and below-consensus results for the full fiscal year as well, down 7% to 10% to around $8.50 a share vs. $9.20 a year earlier. Furthermore, I don't expect fiscal 2017 EPS (which I estimate at $8.75) to meet FY 2015's results.
This means that in order for Apple's shares to rise over the next two years, its price-to-earnings ratio must rise even higher -- something that I don't expect for many reasons.
Personally, I'm maintaining my short position on AAPL and keeping the stock on my "Best Short Ideas" list.
I updated my bear case for Apple a few weeks ago. My constant refrain has been that Apple's greatest threat is its past successes, which have ballooned the company's size whether measured by sales, profits or market capitalization.
That means gains from current market value or operating successes have grown more difficult to achieve in the face of the difficulty in providing new products that can meaningfully impact Apple at the margin. This challenge was omnipresent throughout yesterday's earnings release and conference call.
In some ways, the challenges facing a maturing Apple and the headwinds to the company's stock outlook are more difficult and fundamental than those that existed at the stock's September 2012 share-price peak. (AAPL later by more than 40% over the next few months.)
Here's what I wrote yesterday evening following release of Apple's earnings report:
"There is nothing in the Apple release that changes my negative views expressed today and previously over the last year.

Unit growth is moderating into the company's last important product upgrade cycle, the rate of growth in average selling prices is decelerating sharply and core margins will likely fade because of the absence of component price relief in the quarters ahead.

These conditions are not the fruit that increases valuations. Rather, they are conditions that will be challenging to maintaining the current valuation."
In typical herd fashion, analysts have almost universally responded to yesterday's results by stating that AAPL is "cheap." They argue that investors should buy on the bad news because of Apple's expanding ecosystem, large cash-flow generation and sizable cash balances.
But increasingly, the sell-side community seems to me to be defending the indefensible. I demur on all counts:
AAPL Isn't Cheap
"The stock is cheap" argument claims AAPL is a bargain because yesterday's results were better than feared, but that's just Wall Street humor. If Apple is really cheap, then why did most analysts take a hatchet to their numbers?
Here's an example from a Morgan Stanley analyst: "We lower our FY16 EPS to $9 from $9.50. We lower FY16 revenue to $226.5B (-3% Y/Y) from $238.8B (+2%). We slightly lower iPhone units to 215.8M (-7% Y/Y) from 218.0M (-6%), and iPad units to 43.6M (-20%) from 44.5M (-19%). We also lower ASPs partially to take into account the stronger foreign currency headwinds."
By the way, FBR and Barclay's used almost the same "not as bad as feared" words in their analyses.
Don't Blame China
In a departure from the prior quarter, Apple CEO Tim Cook blamed the global economy for some of the company's woes.
We're conscious that China is slowing, but Cook should stop with the excuses about the economy, as both analysts and management have asserted that Apple has never been about the economy.
And if Apple is now linked to economy (given that the iPhone's last product-cycle upgrade is nearly finished), then we must recognize that Apple is a maturing industrial company. In that case, management and shareholders shouldn't be surprised by AAPL's current P/E of around 11.
The reality is and has been that the company's "story" has mostly been about Apple's product cycle. The fact is that Apple was absent from the big-screen market for two years and has backfilled an enormous amount of latent demand. This was a "game changer" that took the company's selling trajectory above its natural run rate, but borrowed from the future in the process.
Apple also went hard into China at the same time, but now the company's new-product cycle is almost over. On top of that, they stuffed a bunch of product into the channel, making the eventual downside worse.
Tim Cook and John Chambers
Tim Cook is starting to remind me of John Chambers, CEO of Cisco (CSCO). Chambers also started to whine more and more about the economy when CSCO was no longer a growth business in the last cycle. (He never talked about the economy when things were good and the Cisco enjoyed the tailwinds of a strong and dominant product cycle).
Who Cares If Apple Has Lots of Cash?
The "Apple has a large cash hoard" argument falls short on several fronts to me.
First, as I wrote previously, AAPL's net-cash levels are flat-lining. As I noted: "Several commentators have mentioned recently that Apple has over $200 billion of cash. While that's factually correct, we should look at cash net of debt -- which in Apple's case has been flat-lining for a long time (principally due to share buybacks)."
Here's the chart:

Source: Zero Hedge
And more importantly, every dollar of Apple's cash that's overseas has nowhere near $1 of worth to shareholders, as it faces U.S. taxes if it's repatriated to America.
As I wrote a few weeks ago:
"Security Analysis 101 teaches that investors shouldn't give a company 100% credit for cash held in the United States -- and certainly not for cash mostly held abroad, as is the case with Apple. There are all sorts of issues associated with cash: tax, debt, etc.

Here's my question: If Apple's balance sheet were a public company, what would you pay for it? In that case, it wouldn't be that much different from a shell company with $100 million in net cash (most of it overseas).

To me, the answer is about 50 cents on the dollar -- if that much."
Some Other Disturbing Observations
Other concerning things to watch:
Most analysts failed to highlight or anticipate the sharp moderation that Apple is seeing in average unit selling prices (in part because of foreign-exchange headwinds). Average selling prices rose by about 18% in the June quarter, but just 11% in September and were roughly flat ($691 vs. a previous $687) in the quarter just announced. As I've previously mentioned, Apple has only managed to maintain margins via a big component-price offset. But that's going to "lap." (All of this was confirmed by market watcher Dan Niles' observations on CNBC after the Apple report came out.)
Free cash flow fell abruptly, down 21.8% year over year to $23.9 billion.
The iPhone's results were poor. Units were less than 75 million, and that included 3.3 million of incremental units into channel inventory (a year ago, channel inventory came down). So, the iPhone's sell-through was down about 4% year over year on a reported flat sell-in.
iPad shipments were awful, too. Units were at least 2 million below consensus, and the year-over-year decline worsened to about 25% from around 20% last quarter. That's despite shipments of approximately 3 million iPad Pros, a quasi-new product.
Mac shipments were also a big disappointment. As long as we can remember, there was basically no variance between IDC's report of Mac units shipped (released ahead of Apple's quarterly data) and Apple's report of Mac units shipped. But this time around, Apple's Mac figure was down 4% year over year while IDC had Macs at +4%. This is the second straight quarter of relevant delta between these figures, with no clear reason why. It's possible that IDC was counting iPad Pros as Macs, but this is doubtful and wouldn't explain the delta for the company's 2015 fiscal third quarter, which pre-dated iPad Pro shipments.
Guidance is murky. Analysts had been cutting their numbers aggressively over the last month. But I'm not aware of anyone who got down to under $53 billion in sales compared to the guided mid-point of around $51.5 billion. The company's guidance implies less than 50 million iPhone unit sales, which is where people were starting to model. But it's not clear what Apple plans for channel inventory. I suspect the company will grow it again based on qualitative commentary (year ago plus 1 million units).
The Bottom Line
"Our goal is to make the best devices in the world, not to be the biggest."

-- Steve Jobs
The business media initially reported Apple's earnings yesterday as a "beat," although all of the analyst estimates had gotten cut big time. And Apple missed the lowered estimates in all product categories.
So, the bottom line for me is simple: Sell Apple. Peak Apple. It's ... Crapple.
Position: Short AAPL (small)
At the time of publication, Kass and/or his funds were long PG, GS, DD, BX, and short AAPL, although positions may change at any time.
Doug Kass is the president of Seabreeze Partners Management Inc. Under no circumstances does this information represent a recommendation to buy, sell or hold any security.