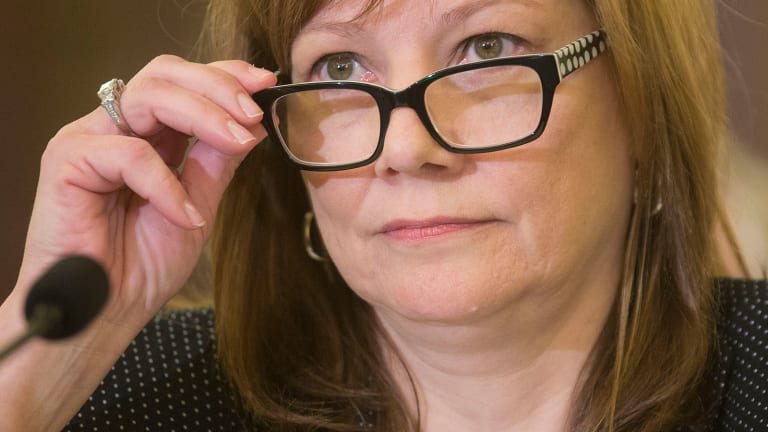 REAL MONEY STOCK OF THE DAY: No Sign of Trade War Roadblocks for GM in China
The Chinese market is expected to remain strong for General Motors.
General Motors (GM) executives expect the company's business in China to remain strong during a tumultuous 2018 despite U.S.-Chinese trade tensions.
"We have not seen any [trade problems] yet," GM Chief Financial Officer Chuck Stevens said Wednesday during the company's earnings call. "It starts with the very strong relationship with our partner, but we haven't see anything yet."
GM China delivered more than 858,000 vehicles in the second quarter, and first-half deliveries rose 4.4%. The company's Baojun and Cadillac lines achieved sales increases of 6% and 19%, respectively, while Chevrolet sales grew 22%. GM China also plans to introduce 10 new models, including the Cadillac XT4, during 2018's second half. The focus is on high-demand segments, including SUVs and luxury vehicles. Pricing pressure might increase because of competitive launches, executives said.
CEO Mary Barra added that a potential U.S.-Chinese trade war wouldn't deter the company from building cars in China. "Our general strategy is [to] build where we sell," Barra said. "We have a lot of manufacturing capability in China."
General Motors stock fell 4.6% to close at $37.65 after the company cut its 2018 earnings forecast earlier Wednesday to an adjusted $6 a share, down from the $6.30 to $6.60 that management had previously guided to. Operating cash flow was projected to be $11.5 billion for the year. GM cited rising commodity prices, plus currency depreciation in Brazil and South America. 
Shares fell on the news even though GM beat Wall Street's earnings expectations for the latest quarter. "We faced significant external challenges, but delivered solid results this quarter," Barra said. "The fundamentals of our business are strong and we remain focused on our plan -- delivering great vehicles, developing technologies to transform personal mobility and creating long-term shareholder value."
Some bright spots for GM include its record income in China and a revaluation of GM's stake in Lyft. Still, second-quarter North American revenue was $2.7 billion, down from $3.5 billion year-over-year with a margin of 9.4%, reflecting the negative impact of pricier commodities on production.
Stocks in the auto sector have trailed off in the past several months on trade-war gamesmanship and uncertainty around tariffs.  JPMorgan Chase North American Equity Research predicted a negative reaction for GM shares based on the lower-than-expected profits and the commodity prices and currency effects in South America.
But Morgan Stanley issued an "Overweight" rating on the stock, setting a $50 price target for the automaker's stock. "Our OW thesis is based on the opportunity for the company to change the prevailing investment narrative around its place in Auto 2.0, its ability to partner with tech firms in profitable ways and to achieve a positive terminal value in many of its key businesses," analyst Adam Jonas wrote.
GM's stock slid just as President Donald Trump was set to meet with European Union president Jean Claude Juncker on Wednesday to discuss a possible trade deal. Trump was expected to insist that steel and aluminum tariffs being imposed on European exports to America are necessary to protect the nation's economic interest.
But last Thursday, foreign and domestic automakers presented a united front in warning the U.S. Trade Commission that Trump's plan to impose tariffs on $300 billion in foreign auto imports would harm the industry.
Still, Robert E. Scott, a senior economist and director for trade and manufacturing research at the Economic Policy Institute, told TheStreet that to an extent, U.S. automakers' ability to build sports utility vehicles and trucks domestically relies on having a tariff on foreign imports. So, the ultimate result of a higher tariff on imported autos will be more foreign automakers expanding or establishing factories in America.
However, Scott said the best way to meet Trump's stated goal of increasing domestic anufacturing would be to weaken the U.S. dollar for an extended period of time. After all, U.S. manufacturing becomes cheaper vs. foreign production when the dollar falls in value.
"That's where we should be going and we're not," Scott said. "We're lacking a coherent trade policy with any strategic design. It is a trade policy by press release, designed to generate as many announcements, heat, light and noise as possible without fundamentally addressing our core trade problems."
(This story has been updated with additional quotes and closing stock prices.)
Jim Cramer: Murky Areas With Boeing, GM
General Motors Stock Shows Signs of Engine Trouble
As Goes Trump, So Goes General Motors?
After GM's Guidance, Market Can't Ignore Tariff, NAFTA and EU Issues