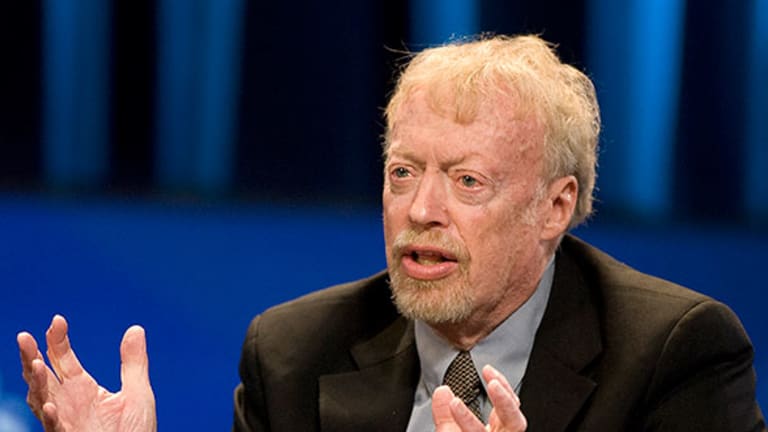 Nike's Phil Knight Is Leaving 2 Indelible Marks on the Sneaker Industry
Knight will step aside as Nike's chairman sometime next year, but there's no doubt his legacy will be a lasting one.
NEW YORK ( TheStreet) -- Nike (NKE) - Get NIKE, Inc. (NKE) Report co-founder and long-time chairman Phil Knight may be about to step aside, but there is little doubt he will leave several enduring marks on the footwear giant and the sneaker industry as a whole.
On Tuesday, Knight and Nike's board announced the start of a succession planning process that will conclude with the appointment of a new chairman sometime in 2016. Knight, 76, informed Nike's board of his recommendation to have Mark Parker, the company's president and CEO since 2006, to succeed him as chairman. Further, Knight's son Travis Knight, 41, has been appointed to Nike's board effective immediately.
"For me, Nike has always been more than just a company -- it has been my life's passion," said Knight in a statement. Parker said: "Phil founded Nike to serve athletes. That vision and inspiration continues to drive our success today around the world."
And what a success Nike has become.
Today's Nike is vastly different from the one Knight co-founded with noted NCAA track coach Bill Bowerman on a simple idea in 1964. Back then, the two had a straightforward mission: Get more people to wear a running shoe it deemed superior to those from big names Puma and Adidas, as well as assorted niche players.
Today, Nike is a global product development and marketing juggernaut. The company brings in $30 billion in annual revenue and its shoes span those for running and basketball to ones for hardcore skateboarders. You can customize your own sneakers on Nike's Web site, and an entire underground of fans known as "sneakerheads" has been created that buys and collects old-school Nike styles, such as the iconic Air Jordans, for sky-high prices.
"He built a powerhouse, the best executing company so far this year," said TheStreet'sJim Cramer, Portfolio Manager of the Action Alerts PLUS Charitable Trust Portfolio. "Mark Parker will carry on the tradition. What an amazing business Knight built. He is one of my heroes from the days when he started and I ran competitively."
Exclusive Look Inside:
You see Jim Cramer on TV. Now, see where he invests his money and why.Learn more now.
On Twitter, Nike has 5.1 million followers vs. 3.79 million for Democratic presidential hopeful Hillary Clinton. On Instagram, Nike clocks in with a whopping 17.6 million followers that track its up close and personal photos with top athletes.
All of these achievements can be linked to Knight's relentless focus on moving product and processes forward to keep companies such as Reebok, Adidas and more recently, Under Armour (UA) - Get Under Armour, Inc. Class C Report at bay. But, while sneaker styles frequently come and go, there are two major areas of the footwear and apparel business pioneered by Knight that likely won't change should Parker be elected as Nike's next chairman.
1. Making sneakers and sports apparel more cheaply abroad.
When Nike was founded, Puma and Adidas were the established footwear brands manufacturing sneakers in high-cost European regions. Knight saw an opportunity to take advantage of the growing population in Asia and the low-cost wage base there.
Today, Nike is a manufacturing beast whose footwear is supplied by approximately 150 footwear factories located in 14 countries. Virtually all of Nike's footwear is manufactured outside of the United States by independent contract manufacturers.
In fiscal 2014, contract factories in Vietnam, China and Indonesia manufactured approximately 43%, 28% and 25% of total Nike branded footwear, respectively. Nike also has manufacturing agreements with independent factories in Argentina, Brazil, India and Mexico to produce footwear for sale primarily within those countries.
As for apparel, Nike is supplied by about 430 apparel factories located in 41 countries. As with its footwear, most of Nike's apparel is manufactured outside of the United States by independent contract manufacturers. In fiscal 2014, most of this apparel production occurred in China, Vietnam, Thailand, Indonesia, Sri Lanka, Pakistan, and Malaysia.
Nike's ability to source from low-cost countries in Asia and consistently raise prices around the globe has led to enviable profit margins on its products over the years. According to Bloomberg data, Nike's gross margin has grown from 32% in 1987 to 46% in 2015. This consistent long-term profit gain has led to huge gains in Nike's stock price. Since January 1987, Nike shares have skyrocketed about 32,800% compared to a 1,262% rise in the Dow Jones Industrial Average, to which it was added as a component in 2013.
With Nike veteran Parker as the likely successor to Knight as chairman, the company will continue to search for ways to manufacture its products more cheaply. These could range from new manufacturing techniques that mirror Nike's Flyknit technology, to finding new Asian suppliers to contract with to keep costs down.
2. Creating an unstoppable marketing machine.
Nike's "swoosh" logo is arguably as recognizable worldwide as Coca-Cola's (KO) - Get Coca-Cola Company Report name written in white italics on its bottles and cans. But for Nike to get to that point required years of work by Knight, primarily by forging early marketing relationships with tennis greats Jimmy Connors and John McEnroe, as well as track star Steve Prefontaine. The latter was trained by Nike co-founder Bill Bowerman at the University of Oregon.
Nike's signing of then-rookie basketball player Michael Jordan to a sneaker deal in 1984 was perhaps the single best move in the history of the footwear and apparel industry. Bringing Jordan on board established Nike as the premier marketer in the sportswear business, and has gone to establish a brand that continues to fuel huge sales even today.
Since signing Jordan, Nike has continued to build a formidable stable of sports icons to hawk its products, such as golf icon Tiger Woods, and future hall of famers LeBron James and Derek Jeter. Nike has formed product collections around each of its top sports stars that constantly get updated throughout the year. Further, Nike's marketing slogans such  "Bo Knows" and "Just Do It" have become entrenched in pop culture lexicon.
Nike's approach to marketing is unlikely to change much in a Knight-less era as its core to its business model. In fact, the money Nike shells out to sign emerging sports talent as sponsors, as well as to retain its own legends, stands to rise sharply in the years to come due to challenges from ambitious rival Under Armour.