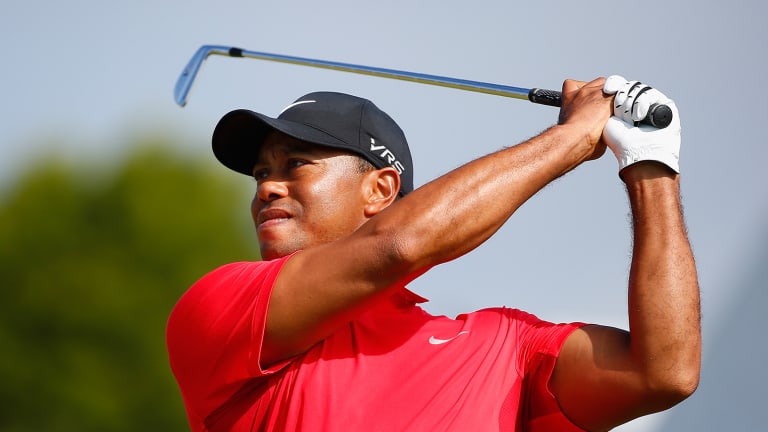 Nike Would Rather Have Tiger Woods Win the Masters Than Rory Mcllroy
The athletic wear giant has mega deals with both golfing superstars, but Nike's sales success has been much more tied to its veteran pitchman.
NEW YORK ( TheStreet) -- Pro golfing phenom Rory Mcllroy's star continues to rise, but those winning ways haven't been enough to incite consumers to spend hundreds of dollars on the latest  Nike (NKE) - Get NIKE, Inc. Class B Report golf apparel and equipment.
Although Nike signed McIlroy to a huge endorsement deal in 2013, the athleticwear giant continues to bank on the success of its original golfing phenom -- the recently struggling, often-injured, sometimes controversial Tiger Woods, now 39.
According to data compiled by TheStreet, Nike's golf sales, which consist of drivers, fairway woods, irons, balls, bags, apparel and shoes, have fallen each quarter of the most recent fiscal year. In fiscal year 2014, Nike's golf sales were unchanged year over year, or up 1% excluding currency fluctuations.
The recent wayward performance of Nike's golf business has coincided with golf's biggest attraction -- that would still be Mr. Woods -- racking up a grand total of zero wins on tour due to nagging injuries that have kept him completely off the links or on a limited practice regimen.
Nike golf was swinging a more confident club from 2012 to 2013, when Tiger was on a roll. 
Nike golf sales rose 10% in fiscal 2012, according to company filings, and then gained another 9% in 2013. Woods won a total of eight times combined those two years, creating the type of buzz amongst the golfing community that sent them to the racks at Dick's Sporting Goods (DKS) - Get Dick's Sporting Goods, Inc. Report or local golf club shops looking to spend.
The activity by consumers was reminiscent of when Woods broke onto the tour in grand fashion in 1996 and dominated the rankings and winner's circle into the early 2000s, shaking up a sport previously known for white guys in baggy khaki pants and oversized polo shirts. Following Woods' notorious sex scandal in 2009 and subsequent poor play, his comeback in 2012 and 2013 netted him a new contract from Nike in July 2013.
Nike has not disclosed the current length and amount of Woods' contract but over the years, the company has rewarded him extremely well for helping inspire new products and market to weekend hackers, low handicappers and fellow golf pros (for the record, I consider myself to be somewhere between the first two groups). 
Woods' original contract with Nike in 1996 was for five years and a reported $40 million, while in 2001, he signed another five-year deal for a reported $100 million. Terms of Woods' contract that ran from 2006 to 2013 were not released. 
Meanwhile, the ascent of McIlroy, who Nike signed to a 10-year contract reportedly worth $200 million to $250 million in Jan. 2013, has been impressive. Mcllroy won three titles on tour last year, including two majors, and now already has four majors under his belt. Yet his rise to elite status doesn't seem to have energized consumers enough to buy new equipment and apparel, judging by Nike's golf sales, which stagnated last year.
The world's top-ranked player was the lead endorser on a set of new Nike wedges called "Engage" earlier this year, and starred in pre-Masters TV spot showing how he idolized Woods while growing up in Northern Ireland. Mcllroy was even the main face showcased in Nike's display of what its golf endorsers, which also includes LPGA star Michelle Wie and Woods' niece Cheyenne Woods, would be wearing at this year's Masters.
But golf's newest phenom has to find a way to connect with people the way Woods did almost from the moment he arrived on the pro golf scene. Even a chunk of Woods' popularity with fans would be welcome news for Nike.
Seeing disappointing sales even as Mcllroy registers more high-profile tournament wins and takes the marketing mantle from Woods has to unnerve execs at Nike. The golf division got a new president in November in Daric Ashford, a 21-year company veteran who previously served as a vice president of the Jordan brand in North America.
Ashford's influence may already be showing itself with Nike's new "lifestyle" golf apparel collection.  The collection is designed to be worn on and off the course, resembling the approach Nike has adopted for the Jordan brand in moving sneaker and apparel offerings beyond the basketball court.
Ultimately, the grizzled veteran Woods could begin a new comeback at Augusta National this weekend after taking several weeks off to work on his game.
If Woods does beat the odds, the team at Nike golf, led by Ashford, will likely be cheering just as loud, if not louder, than the distinguished patrons at Amen Corner and then the final hole at Augusta on Sunday evening.
This article is commentary by an independent contributor. At the time of publication, the author held no positions in the stocks mentioned.