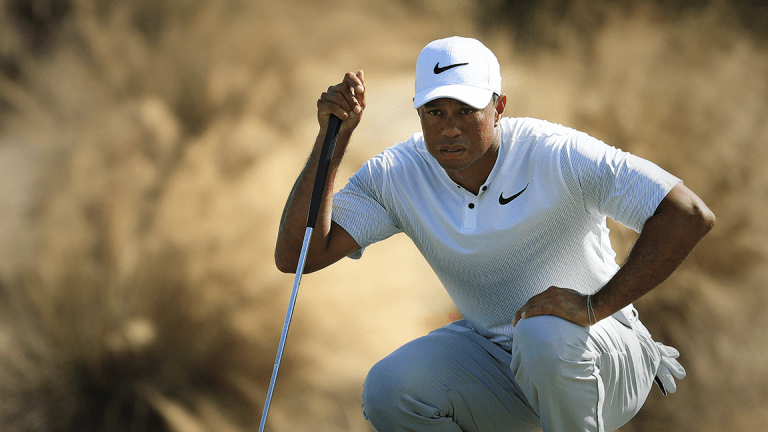 The Masters Tournament of Athleticwear: Nike vs. Under Armour
Nike pitchman Patrick Reed won the tournament and fellow Nike spokesman Tiger Woods brought in viewers, while UAA's Jordan Spieth came in third after a near-comeback.
While I didn't have much interest in this weekend's Masters Tournament, I always have an interest in how it might impact stocks.

Patrick Reed, who has a sponsorship deal with Nike (NKE) - Get Nike Inc. Report , won the contest Sunday, while fellow Nike spokesman Tiger Woods completed the tournament without injuries knocking him out for the first time since 2015.
Woods drives ratings and awareness for the sport despite a number of off-course issues for him since 2009. All of that means this year's Masters Tournament offered Nike a lot of exposure.
Meanwhile, Jordan Spieth -- who has a sponsorship deal with Under Armour (UA) - Get Under Armour Inc. Class C Report , (UAA) - Get Under Armour Inc. Class A Report  , finished in third place -- although he staged an incredible surge on Sunday to nearly take the crown.
So, who looks better for investors -- Nike or UAA? Let's check it out:
Sideways Trading
First off, you should know that I'm flat the space, as athletic apparel hasn't been the hottest of sectors for at least a year now.
Nike has traded sideways for most of 2018, while Under Armor has gone sideways even though its latest earnings release in mid-February showed better-than-expected results for both revenue and gross margins.
Fundamentals
Under Armor appears to be at least making strides toward making some kind of a comeback from what were really horrific lows compared to where the stock stood in 2015-16. Still, I'm not sure I'm very impressed.
Meanwhile, Nike announced recently that it signed a long-term extension with the National Football League to provide both uniforms and sideline apparel to the league. The very next day, Under Armor announced that an unauthorized third party had gained data associated with the firm's MyFitnessPal user accounts at some point in the month prior. Hmm.
Debt Levels
As of the end of 2017's third quarter, Nike had $4.75 billion of cash, down from $6.16 billion a year earlier. Under Armour had $312.5 million of cash as fourth-quarter 2017, up from $250.5 million the year before.
However, NKE's total debt decreased a little to $3.49 billion over those same time frames, while UAA's total debt actually grew to $917 million from a previous from $817 million.
Are the two firms comfortable in servicing their current debt loads? At current ratios of 2.66 for NKE and 2.2 for UAA, it would appears so.
But a different story arises if we strip out inventories. In that case, NKE runs with a 1.48 quick ratio, still a very strong number that indicates no problem meeting short- to medium-term obligations.
However, UAA sees its quick ratio drop to 0.87. That indicates a potential lack of ability to meet short-term obligations should a crisis arise. (Nobody gets what they think they should for their inventory if they're forced to liquidate.)
I'm not saying Under Armour is in any kind of imminent danger, just that NKE is positioned far better to withstand unexpected sea squalls.
More Metrics
Nike has grown earnings per share 10% on average over a three-year period, while UAA has averaged a -11%.
Still, sales growth over the same period favors Under Armour. UAA runs with a 19% three-year average growth rate vs. just 5% for NKE. But then again, Nike is a bigger battleship and leaves a larger wake.
Nike also scores better on operating margin by a count of 14.9% to 12%. But both stocks seem expensive. NKE currently trades at 25 times forward earnings, while Under Armor trades at closer to 39x.
The Bottom Line
The bottom line: I don't really like either of these names, but if I felt compelled to own one, I think Nike is obviously the safer stock. At least it pays you a dividend.
For options plays, I'd rather spend my money on a May 18 $65 NKE put (which was last offered at $1.23) than on a May 18 $70 NKE call (last offered at $1.22).
As for UAA, though I find nothing exciting regarding the name, Baird did put a $22 price target on the stock last week, and UAA May 18 $15 puts went out Friday night at $0.57.
Maybe we write this option? Do I think it's worth making $57 if I have to potentially have to buy 100 shares of the stock at $15 (net $14.43, last sale on $16.98)? Yes.
But if you agree, keep in mind that Under Armour next reports earnings on May 15. So, you might have to act prior to expiration.