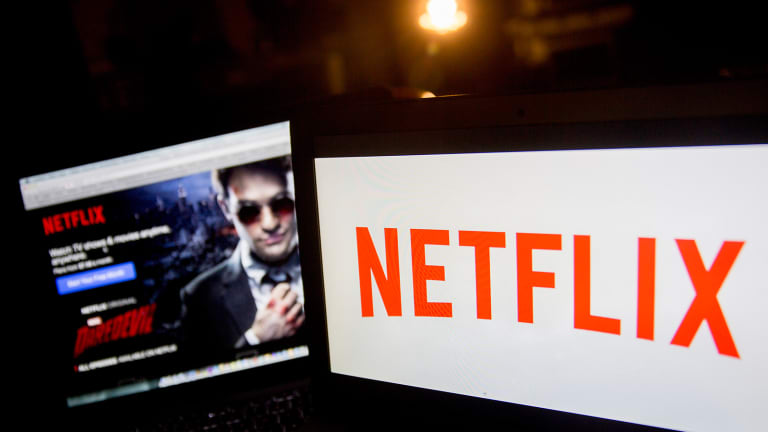 Publish date:
NFLX, CELG, M, GS: Jim Cramer's Views
Jim Cramer shares his views on chasing winners and the classical approach. Netflix, Celgene, Macy's and Goldman Sachs are among the many stocks discussed here.
Jim Cramer shares his views on chasing winners and the classical approach. Netflix, Celgene, Macy's and Goldman Sachs are among the many stocks discussed here.
NEW YORK (Real Money) -- Jim Cramer shares his views every day on RealMoney.Click here for a real-time look at his insights and musings.
Why I Won't Chase Netflix or Celgene Now
Posted at 1:11 p.m. EDT on Thursday, July 16, 2015
Can you chase horses in midstream?
That's the question people are asking me right now about Celgene (CELG) - Get Celgene Corporation Report and Netflix  (NFLX) - Get Netflix, Inc. (NFLX) Report, and they aren't going to listen to reason and say "wait." They can't. They don't recognize the concept of "I missed it and am not going to chase." They don't even think they missed it. They think they are early.
These people are greatly misinformed about the way the stock market works. It punishes you if you lose discipline, although a rare story comes along that can seemingly justify it. I say "seemingly" because the buying is so rabid from shorts and from true believers that they are insensitive to prices paid.
I have been at this business a long time and, after 37 years, I can tell you that that's a mistake. For every successful chase, there have been half a dozen failures. Chasing is per-se buying at the top, and I don't like buying at the top.
I know some of you can't resist, and I am making a case for $150 for both stocks. For Netflix, it's the opportunity -- the total addressable market is just too great and it hasn't even gotten to China. For Celgene, the purpose of getting Receptos (RCPT)  is to remove the notion of a one-product company, because even as Celgene has developed the three-legged stool, only one has been dominant, which makes everything wobbly. Given that Celgene has put out a $12.50 earnings-per-share figure for full-year 2020 (compared with $6.02 for 2016), you are buying it cheap on the out-years. But if Receptos succeeds in all of its indications, that's child's play.
The cons of chasing Netflix? You don't know what anyone else knows, and it is already up a lot. The cons of buying it? If I am using a $150 target, what does it matter if I buy here?
The answer is simple: a $36 run is $36 you didn't catch and might still get a chance to if it keeps going. But what happens tomorrow if the market tumbles off China? What happens if Greece falls through? The answer is you might get a better price.
So, you buy half right now and wait. The worst that happens is that's all you got in. Same with Celgene.
Both stocks have a huge short base. Netflix is always regarded as overvalued because it doesn't make money, but Amazon didn't either. Celgene has a short base because of the hedge funds challenging Revlimid's patent protection. Both turned out to be bad reasons to short.
Those people now know it and now they are covering. When they are finished, these stocks will drop -- that's when you buy the second half.
Sorry but discipline always trumps conviction in my book and it is no different this time.
At the time of publication, Action Alerts PLUS, which Cramer co-manages as a charitable trust, had no positions in the stocks mentioned.
Looking at Stocks From the Ground Up
Posted at 3:19 p.m. EDT on Wednesday, July 15, 2015
We've had huge runs. We have seen the Dow Jones averages almost triple off the bottom six years ago. There have been fortunes made time and time again owning individual stocks, ideas that aren't reflected in the broader averages yet lurk everywhere.
But with a little creativity and a lot of smarts, they can surface, bubble up from the bottom, the grass roots of shareholders, or start at the top, from smart management, and the opportunities never seem to stop. Plus, they are often right in our faces, on the dinner table, or the living room or in the mall, and they are just there to be had if you are looking at them.
Today I heard a raft of them, way too many detail, at the Delivering Alpha conference, thrown by CNBC and Individual Investor. Let me just give you the ones that I got to delve into firsthand so you know the ease with which they can be found or translated into something that's much bigger than you ever thought.
Take these shoes. Sorry I didn't have time to shine 'em. Walked into the garden with them the other day and have been meaning to do so.
I bought them at Macy's (M) - Get Macy's Inc Report.
I look at stocks in a particular way, the way I was trained -- pretty classical, I should add -- at Goldman Sachs (GS) - Get Goldman Sachs Group, Inc. (GS) Report. First, I start from the top down: Do I want to own a retailer in an environment where there's pretty decent job growth around the country, and I think it's getting better, not worse? Do I want to buy one when oil's coming down, giving more purchasing power to the consumer, which is occurring right now? Do I want to keep things domestic, so I don't get hurt by the super-freaking strong dollar that seems to grow stronger every day, including today?
The answers to every single one of those is a resounding yes. Keep it local, gasoline going back to $2, employment for July seems solid, what's not to like?
But which one? I want one that keeps beating the estimates and raising, that's surprising people with its strength. That means I am drawn to Target (TGT) - Get Target Corporation Report with a re-energized organization spurred by the change at the top with the anointing of Brian Cornell as CEO. If you Google (GOOGL) - Get Alphabet Inc. Class A Report "hard-charging," I think his name comes up, or maybe a hash tag on Twitter (TWTR) - Get Twitter, Inc. Report? (Google, Target and Twitter are part of TheStreet's Action Alerts PLUS portfolio.)
Others might say, wait, I want Home Depot (HD) - Get Home Depot, Inc. (HD) Report because when employment is robust and you have more disposable income, you want to buy a home and invest in it, which means you buy the shares of Home Depot.
Right now, though, I am staring at my black wingtips and kicking myself, because Macy's, where I bought them, is up 9% because a real smart guy whom my partner David Faber and I interviewed, CEO Jeff Smith of Starboard Value, an activist hedge fund, presented another way to look at Macy's. Instead of looking at the earnings per share, which is my way, and reacting to it, something that would have had you studiously avoid the company because, by its own reckoning, it's putting up disappointing numbers, Smith looked at it as a real estate play and he suggested the company itself might be amenable to doing so, too.
If management and/or the board did so, he says this $72 stock could be worth $125. How in heck does he get that? Because he's not looking at the business as it is, he's looking at the more valuable real estate underneath it and thinking what would happen if the company monetized that real estate, selling it to another entity and then paying rent because the physical locations are being undervalued. He's looking at that credit card business as a real gem -- first credit card I ever had, by the way -- and thinking about how to monetize that. He's thinking of Macy's as a collection of assets, not as a store chain, and his musings popped the stock big time.
Who is he to suggest this? Well, he's the guy who challenged the board of Darden (DRI) - Get Darden Restaurants, Inc. Report, parent of Olive Garden, and urged it to look at its business the same way. That's when the stock was at $53. Management didn't believe in Starboard's view but the shareholders did and voted to replace that group with Starboard's people and the result is a stock that subsequently has leaped to $71.
You think that's not lost on the Macy's people? I challenged him on it, saying I think CEO Terry Lundgren and his executive team would never go for it because they have said any plans to monetize real estate may not be all that easy to implement, so he could be blocked. I also said that, back in the '80s, Macy's took on too much debt and went bankrupt.
Smith came back and said he has stress-tested Macy's during the dark days of the Great Recession and it came up aces, plus all that's happened since then was the real estate like the flagship Herald Square location or a terrific store in San Francisco has risen dramatically in value. There's no denying either point. And he said management is much more aware of the positive possibilities here than I may know.
Ka-ching.
Now Macy's has missed a few quarters and it might miss this one. Delivering Alpha's not going to be moving it tomorrow. Analysts will most likely pooh-pooh the move and the stock can retreat. But I don't think I will ever think of Macy's again as a place that I bought these shoes. I will think about the value that could be brought out if the company looks at its real estate and credit cards through the Starboard lens.
We've had Farooq Kathwari, CEO for Ethan Allen (ETH) - Get Ethan Allen Interiors Inc. Report, on too many times to count and each time he has traced out a story that says the public will want to buy his mostly made-in-America furniture because of the style, quality and brand of this furniture maker.
But you know what he has never said? That maybe you should buy his stock because of the quality of the real estate he owns. Yet that's exactly how activist Tom Sandell said it should be looked at, especially that the underperforming stock of the underperforming company could produce a much greater return if it simply monetized the assets it had and closed the superfluous one, like the 200-room hotel that Sandell said Ethan Allen owns that was virtually empty when he visited headquarters. I look at Ethan Allen as highly stylized bedroom and kitchen furniture. He looks at is a place where the bricks and mortar are worth more than the sales, and, he added, plenty of people feel that way.
In other words, something could happen that makes a sleepy furniture stock into an instant win if you look at it the way Sandell does. Now we know from interviewing Farooq that the quarter's going to be promotional as the company switches its inventory, which means there is tremendous earnings risk -- again the way I look at it. I think the stock can slink back down. But those Ethan Allen end tables next to my old bed? Never going to look at them the same way again either.
Or how about McDonald's (MCD) - Get McDonald's Corporation (MCD) Report? Lately I have been part of an effort to "fix my McDonald's" on Twitter where people send in pictures of their dirty McDonald's and talk about how they want them clean like they used to be. I interviewed Nelson Peltz, a fantastic activist and the man who helped turn around Wendy's (WEN) - Get Wendy's Company Report, and the very smart Bill Ackman, who backed an amazingly quick turn at Burger King (BKW) , both arguably much lesser operations than McDonald's, and both said this one was infinitely fixable and could be worth more, possibly much more, than it is selling for, although it might take a bit of time to turn it around. Hey, I am willing to take the 3.43% yield, much better than a 10-year Treasury with an awesome balance sheet behind it, while I wait for the turn to happen.
Yep, Macy's, Ethan Allen and McDonald's, three stocks I am looking at through the prism of what I see now, using my traditional methods of valuation. Or Macy's, Ethan Allen and McDonald's, three companies that could, with creativity, be tapped by restive shareholders to create more value than you ever dreamed.
Just another way to look at them, a better way, and one that may just work.
At the time of publication, Action Alerts PLUS, which Cramer co-manages as a charitable trust, was long GOOGL, TWTR and TGT.
Must Read: 10 Stocks Billionaire John Paulson Loves