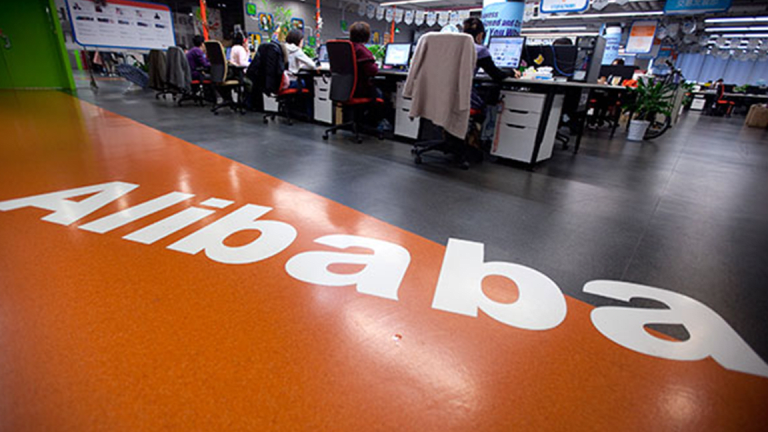 In 2018, I Want to Say I Bought Alibaba's Stock in 2017
Jack Ma is being innovative, and aggressive, and not just for the short term.
Let's take a look at a chart on Alibaba (BABA) - Get Alibaba Group Holding Ltd. Report that dates back to early June, when the stock really started to cook. What strikes me is the negative money flow, which seems to have persistently fluctuated toward the negative since mid-September. Another significant indicator has been the moving average convergence divergence (MACD), which has illustrated for us a series of bearish crossovers of the 26-day EMA by the 12-day EMA that began in August. Mind you, both of these moving averages remain above the nine-day EMA, which I'll take as a mild positive.
Now, take a look at the Pitchfork. Worked like a charm, until it didn't. You can see that the lower trend line broke earlier this week and has not recovered. In fact, the 50-day SMA broke as well, despite having worked as support two weeks ago. Now, this stock has come a long way. It could, in fact, fall even more. I do like the way Jack Ma is thinking, though. He's being innovative, and aggressive, and not just for the short-term. Over the last two days, I have put on about one-tenth of what I am willing to get long here.
My thought is that every investor should have a shopping list of names that they wish they had bought, but missed, and then get involved when they go on sale. For Steve Guilfoyle, this was one such name. Don't be timid. I actually see this stock falling as far as $168, but I really do not know if that level will either be reached or even hold if reached. What I think I do know is that next year I want to say that I bought Alibaba this year.
(This is an excerpt from Stephen "Sarge" Guilfoyle's Morning Recon, which now appears exclusively on Real Money, our premium site for active traders. Click here for a free 14-day trial and receive Morning Recon every day, along with exclusive columns from Jim Cramer, James "RevShark" DePorre, technical analyst Bruce Kamich and more.)
More of What's Trending on TheStreet:
At the time of publication, Stephen Guilfoyle was long BABA, although positions may change at any time.