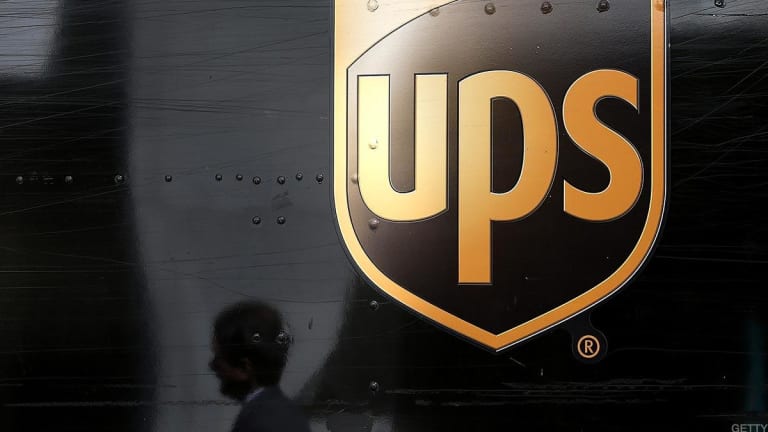 UPS Second-Quarter Earnings Beat Is Fueled by Next-Day Demand
Shipping giant UPS reports second-quarter earnings that surpass analysts' forecasts, driven in large part by a surge in demand for next-day, e-commerce-related service in the U.S.
Shipping giant United Parcel Service  (UPS) on Wednesday reported second-quarter earnings that surpassed analysts' forecasts, driven in part by a surge in demand for next-day, e-commerce-related service in the U.S as well as stronger demand in its global freight shipment operations.
The Atlanta-based company posted adjusted earnings of $1.7 billion, or $1.96 a share, vs. $1.69 billion, or $1.94 a share, in the year-earlier quarter. Analysts polled by FactSet had been expecting earnings of $1.93 a share. Revenue rose to $18 billion, matching analysts' forecasts, and above the $17.5 billion of revenue from a year ago. 
UPS said its U.S. domestic segment generated "significant volume growth in all products, led by a more than 30% surge in UPS Next Day Air volume." The sharp increase in demand for the company's next-day services was driven by accelerated delivery requirements from e-commerce shippers.
For the third quarter, UPS said it expects adjusted earnings "... to benefit from numerous items including one additional operating day and year-over-year International benefits from 2018 commodities headwinds that should not repeat."
For the full year, the company expects adjusted per-share earnings in the range of $7.45 to $7.75, and adjusted free cash flow of between $3.5 and $4 billion.
Separately, UPS announced it would expand delivery to seven days a week on Jan. 1. Rival FedEx (FDX) announced earlier this year it would begin shipping packages seven days a week.

Shares of UPS were up 8.35% to $114.06 in mid-day trading on the New York Stock Exchange.