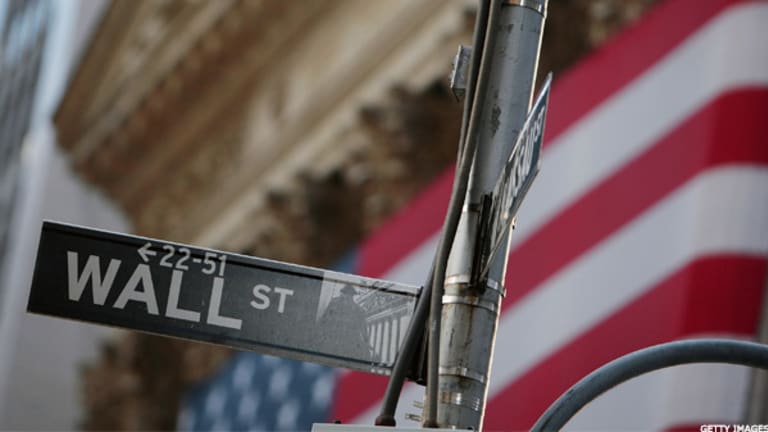 News Corp Rides Bull Market Despite Ratings Dip
News Corp, Time Warner and Viacom trade at premiums to the market despite an uncertain picture on advertising and ratings.
NEW YORK (
) -- Bull markets are by nature confounding: reality mostly trails expectations, and a market in near constant escalation begs asking whether things are really this good.
Media heavyweights
News Corp
(NWSA) - Get Free Report
,
Time Warner
(TWX)
and
Viacom
(VIAB) - Get Free Report
have surged on this market, a bull run now in its fifth year. News Corp on Thursday closed at $30.51, having gained 20% in 2013 while boosting the stock's valuation to 19.4 times earnings, near its highest level in three years. Time Warner is doing much the same, trading at 17.3 times earnings, near its highest level since December 2009.
News Corp investors have doubled down on the stock since June when Chairman Rupert Murdoch, chastened by the U.K. phone-hacking investigation, agreed at long last to separate his publications assets from his much faster-growing TV and film businesses. News Corp shares have gained 35% since that announcement.
Also see: Cramer Greets the 21st Century: Uber
Nonetheless, the outlook on television advertising, according to Doug Creutz, a San Francisco-based analyst at Cowen & Co., is "O.K., not great" and News' Fox network "has some ratings issues that they do need to fix." Indeed, viewership at Fox among the coveted 18 to 49 age group has been 23% lower this season through March 17 compared to the same period a year ago. "American Idol" may finally have run its course.
But that less-than-stellar picture hasn't phased investors, or Wall Street analysts. Creutz is one of 20 sell-side marketers who rate News Corp a 'buy,' or its equivalents, versus three analysts with a 'hold.'
Larry Haverty, a portfolio manager at GAMCO Investors and an owner of News Corp shares, says investors have been monitoring the company's cash flow projections, and like what they see. Sure, advertising isn't growing at a double-digit pace but distributors of Fox's broadcast and cable-TV networks are paying more to carry those channels.
The profit picture is enticing: News Corp's earnings per share on an adjusted basis is expected to rise 19% this year and 18% in 2014, according to the average estimate of 24 analysts in a Bloomberg survey.
Also see: Reed Hastings Hypnotizes Wall St. Analysts
"Most of the cash flow is coming from the cable networks, and cable networks are the best media business around," Haverty said in a phone interview on March 26. "Advertising is volatile but affiliate fees are steady and predictable, and those fees are growing faster than the ad market.'"
Indeed, News Corp revenue from affiliate fees for U.S. pay-TV carriers increased 13% in the quarter ended Dec. 31 whereas U.S. advertising rose 8%. Haverty's Gabelli Global Multimedia Trust, a closed-end fund that holds News Corp shares, is up 23% over the past 12 months.
Not everyone, though, is seeing roses. All the market cheer is making Hal Vogel, an investor and longtime media industry observer, uneasy and a bit frightened. Vogel likes News Corp and has nothing but good things to say about Murdoch and COO Chase Carey. His concern is with a bull market that's been "artificially fueled" by a Federal Reserve buying $85 billion in bonds each month while keeping interest rates "ridiculously low."
The U.S. grew a mere 1.5% last year after expanding 2.4% in 2010 and 1.8% in 2011 as unemployment has stood stubbornly at around 8% or higher, Vogel said. The payroll tax is up and gasoline prices have been rising. Inflation holds at 1.9%, though Vogel is among the crowd who claims that figure is being low-balled.
Also see: Have Big Media Stocks Run Too Far?
"The Fed, the European Central Bank and now the Japanese are trying to pump up their economies giving the illusion that things are really improving," Vogel said in a March 25 interview. "The Fed's policies are creating tremendous inflation. At best this points to sluggish growth, and at worst, we're headed for a sharp change of direction in the stock market."
If the market does turn downward, Vogel forecasts advertising will fall sharply, and even higher affiliate fees won't be enough to compensate for the decline.
"When it turns, it will be violent and it will be quick," Vogel warns, "because a lot of this market has been supported by central bank actions that are becoming less and less effective."
Any market that has gained 131% from its low in March 2009 will have its collection of naysayers. But while Haverty acknowledges that News Corp and media stocks generally have benefitted from investors borrowing at low interest rates and investing in the market, he doesn't see doomsday.
Rather, Haverty sees a company that is well-run and getting the most out of its cable-TV stations. Cruetz agrees, arguing that with the S&P trading at 15.4 times earnings - its highest level since May 2011 - News Corp. as well as Time Warner and Viacom aren't overvalued.
"These guys are oligopolies of content," Cruetz said. "You have good visibility and double-digit EPS going forward. There's no reason these companies can't be relatively good performers compared to the overall market."
Written by Leon Lazaroff in New York