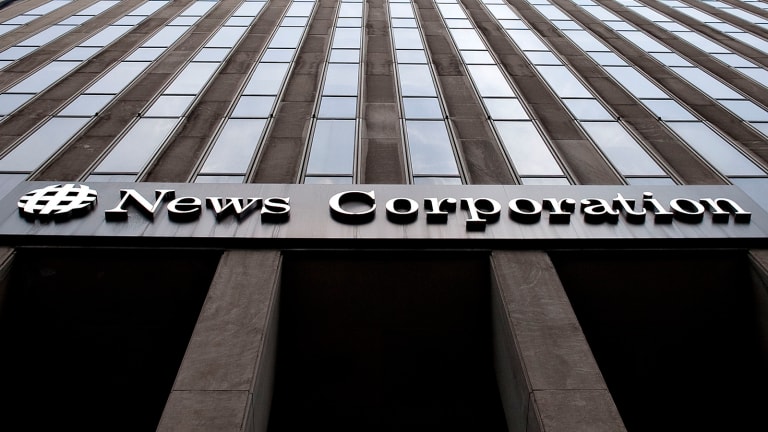 News Corp. Climbs on Fourth-Quarter Earnings Beat
The media heavyweight, parent to the Wall Street Journal, beat Wall Street's earnings expectations.
Shares of News Corp. (NWSA) rose Friday 5.2% to $14.05 after the media heavyweight beat Wall Street's fourth-quarter earnings expectations. 
The parent of the Wall Street Journal reported a loss of $51 million, or 9 cents a share, compared with a loss of $372 million, or 64 cents, in the year-earlier quarter. Adjusted earnings came to 7 cents a share, beating analysts' estimate of 2 cents.
Revenue totaled $2.47 billion, down 8% from a year ago, and falling short of Wall Street's estimate of $2.49 billion.
News Corp. said the decline stemmed largely from such factors as a $105 million negative impact from foreign-currency fluctuations, and lower revenue at the book publishing segment, which includes the absence of the one-time contribution from the sublicensing agreement for J.R.R. Tolkien's The Lord of the Rings trilogy.
In addition, the decline was driven by lower broadcast subscriber revenue at the subscription video services segment, lower advertising revenue at the news and information services segment, and $18 million of lower revenue as a result of the adoption of the new revenue-recognition standard.
For the year, the company reported net income of $155 million, or 26 cents a share, compared with a net loss of $1.4 billion, or $2.60 a share, a year ago. The improvement was primarily driven by the absence of the non-cash impairment charges and write-downs of $1.2 billion recognized in fiscal 2018, and other matters.
Revenue totaled $10.07 billion, up 12% from a year ago, which the company said reflected the consolidation of Foxtel for the full year and growth at the digital real estate services segment.
Wall Street Journal subscribers reached a record of 2.6 million for the year with digital-only subscribers accounting for about 69% of the total subscriber base.