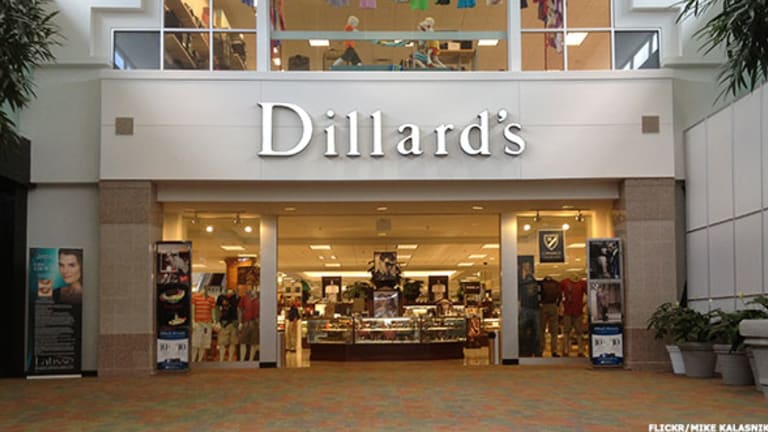 Newbie Activist Snow Park Urges Dillard's to Lease Real Estate
The startup activist believes that Dillard's should lease out some or all of its owned space
Newbie real-estate focused activist investor Snow Park Capital LP on Monday launched a campaign to drive department store chain Dillard's Inc. (DDS)  to lease locations to higher paying retailers.
"Dillard's is essentially an unleveraged real estate company that is masquerading as a low productivity retailer," Snow Park managing partner Jeffrey Pierce said in a statement. "It owns approximately 48 million square feet of real estate, of which nearly a quarter is located in class A malls that on average do north of $650 per square foot in sales, and additionally it owns 3.5 million square feet of well-located industrial assets."
The New York-based activist fund owns a 2% stake in Dillard's, according to a person familiar with the situation. The fund argues that Dillard's owned real estate worth about $200 a share, significantly more than the company's $83.35 a share price. The activist campaign launch gave the company's share price a bump of about 6% in pre-market trading Monday.
According to a person familiar with the situation, Snow Park believes that other retailers, such as Dicks Sporting Goods, Nordstrom Rack, Burlington Stores or Ross Stores, would be happy pay for the use of the real estate, which would generate about $500 million in real estate income.
Snow Park isn't the first activist to target Dillard's. Activist investor Jim Mitarotonda and his Barrington Capital waged a campaign at the department store chain in 2008. The retailer changed some of its board as part of an April 2008 settlement with the activist investor. Nevertheless, Barrington didn't succeed to pressure Dillard's to conduct a major sale-lease back of its real estate. 
Significant change at Dillard's is going to be hard to achieve. Eight of the 12 directors at Dillard's are controlled by the Dillard's family through Class B shares. As a result, Snow Park or any activist would have a difficult time changing the company's board and driving share-price improvement change in the months to come. 
The activist fund, which is managed by Jeffrey Pierce, doesn't have much of a history when it comes to insurgencies. Nevertheless, along with other activists, it agitated for a share-price improvement at both Ashford Hospitality Prime and FelCor Lodging Trust Inc.
In April, RLJ Lodging Trust (RLJ) - Get RLJ Lodging Trust Report   agreed to a $1.18 billion all stock merger with FelCor Lodging rather than accept a hostile bid from fellow Texas lodging REIT Ashford Hospitality Trust. That came after another real estate focused activist, Land & Buildings' Jonathan Litt in February 2016 entered into a settlement with FelCor that involved bringing on two new directors. In October, Snow Capital sent a letter to FelCor urging the board to give shareholders a vote on whether the lodging REIT should liquidate by the 2018 annual meeting.
The primary activist at Ashford was Sessa Capital. In February, Sessa settled with Ashford to add two dissident director candidates plus a third mutually-agreed upon board member.
Prior to starting Snow Capital, Jeff Pierce was managing director at New York-based Luxor Capital Group LP and was responsible for the firm's liquid real estate-related investments. Before that, he was an analyst at Farallon Capital Management LLC.
For more coverage like this sign up for the Activist Daily.