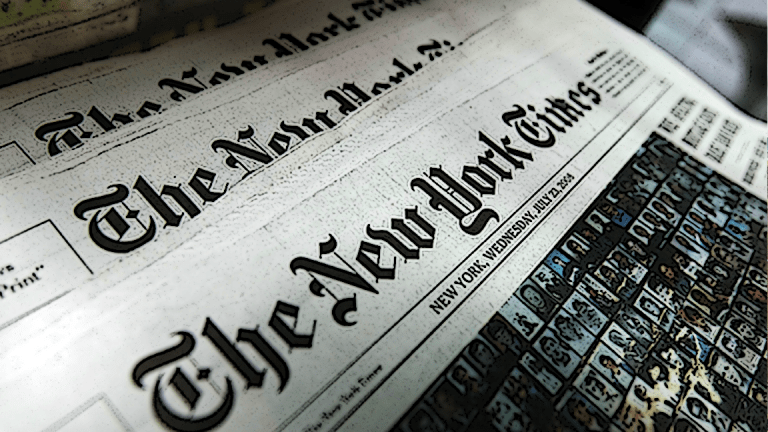 New York Times Reports Strong First-Quarter Earnings
New York Times posts first-quarter earnings that beat analysts' forecasts on stronger subscriber growth and positive results from the spinout of its digital products NYT Cooking and Crossword offerings.
New York Times  (NYT) on Wednesday reported first-quarter earnings that beat analysts' forecasts amid strong digital subscriber growth and positive results from the spinout of NYT Cooking and Crossword, two of its non-news digital products.
The so-called Grey Lady said it earned $30.2 million, or 18 cents a share, in the first three months of the year, vs. $21.9 million, or 13 cents a share in the comparable year-earlier quarter. On an adjusted basis, the company earned 20 cents a share vs. 17 cents in the first quarter of 2018.
Analysts surveyed by FactSet had been expecting per-share earnings of 9 cents.
Operating profit was roughly flat - $34.6 million compared with$34.1 million in the same period a year earlier - as higher digital-only subscription and other revenue was offset by higher operating costs. Adjusted operating profit dropped to $52.4 million from $55.5 million.
"We saw very good year-over-year growth in digital advertising while total advertising was flat," CEO Mark Thompson said in a statement.
However, subscription revenue accounted for two-thirds of the company's total revenue, and digital-only subscription revenue for the first time accounted for more than a quarter of total revenue, Thompson said.
The company added 223,000 net new digital-only subscriptions, of which 144,000 were to its core news product, for a total of 4.5 million subscriptions as of the end of the first quarter.
Its Crossword product, meantime, passed the 500,000 total subscription mark, "which makes it, in its own right, the fifth-largest digital subscription product from a U.S. news provider," Thompson said. The company is launching another new product, Parenting, in beta format on Wednesday.
Shares of New York Times began the trading day Wednesday down 1.8% at $32.30.