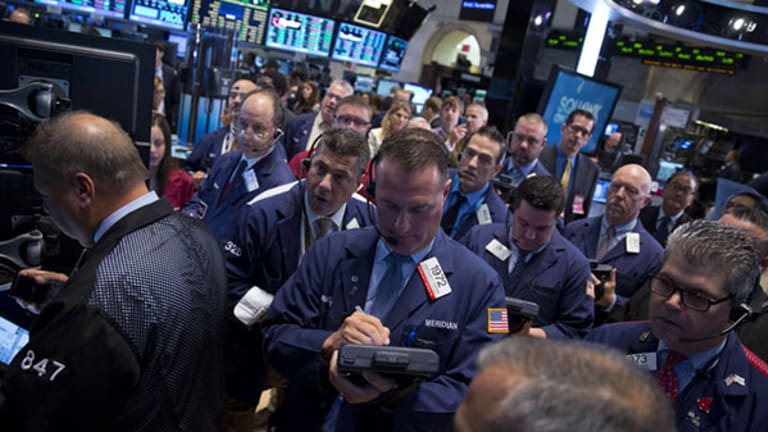 New York Stock Exchange Resumes Normal Trading After Technical Glitch
The New York Stock Exchange resumed trading shortly after 3 p.m. following a technical glitch that halted transactions for more than three hours.
The New York Stock Exchange resumed trading shortly after 3 p.m. following a technical glitch that halted transactions for more than three hours.
NEW YORK (TheStreet) -- The New York Stock Exchange resumed trading shortly after 3 p.m., following a technical glitch that halted all transactions for over three hours.
"It's not a good day," President Thomas Farley said in an interview with CNBC in which he outlined the timetable to restart normal operations. "I don't feel good for our customers who are having to deal with the fallout." All open orders before the shutdown were canceled, the NYSE said in a statement on its website, and the NYSE Arca and NYSE Amex/Arca Options platforms continued to operate normally, the exchange said. 
"The issue we are experiencing is an internal technical issue and is not the result of a cyber breach," the exchange said in a Twitter posting. "We chose to suspend trading on NYSE to avoid problems arising from our technical issue." 
The U.S. Securities and Exchange Commission was "closely monitoring the situation and trading in NYSE-listed stocks," SEC Chairwoman Mary Jo White said in a statement. "While NYSE is working to resolve the situation, NYSE and NYSE MKT stocks continue to trade normally through other trading venues."
NYSE-listed securities can also be traded on the Nasdaq Stock Market, for example, which operated as usual. Nasdaq trading volume in those securities jumped about 20 percent through early afternoon compared with the day before.
The abrupt shutdown added another kink to a day already roiled by suspended trading in China and the possibility of Greece's exit from the European Union, leaving traders frustrated and the exchange floor almost deserted around noon.
At Fidelity, orders were re-routed so that clients could trade NYSE-listed stocks on other platforms, a spokesman said. Non-directed trades allow brokers to decide which exchange to use when purchasing a stock, while a directed trade specifies the client's preferred platform.
Client trading at Charles Schwab (SCHW) - Get Report wasn't affected, said company spokeswoman Sarah Bulgatz. "Other exchanges are open, so NYSE-listed stocks are continuing to trade at those other venues," she said.
Wednesday's disruption "shows that these trading systems have some flaws that need to be addressed," said Scott Wren, senior global equity strategist at Wells Fargo Investment Institute. "That becomes especially apparent when investors are a little nervous anyway, given that global tensions/issues and volatility is on the increase."
Based on Wall Street, an address that has become synonymous with U.S. markets, the New York Stock Exchange was formed in the late 18th Century, and was purchased by Intercontinental Exchange for $11.1 billion in November 2013. Last year, it was the global leader in initial public offerings, or IPOs, for the fourth straight time, raising $70.3 billion, according to a regulatory filing.
Its exchange-wide trading halts have been relatively rare. Historically, the NYSE has closed to limit the fallout of severe market drops, including during military actions or political uncertainty. It shut down for a week in 1865 after the assassination of President Abraham Lincoln, for 10 days in 1873 when a Philadelphia banking firm failed and for more than four months amid the outbreak of World War I. A so-called circuit-breaker rule triggered a halt 30 minutes before closing time in 1997, and the exchange shut down for four days after the 9/11 terrorist attacks.
In the case of Wednesday's halt, "the idea of panicking over this would be a shame," TheStreet's Jim Cramer said on CNBC.