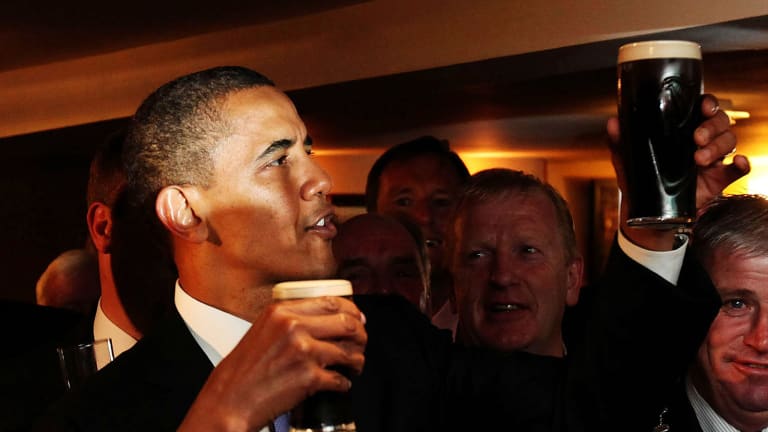 New York City Is America's Biggest Market For Guinness Beer
For many people around the world, celebrating St. Patrick's Day means enjoying a pint of Guinness.
For many people around the world, celebrating St. Patrick's Day means indulging in at least one pint of Guinness.
For Diageo (DEO) , which owns the Guinness brand, St. Patrick's Day also means big business. The spirits company says 15% of its Guinness sales occur in March.
The beer, first brewed in Ireland in the 1700s, is one of the most successful beer brands and is sold in 150 countries around the world.
Here in the U.S., the biggest market for Guinness is New York City.
Diageo-Guinness USA President Tom Day said, "New York City is our largest market. Obviously, markets like Boston, Chicago, San Francisco and L.A. are large markets (too)."
While the country's largest cities may be the biggest markets for Guinness, the brand is finding new drinkers with new variations of the popular brew.
"We're seeing a big shift with the new innovations that we've brought out."
Last year, Guinness launched Guinness Blonde American Lager and recently launched Guinness Nitro IPA. Day said with those two new introductions the brand has seen an increase in sales across the southern part of the United States.
Guinness sells over 20 varieties of the beer around the world. So the big question is whether Americans will see new varieties of Guinness on their store shelves in the coming year.
"We've been on the innovation trail and Americans love different varieties, they love different tastes and we're going to make sure that we deliver that to them," said Day.
Diageo-Guinness rang the closing bell at the NYSE on Thursday in celebration of St. Patrick's Day.
TheStreet's Ruben Ramirez reports from the floor of the New York Stock Exchange.