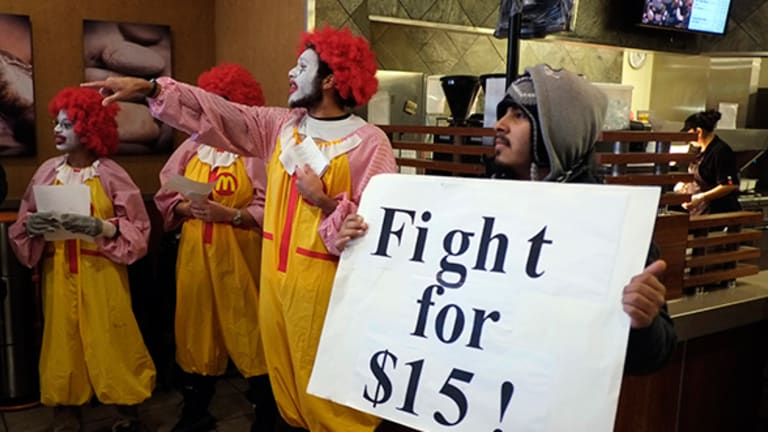 New York Boosts Fast-Food Minimum Wage to $15 to Aid Economy
New York's fast-food workers are getting a pay raise to $15 an hour, up from $8.75, in a move driven by Gov. Cuomo to help the economy.
NEW YORK (TheStreet) -- New York's fast-food workers are getting a pay raise after the state's wage board approved a new minimum hourly pay of $15, up from $8.75, on Wednesday. 
The wage hike applies to fast-food workers -- whether at big corporations like McDonald's (MCD) - Get Free Report and Burger King (BKW) or smaller, privately-owned restaurants -- but not to minimum-wage employees in retail and other industries.
Workers who earn the state's current minimum wage of $8.75 make $350 during a 40-hour work week now, or $18,200 a year. Those totals will jump to $600 for a 40-hour work week, or $31,200 a year.
The pay bump will not change workers' tax brackets for 2015. And they'll still be eligible for lower premiums on a marketplace insurance plan through the Affordable Care Act, as individuals who make between $11,670 and $46,680 may qualify. However, those who may qualify for lower premiums and lower out-of-pocket costs for marketplace insurance are capped at a yearly income of $29,175.
The move was driven by New York Gov. Andrew Cuomo, who has stressed that raising wages for the lowest-paid workers helps the economy instead of hurting it.
In an op-ed piece for The New York Times in May, he wrote: "More than 600 economists, including seven Nobel Prize laureates, have affirmed the growing consensus that raising wages for the lowest-paid workers doesn't hurt the economy. In fact, by increasing consumer spending and creating jobs, it helps the economy. Studies have shown that every dollar increase for a minimum-wage worker results in $2,800 in new consumer spending by household, and of the 13 states that have increased the minimum wage since 2014, including New York, all but one experienced employment growth."
Gov. Cuomo said the state's low fast-food wages cost taxpayers $700 million a year in public assistance.