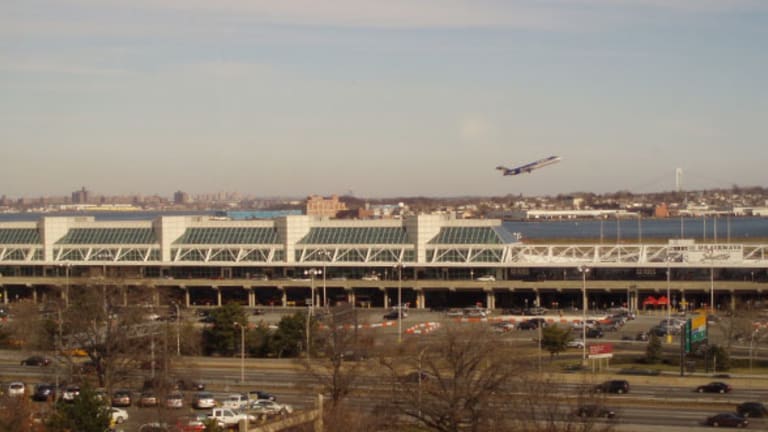 Here's Why New York Area Airports Score Low With Travelers
Passengers are increasingly satisfied with U.S. airports, except for the ones where long-delayed construction projects are finally underway.
A new survey showed that airline passengers are increasingly happy with U.S. airports, but the heavily used key airports in New York, New Jersey, Connecticut and Philadelphia continued to trail in satisfaction levels.
The J.D. Power 2017 North America airport satisfaction survey found that Newark Liberty International Airport in New Jersey is the least popular mega-airport, LaGuardia Airport in New York is the least popular large airport and Bradley International Airport in Hartford, Connecticut, is the least popular medium-sized airport.
Among mega-airports, just five airports -- Boston Logan International Airport,  New York's John F. Kennedy International Airport, Chicago O'Hare International Airport, Los Angeles International Airport and Newark -- scored below average, while the remaining 13 were above average. Hartsfield-Jackson Atlanta International Airport, the world's largest airport, scored one point above the average.
Philadelphia and LaGuardia were the lowest scoring large airports. Cleveland Hopkins International Airport and Hartford were the lowest scoring medium-sized airports.
"The common thing for all of those older facilities is that they are undergoing a lot of construction," said Michael Taylor, travel practice leader at J.D. Power.
"All of these mega-airports had plans to renovate and refurbish and build new terminals in 2000," Taylor said. "Then Sept. 11th happened and then the recession. Airlines weren't making any money and didn't want to spend any money.
"Now they are making money, and they are less opposed to construction and rehab," he said. In general, airport improvement projects are financed with bonds backed by airport revenue from parking, concessions and fees paid by airlines.
As an example of the ongoing effort to improve major airports, last month New York Gov. Andrew Cuomo and Delta Air Lines Inc.  (DAL) CEO Ed Bastian appeared in a groundbreaking ceremony to start construction on a new Delta terminal at LaGuardia.
Delta will pay a $3.4 billion share of the total cost of $4 billion, with the rest coming from the state. Its first new gates are set to open in 2018, with the airport overhaul completed in 2021.
Similarly, Delta in May was in the middle of a massive relocation at Los Angeles, moving its operations to Terminals 2 and 3 from Terminals 5 and 6, resulting in relocation of 15 airlines during a one-week move period. Spending to improve Delta's LAX facilities will total $1.9 billion.
In the end, the airports are better and passengers are happier, but during construction and relocation, "there is a satisfaction impact," Taylor said.
The J.D. Power survey was based on responses from 34,695 North American airline passengers who traveled through at least one domestic airport between January and August 2017.
It is worth noting that in April 2017, construction of a new LaGuardia terminal was causing such unbearable delays that it was not uncommon for passengers to get out of their taxis on the highway and head for the airport on foot.
Imagine surveying one of them the next day.
As for the most satisfying airports, the survey cited Orlando International Airport as best among mega airports, with Detroit Metropolitan Airport second and McCarran International Airport in Las Vegas third.
John Wayne Airport in Orange County, California, was best among large airports, with Tampa International second and Dallas Love Field third. Sacramento International was highest among medium-sized airports, with Indianapolis International second and Ted Stevens Anchorage International Airport third.
Overall, airport satisfaction has reached an all-time-high of 749 on a 1,000-point scale, up 18 points from last year's all-time high.
The improvement is driven primarily by an increase in satisfaction with security checks, thanks primarily to fewer Transportation Security Administration staffing issues this year, as well as to improvements in baggage check-in, thanks to more kiosks, and in the variety of food offerings.
Taylor said Orlando has a personal feel, such as when "airport administration comes down and helps direct traffic through TSA." He said Sacramento offers "a California vibe [and] a feeling of serenity," partially because it has a public art program that includes a giant rabbit hanging from the rafters and trees growing in the passenger terminals.
"That's hard to replicate at O'Hare," he acknowledged.
Taylor also commended Miami International for offering "a South Florida vibe," partially because the airport, renovated in recent years, has some local Miami restaurants.
High rankings are a big deal for airports: Taylor will attend a ceremony at Orlando International Airport on Thursday, Sept. 21. On Friday, Sept. 22, he will attend ceremonies at John Wayne Airport and Sacramento International.
This article is commentary by an independent contributor. At the time of publication, the author held no positions in the stocks mentioned.