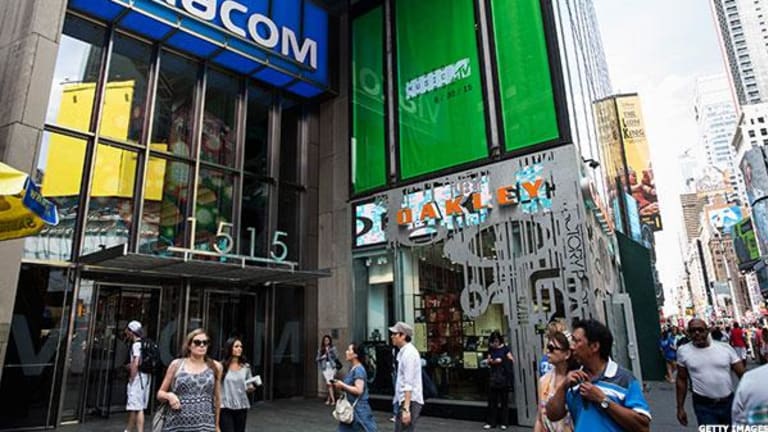 New Viacom Leadership Could Unlock Value, Permanent Portfolio's Cuggino Says
The president of the mutual funds company says the media company's shares have underperformed but it has good assets.
The president of the mutual funds company says the media company's shares have underperformed but it has good assets.
When it comes to Viacom (VIAB) - Get Report , Michael Cuggino is content to wait.
As president of Permanent Portfolio Family of Funds, Cuggino manages about 160,000 shares of Viacom's controlling stock, the class of shares largely held by Chairman Emeritus Sumner Redstone's National Amusements. 
For Cuggino, Viacom is an underperforming stock with good assets poised for a turnaround once it can get beyond the legal and increasingly personal wrangling between CEO Philippe Dauman and Shari Redstone, daughter of the former longtime chairman.
"They're undervalued in the long term," Cuggino said. "It's got a lot of creative media properties that probably need some refreshing. Net-net, there's potential from a valuation standpoint."
Viacom's controlling shares trade at 8.9 times earnings, a steep discount to the rest of the media industry. The S&P Media index, comprising 15 of the world's largest media conglomerates including Viacom, trades at 16.2 times earnings. Viacom's shares, of which National Amusements owns nearly 80%, have fallen 33% over the past 12 months despite having gained 13% since April 19 when speculation about a sale or leadership change fueled interest in the stock.
For the foreseeable future, Cuggino said, Viacom will be in a holding pattern, a hostage of the multiple court cases playing out in Delaware and Massachusetts that are intended to decide whether Dauman can regain his board seats at National Amusements and a Redstone trust, or whether Shari Redstone takes control of those entities and sends Dauman packing, albeit with a particularly "golden parachute" worth $84 million.
"I've tried to stay out of the way of the gossip and palace intrigue stuff," said Cuggino, who manages $3 billion in assets at Permanent Portfolio in San Francisco. "The business is underperforming with the current management team; they've had some brain drain. They have some governance issues, plan of succession issues, and that adds up to a lot of negatives."
On Thursday, a judge in a Massachusetts probate court is expected to decide whether to order an independent examination of Sumner Redstone's mental capacities. Dauman and Viacom director George Abrams sued the Redstone trust and National Amusements last month, arguing that Shari Redstone had taken advantage of her father's declining health to assert control over the media company.
Shari Redstone has countered that she has no intention of running Viacom herself and simply wants new leadership for a company that has largely struggled in recent years as younger viewers have moved away from Viacom's MTV and Nickelodeon to Alphabet's (GOOG) - Get Report YouTube, Facebook (FB) - Get Report and Netflix (NFLX) - Get Report .
Nonetheless, Dauman and Abrams have charged the younger Redstone with "undue influence" over her father while asserting that he always wanted the company, and his $40 billion media empire, to be run by "professionals" and not members of his family.
Whatever the outcome of the court battles and finger-pointing, Cuggino said Viacom remains a good investment. The company pays a reasonable dividend, owns a major Hollywood studio -- Paramount Pictures -- and owns cable TV properties that have excellent name recognition if few hit shows. (Its other networks include Comedy Central, Spike, TV Land and BET, among others.)
"It is a collection of undervalued assets ... and so we're willing to wait and collect a dividend while it gets its house in order," Cuggino said. "It has been frustrating, but if they can get back to running the business and refresh some of their properties, there's substantial gain opportunity in the long term."
Viacom shares on Tuesday afternoon were up nearly 3% to $40.03 as the broader financial markets rebounded from two days of Brexit-related losses.