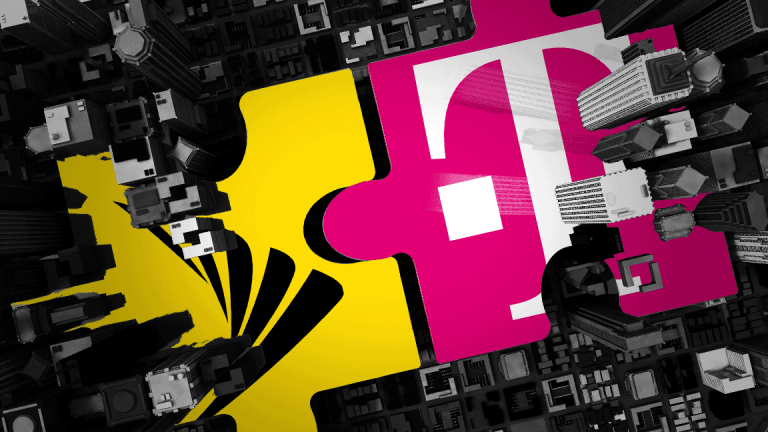 How Would the New T-Mobile Fare in the All-Important Race to 5G?
A combined company should be able to spend significantly more on upgrading its network, but likely not as much as its giant rivals.
If ultimately approved, Sprint (S) - Get SentinelOne Inc. Class A Report and T-Mobile US Inc's (TMUS) - Get T-Mobile US Inc. Report mega merger should allow the combined firm to stay competitive in building out a next-generation wireless network. But that doesn't mean it'll be able to surpass rivals Verizon Communications Inc. (VZ) - Get Verizon Communications Inc. Report and AT&T Inc. (T) - Get AT&T Inc. Report
Analysts said that the deal, which faces significant regulatory hurdles, would help T-Mobile become a stronger competitor and shore up the debt-saddled Sprint. However, catching up to its two larger rivals in 5G buildout won't be easy for T-Mobile.
Jim Cramer writes over at Real Money that the deal is crazy but just might work. 
Verizon said last November that it will commercially launch 5G wireless residential broadband services in three to five U.S. markets this year, and in April said that its capital spending this year including the launch will be between $17 billion to $17.8 billion. Meanwhile, AT&T announced in January that it expects its mobile 5G service to be available in a dozen markets by late 2018, and that its capital expenditures for the year will approach $25 billion.
Bill Menezes, a Gartner analyst who covers cell services, said that Sprint would give T-Mobile a large holding of cell spectrum to use for 5G, while T-Mobile has more of the cash-generating firepower that Sprint lacks to invest in building out the new network.
"I think it's fair to say it would be more difficult, though not impossible, as separate companies to roll out 5G effectively and in a way that enables them to successfully compete in that market," Menezes said.
John Legere, T-Mobile's CEO who would become CEO of the combined company, said that the new company would spend about $40 billion over three years to build out its 5G network, which is more than both of the companies would have spent separately.
"This combination will create a fierce competitor with the network scale to deliver more for consumers and businesses in the form of lower prices, more innovation, and a second-to-none network experience -- and do it all so much faster than either company could on its own," Legere said in a press release Sunday. "As industry lines blur and we enter the 5G era, consumers and businesses need a company with the disruptive culture and capabilities to force positive change on their behalf."
Recon Analytics analyst Roger Entner said that that the merger would certainly allow the companies to put more pressure on AT&T and Verizon, with Verizon having led the competition in the last three generations of wireless networks, Entner said. 
"With 5G, everybody besides Verizon is trying to prevent that story from repeating itself," Entner said.
Menezes said that though the merger would mean T-Mobile and Sprint spending more on infrastructure, consolidation among carriers has historically been difficult for telecom equipment companies such as Ericsson (ERIC) - Get Ericsson Report and Nokia, (NOK) - Get Nokia Corporation Sponsored American Depositary Shares Report which bought its smaller rival Alcatel-Lucent in 2016. As companies consolidate, suppliers' customer base shrinks and they typically sell less equipment.
"The competitive leverage is with the buyers, not the sellers," he said.
But in this case, the merger is good for these large vendors, Entner said, because the combined entity will have more resources to spend as they try to compete with their giant rivals.