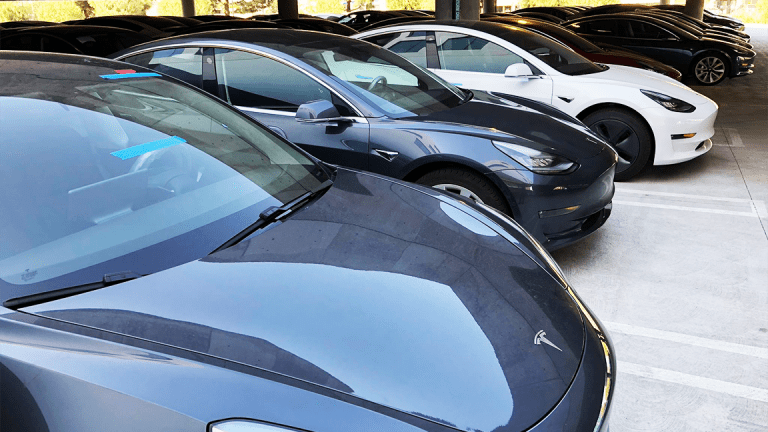 New Teardown Shows That Tesla's Model 3 Could Have Huge Profit Margins
Tesla's path to profitability just got a lot clearer.
Tesla's path to profitability just got a lot clearer.
Achtung! A leaked Tesla Inc. (TSLA) - Get Report Model 3 teardown reportedly commissioned by a major German automaker reveals that the car could have dramatically lower production costs than many analysts expected.
WirtschaftsWoche reports that the German engineering services firm that performed the teardown estimated the all-in production costs of the Model 3 to be around $28,000.
That includes material and delivery costs of approximately $18,000, plus building costs per car of approximately $10,000 assuming Tesla can achieve the 10,000 vehicle per week run rate that they ultimately plan on hitting.
Bloomberg's Model 3 production tracker estimates that Tesla achieved a production rate of more than 3,500 cars a week earlier this month, before shutting down the factory line for the latest round of upgrades.
The German Model 3 teardown was commissioned for German car company engineers to determine whether they could build a competitive electric car, both technically and economically. The leaked teardown comes on the heels of news that the Model 3 was the best-selling mid-size premium sedan in California, one of the hottest markets for the competing BMW 3-series and Mercedes-Benz C-class.
Even assuming significantly higher production costs due to lower production numbers right now, the teardown helps to make a major case for the profitability of the Model 3, which currently sells for just under $50,000 at the configurations Tesla is producing now.
And it suggests hefty margins for Tesla even at a planned $35,000 base price point once production ramps higher.
The teardown also revealed some major advances in Tesla's battery technology. The Model 3 tested only had 2.8% cobalt content in its battery cells, dramatically less than other cutting-edge battery chemistries. With concerns over the ability of the global supply of cobalt to keep up with demand, Tesla's ability to produce cars with vastly less of the element gives it a major advantage over competitors.
While Panasonic is currently building the cells for Tesla's Model 3 batteries, the 2170 cells being produced by Panasonic at Tesla's Gigafactory in Nevada were designed by both firms and the intellectual property behind them is reportedly exclusive to Tesla.
At current production levels, it's a safe bet that the Model 3 sedans rolling off the assembly line in Fremont today cost significantly more than the $28,000 estimated by the engineering firm. But the teardown revelations make Elon Musk's promises for profitability in the second half of the year look a whole lot more concrete.
As of this writing, Tesla remains the most heavily shorted stock in the U.S. market.
This article is commentary by an independent contributor. At the time of publication, the author held no positions in the stocks mentioned.