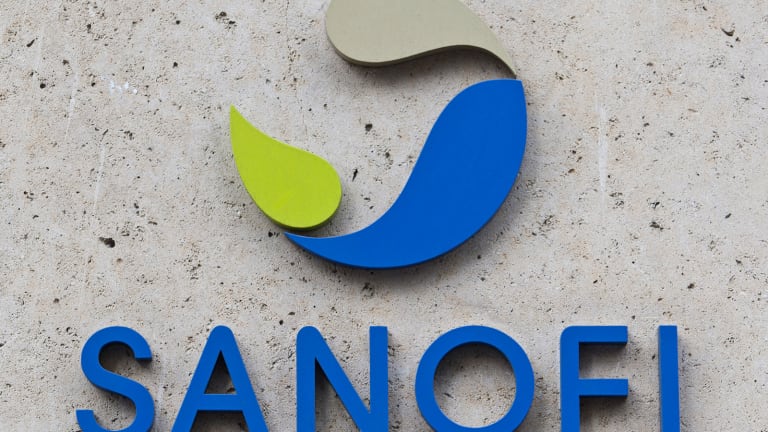 Sanofi (SNY) - Get Sanofi Sponsored ADR Report has lost another round of its battle against generic interlopers in its key diabetes franchise, increasing the urgency for the French pharmaceuticals company to buy or launch new products following its failed run at oncology specialist Medivation (MDVN) .
Sanofi CEO Olivier Brandicourt has been open about his desire for deals since taking the helm in April 2015 and a loss of patent protection for Lantus, its biggest drug, together with a court fight with Amgen (AMGN) - Get Amgen Inc. Report over its Praluent cholesterol treatment, mean it was always more likely to be bidder than target, despite a price earnings multiple that lags its peers.
UnitedHealth (UNH) - Get UnitedHealth Group Incorporated Report has now become the second of the three major U.S. healthcare providers to withdraw Lantus from its 2017 list of covered drugs.
The removal of the drug, along with Sanofi's successor insulin formulation Toujeo, in favor of Eli Lilly's (LLY) - Get Eli Lilly and Company (LLY) Report Basaglar follows Lantus' erasure from CVS Health's (CVS) - Get CVS Health Corporation Report so-called national formulary, Jefferies noted. A Sanofi spokeswoman confirmed UnitedHealth's decision, which she said would kick in from next April. But she said the drugs maker would maintain its guidance for diabetes sales to slip by between 4% and 8% a year on average between 2015 and 2018.
Mirabaud analyst Nick Turner called the development "significant bad news because it implies there will be a continuation of the pricing war within the diabetes sector in general and particularly with the insulin."
He said the price war will also affect Novo Nordisk (NVO) - Get Novo Nordisk A/S Sponsored ADR Class B Report , whose competing Levemir product will be lowered to Tier 2 status on UnitedHealth's list from Tier 1.
Jefferies analysts noted that they expect the UnitedHealth exclusion, alongside a delay to U.S. approval for Sanofi's LixiLan Lantus-plus-lixisenatide insulin combo, to push the diabetes revenue decline "towards the more bearish end of guidance." But they said patent infringement action confirmed by Sanofi this week against a subsidiary of Merck (MRK) - Get Merck & Co., Inc. (MRK) Report could at least delay the launch of a second "biosimilar," or generic, version of Lantus to early 2019.
Lantus is by far Sanofi's largest product and accounted for about 20% of Sanofi's €37 billion ($41.6 billion) of sales in 2015.
In July Sanofi said both group sales and profit declined more than expected in the second quarter, partly because of the U.S. diabetes business and also because of problems in Venezuela. Revenue fell 4.3% to €8.87 billion, while what Sanofi calls business net income - its preferred measure of net profit - declined 8.7% to €1.68 billion.
Its dream of adding a promising pipeline of oncology drugs ended a month later when Medivation yielded to a $14 billion bid from Pfizer (PFE) - Get Pfizer Inc. Report after holding talks with four suitors following Sanofi's unwanted approach.
The Sanofi spokeswoman said the company remains interested in expanding in oncology and is "open minded about collaborations" there and elsewhere.
She added: "We remain committed to long-term growth - we are sticking with Roadmap 2020," a strategy which entails achieving compound average annual sales growth of 3% to 4% between 2015 and 2020 and launching six new products with combined peak sales of €12 billion to €14 billion.
Mirabaud's Turner said consumer brands may be an area Sanofi will strengthen after its €22.8 billion asset swap with Germany's Boehringer Ingelheim, through which it gained consumer healthcare operations in return for its Merial animal medicines business.
The group has also previously highlighted rare diseases as an area it is looking to expand and Independent Research's Bernhard Weininger believes its fast-growing Sanofi Genzyme rare-disease division is capable of largely making up for revenue losses elsewhere.
As for potential targets, Weininger named oncology companies Incyte (INCY) - Get Incyte Corporation (INCY) Report and Genmab, and rare disease specialists BioMarin (BMRN) - Get BioMarin Pharmaceutical Inc. Report and Alexion (ALXN) - Get Alexion Pharmaceuticals, Inc. Report as potentially interesting for Sanofi, though he noted that Alexion would probably be too big.
Sanofi's  Brandicourt, and recently installed M&A chief Alban de La Sabliere, a former Morgan Stanley banker, could also seek to buy out  part-owned Regeneron Pharmaceuticals, (REGN) - Get Regeneron Pharmaceuticals, Inc. Report a Tarrytown, N.Y.-based biotech with which it has collaborated since 2007, Mirabaud's Turner noted.
Meanwhile, Sanofi, which had €11 billion of net debt as of the end of June, is assessing options for its European generics business, which it put up on the block at the same time as its Merial animal health business last year. It also has several European consumer health businesses to sell to comply with the conditions of EC clearance of its purchase of the Boehringer Ingelheim assets.
Sanofi shares on Thursday were little changed at €68.90. The company has a market value of €88.7 billion and a forward price earnings multiple that, at 13.9, compares with a sector average of 16.6, said Exane BNP Paribas.
But Weininger said, "A takeover of Sanofi is unlikely,  based on its size as well as its really diversified portfolio."
He said bidders could potentially instead target specific assets within the group.
Exane BNP Paribas analysts have a neutral recommendation with a target price of €78, while Mirabaud's Turner is a holder with a target price of €86. Jefferies analysts also have a hold recommendation with a target price of €76.