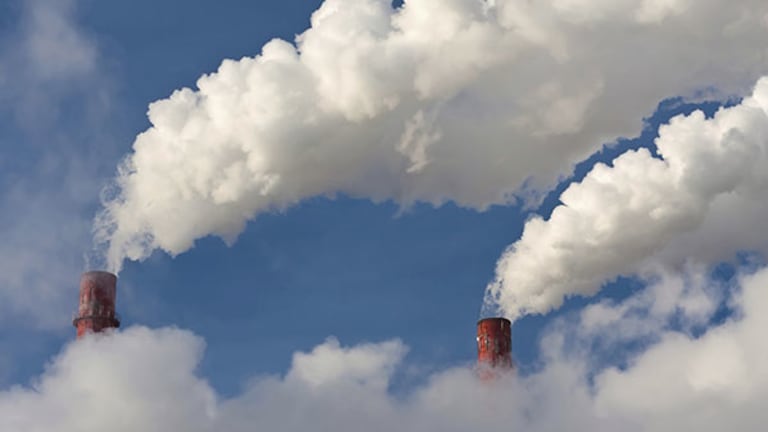 New Global Initiative to Boost Hydrogen Fuel Investments
Automakers will build more hydrogen fuel-cell powered cars, while governments will help with infrastructure amid concerns of global warming.
As a slew of new battery-powered vehicles like General Motors'  (GM) - Get Report Chevrolet Bolt EV begin to reach dealer showrooms, the future of hydrogen fuel cell-powered vehicles is starting to look more promising too.
A council of 13 automakers, transport and energy companies gathered at the World Economic Forum in Davos, Switzerland, on Tuesday and committed nearly $11 billion in hydrogen-related investments over the next five years. Automakers and energy companies are searching for ways to comply with ever tighter, contradictory and more confusing regulations covering fuel efficiency, air pollution and the highly-debated and politically charged phenomenon known as global climate change.
The new council, whose members currently invest a collective $1.5 billion annually on hydrogen, said their initiative aligns with the goal of limiting global warming to 2 degrees Celsius, as agreed in the 2015 Paris climate agreement.
Building vehicles to satisfy political directives, rather than consumer demand, can be tricky and potentially disastrous from a business standpoint. Customers have shown tepid interest in buying battery powered electric vehicles, despite financial incentives from the government to do so.  In the U.S., regulators require automakers to build zero-emission vehicles in limited number if they wish to sell vehicles of any kind.
Toyota Motor (TM) - Get Report , BMW AG (BMWYY) , Daimler AG (DDAIF) , Honda Motor (HMC) - Get Report and Hyundai Motor (HYMLF)  represent the Davos group automakers that are undertaking "a global initiative to voice a united vision and long-term ambition for hydrogen to foster the energy transition." Until now, companies have independently pursued the technology. For example, Toyota has its Mirai and Honda its Clarity fuel-cell sedans that each sells in the U.S. in limited number.
Automotive engineers and regulators have been growing more fascinated with hydrogen's potential, as technical hurdles have been resolved. Twenty years ago, cold weather hindered operation of a fuel cell, which transforms pure hydrogen into electricity and water into vapor with no CO2 produced. Engineers solved the cold weather problem. Today, the biggest hurdle is a lack of infrastructure for creating and distributing hydrogen in mass quantity, a problem the council says governments must help to tackle.
Ben van Beurden, chief executive officer of Royal Dutch Shell (RYDAF) , said that despite starting a hydrogen business 20 years ago, Shell only operated five hydrogen refueling stations in Germany and three in California.
"You need a coordinated approach to make it work. Hopefully, we can have hundreds (of stations)," he told Reuters.
Don't expect to see immediate results or action from the latest hydrogen initiative, however. Infrastructure is expensive, as is investment in sophisticated technologies related to fuel cells and to processes for isolating hydrogen from hydrocarbons or from water.
As governments are discovering with battery-powered cars, laws may compel automakers to manufacture advanced vehicles for reasons related to policy or ideology - rather than market demand. Additionally, the tax bill for such vehicles can be onerous - and consumers aren't always inclined to buy them.
This article is commentary by an independent contributor. At the time of publication, the author held no positions in the stocks mentioned.