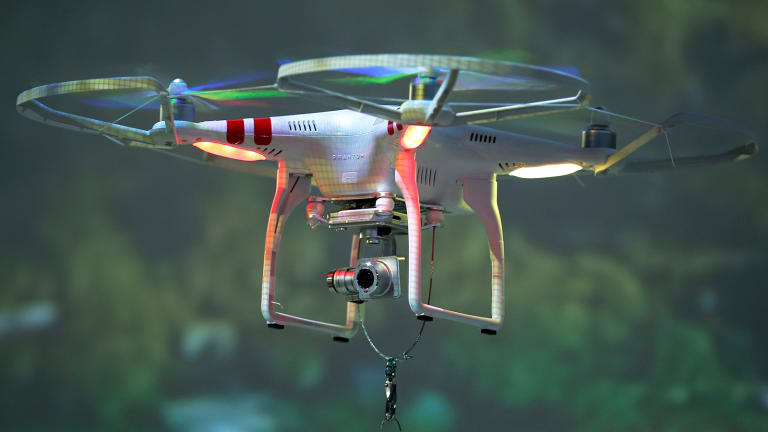 New ETFs for Hot Drone, Video Gaming Sectors
Investors seeking to dive headfirst into the drone economy or into video game stocks now have dedicated ETFs.
Investors seeking to dive headfirst into the drone economy now have a dedicated vehicle in the PureFunds Drone Economy Strategy ETF (IFLY) .
"The IFLY is the first ETF providing access to companies designing, manufacturing and researching drones and drone technology," said Andrew Chanin, CEO of PureFunds. "It's early days, but we have been seeing a lot of demand for investment in this industry."
Chanin points out that the Federal Aviation Administration predicts that by 2020, there will be 7 million registered drones in the U.S. He said drones represent an industry that is disrupting most sectors of the economy such as defense, agriculture and  transportation. In his view, uses for drones include ambulance assistance, wildlife protection, mosquito spraying, search and rescue operations and possibly future space exploration.
Holdings in the IFLY exchange-traded fund include AeroVironment (AVAV) , at 12.3% of assets, Parrot (PAOTF) at 9%, Boeing (BA)   at 4.5%, and GoPro (GPRO) at 3.7%.
Chanin also launched the PureFunds Video Game Tech ETF (GAMR) earlier this month. It is the first ETF dedicated to video game technology. The GAMR ETF includes game makers, console makers, peripheral developers, retailers and parts-makers.  The goal, according to Chanin, is to provide exposure to entertainment gaming, as well as virtual reality and augmented reality.
Chanin said gaming is proliferating widely due to the explosion of mobile devices, increased broadband access and the digital distribution of games. Most importantly, in his view, video games provide a high entertainment-to-cost ratio, because a single game can provide hours of entertainment.
Holdings in the GAMR ETF include Activision Blizzard (ATVI) , at 9% of assets, NCsoft (NCSCF) at 6%, Glu Mobile (GLUU)   at 5.5%, and Gamestop (GME) at 5.3%.
"People are just realizing how big the gaming industry really is," said Chanin. With virtual and augmented reality now blossoming, he said there are opportunities in education and training which could be a huge growth area.