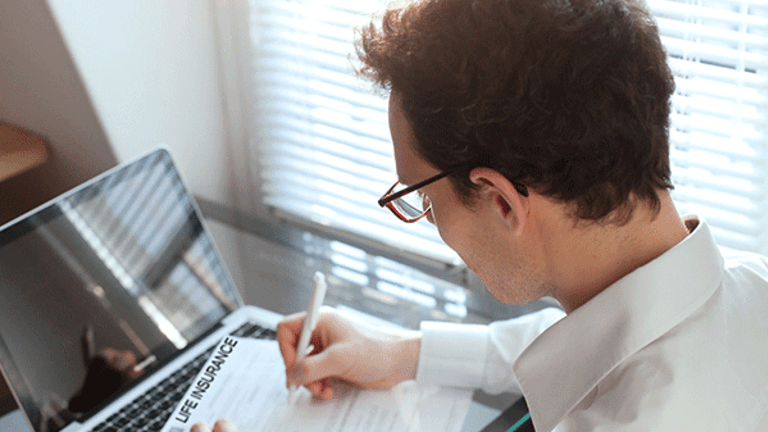 New Background Checks for Life-Settlement Deals Use DNA, Blood Samples
The new techniques don't mean that life expectancy estimates will disappear from the market.
GWG Lifeundefined wants to use DNA to supplement life-expectancy estimates on policies it buys.
Abacus Settlements is foregoing estimates altogether on certain policies, relying instead on answers by seniors to health questionnaires. Similarly, Coventry First has been using questionnaires in a simplified underwriting process for its direct-to-consumer program.
Other possibilities to determine lifespan are the use of blood tests or prescription-drug records, which already are looked at by servicers. While such techniques offer more precision -- and the possibility of improved pricing power -- to the life settlement market, for now they are expected to merely enhance the widely used life-expectancy reports, or LEs, rather than replace them.
"It's natural for investors to want to augment traditional LEs and refine their view with other tools and information," Rocky Roland, a former Apollo Global Management principal who now runs a life settlement investment-management firm, said in an e-mail.
It's prudent to look at alternative methods because life-expectancy providers don't base their analyses on visits with seniors in person, and medical records can be limited or stale, he said. But there's also a major drawback: The new methods, which don't base estimates on medical histories like life expectancy providers, lack track records.
"At no point would I ever suggest that LE providers should be avoided altogether, unless a case is very small or low risk," Roland said. "LE providers perform an invaluable, expert service that has been continually refined over a very long period of time. Investors use them as key benchmarks much like a bond rating and by now, they are accustomed to the strengths and weaknesses of all the major providers."
One company that's looking into offering a blood test to replace life-expectancy estimates is Life Metrics, of Paradise Valley, Ariz.
"We found that the methodologies employed to come up with a life-expectancy were very poor," said John Holland, a founder of the company who previously bought certain life-settlement policies.
Small variations from the estimates could mean the difference between a portfolio making or losing money, he said.
His firm, which investigated ways to improve the report, has been working with Rotterdam, Netherlands-based Erasmus, which has a database of 15,000 blood samples from people it has been following for 26 years.
Holland wants to build an algorithm based on blood samples, and he hopes to have a test ready for the market in 30 months. His firm has just signed up with an investment bank to begin raising $50 million for the test, which uses a sample the size of a teardrop to indicate how many months a person has left to live.
Darwin Bayston, CEO of the Life Insurance Settlement Association, said his trade group was approached by Quest Diagnostics about a blood test that could be used in a case study to compare its effectiveness against life expectancy estimates.
Gene Stegeman, strategic account executive with the Lenexa, Kan.-based company, said he's asked Bayston to try to find a portfolio that could be used.
The lab industry has been doing underwriting for policies in the life insurance market for years. The tests, for example, show if a person lied about whether he or she smokes, Stegeman said. His company also offers prescription-drug data going back seven years and covers about 80% of pharmacy managers.
GWG Life, a Minneapolis-based life settlement provider, has begun sending out cheek-swab kits for its DNA-methylation test and already is getting some of them back, said Dan Callahan, a spokesman for the company. The results will be used to supplement life-expectancy reports.
The test doesn't actually look at DNA itself, which doesn't change, but at methylation levels, which are influenced by cellular and environmental factors and can give a more precision assessment of an individual's potential lifespan.
"There's nothing wrong with having all these ideas and trying to improve the accuracy of LEs," said Ken Klein, CEO of FairMarket Life Settlements in New York.
But he said if GWG wants to re-sell a policy instead of holding it to maturity, the tertiary market wouldn't be guided by the results of the DNA-methylation test.
"I'm worried about the aftermarket effect, since everyone has a different way of measuring duration," he said.
Health questionnaires, meanwhile, have been used by some investors for years to either screen out insured persons who are too healthy or as a substitute for a life-expectancy report, said Chris Conway, managing director of Longevity Asset Advisors.
Buyers employ the forms to complete a transaction quickly -- before competitors can obtain life-expectancy reports -- or to reduce the costs of underwriting for small-face policies.
"The question is will investors agree to take significant economic risks using these as yet unproven approaches and will the outcomes match the predictions?" he asked.
Not surprisingly, representatives of life-expectancy companies believe their reports still are superior in determining lifespan.
Saliva and lab tests can't replace medical reports, said Monideepa Chetia, who is director of underwriting with Longevity Services and was previously a physician in India.
A physician's report might record a person's fitness level or frailty from an office visit, she said. That's the type of thing she would look for in the medical records.
"Going by my medical background, this is the way to go. When you have this data, you know which way the client is going," she said.
"The future for LEs is very powerful," said Roy Smith, owner of AVS. "These guys doing these new technologies have no data and nothing to measure them against."