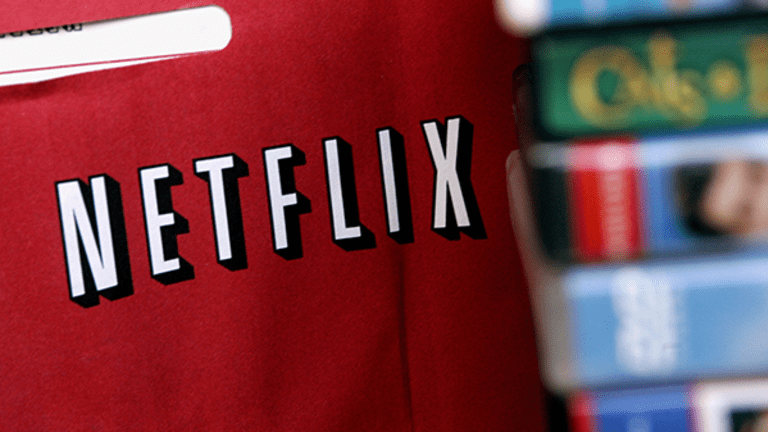 Netflix Will Drop 10%, Chart Says It All
A bearish flag pattern projects a return to the 200-day moving average.
A bearish flag pattern has formed on the Netflix (NFLX) - Get Report daily chart and it projects a 10% decline in stock price, a measured move that would take it back to its 200-day moving average. The combination of a sharp two-day drop in stock price followed by a narrow range consolidation formed the flagpole and then the flag, and the target price is arrived at by measuring the height of the pattern and subtracting that distance from the bottom of the flag.
Netflix is currently testing a combination of support levels and the technical indicators suggest a breakdown.
Meanwhile, Jim Cramer isn't buying Apple (AAPL) - Get Report here, and says Facebook (FB) - Get Report and Alphabet (GOOGL) - Get Report look better on a dip.
View Chart »View in New Window »
In April the stock broke out of a four-month horizontal channel pattern after testing a long-term uptrend line going back to October last year. It continued up to this month's high in the $167.00 area, before reversing direction and breaking through the uptrend line it had just formed.
That breakdown found support at the intersection of the long-term uptrend line and the resistance-turned-support level of the four-month channel pattern. The flag portion of the pattern has formed over the past two weeks above that support and below the 50-day moving average.
Taking the height of the flagpole and subtracting it from the flag bottom projects a downside target objective in the $132.50 area, and the current location of the 200-day moving average. Daily moving average convergence/divergence is overlaid over a weekly histogram of the oscillator and is moving below its center line on both time frames.
The vortex indicator, which is designed to detect early shifts in trend direction, has made a bearish crossover. These indications reflect the change in momentum to the downside. The Chaikin oscillator, a combination of the 3- and 10-day average of Chaikin money flow, has been trending lower and is below its 21-day period signal average and center line.
A confirmed break below the $148.50 level is a speculative short entry point using a position size that accommodates an initial buy-to-cover stop above the 50-day moving average.
Visit here for the latest business headlines.
Worried about how to pay for your golden years? Ken Fisher, founder of Fisher Investments, and TheStreet's Jim Cramer will tell you what you need to know in a June 21 webinar on the market trends that are shaping retirement planning today.Register here for the event, which starts at 11 a.m. ET.
At the time of publication, the author had no position in the stock mentioned.