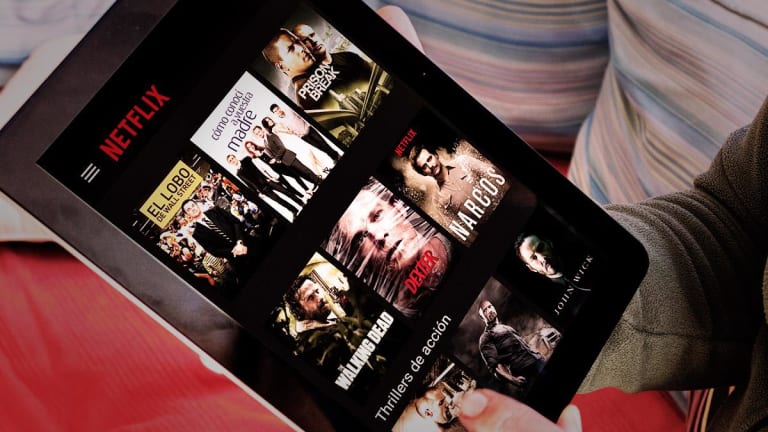 Netflix Tumbles on Big Subscriber Miss: 10 Key Takeaways
While the streaming giant beat earnings expectations and reported nearly in-line revenue, it missed paid subscriber growth expectations by a sizable margin, with U.S. paid subs declining relative to Q1.
A major Q2 subscriber miss is overshadowing a fairly healthy Q3 outlook, and leading Netflix's (NFLX) shares to tumble post-earnings.
After the bell on Wednesday, Netflix reported Q2 revenue of $4.92 billion (up 26% annually) and GAAP EPS of $0.60. Revenue slightly missed a consensus analyst estimate of $4.93 billion, while EPS, which benefited from the push-out of some marketing spending, topped a consensus of $0.56.
More importantly, Netflix disclosed that its paid streaming subscriptions grew by just 2.7 million in Q2, well short of guidance of 5 million and a year-ago level of 5.45 million. The company said 2.83 million international paid subscriptions were added, missing guidance of 4.7 million, and U.S. paid subscriptions actually fell by 126,000, missing guidance for 300,000 additions. It ended Q2 with 151.6 million paid subs, of which 60.1 million were in the U.S..
This article has been updated to make note of commentary provided during Netflix's earnings interview.
In spite of the Q2 miss, Netflix is forecasting it will add 7 million paid subscriptions in Q3, above a consensus of 6.3 million and a year-ago level of 6.07 million. Expected U.S. paid adds of 800,000 are slightly below a consensus of 885,000, but expected international adds of 6.2 million are above a consensus of 5.43 million. And in line with analyst expectations, Netflix says its internal forecast still calls for full-year global paid net adds to be up relative to a 2018 level of 28.6 million.
Netflix's shares fell as much as 12% after hours and were down 10.9% to $323.15 on Thursday morning. Here are some top takeaways from Netflix's Q2 shareholder letter and earnings interview.
1. Netflix Insists Its Subscriber Miss Was About Originals and Price Hikes Rather Than Competition
"We don't believe competition was a factor since there wasn't a material change in the competitive landscape during Q2, and competitive intensity and our penetration is varied across regions," Netflix says in its letter. Rather, the company says it thinks Q2's original content slate drove fewer sign-ups than anticipated. And following recent price hikes in the U.S. and elsewhere, Netflix notes that while its subscriber miss was across all regions, it was "slightly" bigger in regions that saw price hikes.
On the bright side, Netflix says that the first two weeks of Q3 have been strong, aided by the July 4th arrival of Season 3 of Stranger Things. 
2. ARPU Growth Was Stronger than Expected
Boosting Q2 revenue a bit: Netflix's streaming average revenue per user (ARPU) rose 3% annually in dollars and 9% in constant currency (CC). That compares with guidance for 2% growth in dollars and 7% in CC. U.S. ARPU, which was boosted by the recent price hike, rose 12%, while international ARPU rose 7% in CC.
3. Free Cash Flow Guidance Was Reiterated
Netflix still expects 2019 free cash flow (FCF) of about negative $3.5 billion, as it continues making giant content investments and expanding its overseas efforts. The company also reiterates that it expects FCF to improve in 2020, as well as in subsequent years.
4. Marketing Spending Cooled a Bit, But R&D Spending Didn't
Thanks to the aforementioned spending push-out, Netflix's marketing spend rose just 2% Y/Y to $603.2M, after having grown 15% in Q1. On the flip side, technology and development (R&D) spend grew 28% to $383.2 million, after having grown 32% in Q1. And general and administrative (G&A) spend rose 48% to $224.7 million, after having risen 50% in Q1.
5. Netflix Promises to Remain Ad-Free
Following some calls from analysts to provide an ad-supported service, Netflix asserted in its letter that it has no plans to do so.
"We, like HBO, are advertising free," Netflix said. "That remains a deep part of our brand proposition; when you read speculation that we are moving into selling advertising, be confident that this is false."
6. More Viewing Stats Were Shared for Popular Originals
Netflix says that Murder Mystery, a movie featuring Adam Sandler and Jennifer Anniston, was watched by over 73 million households in its first 4 weeks. Nature docuseries Our Planet was seen by 33 million households in its first 4 weeks, and romantic comedy The Perfect Date was seen by over 48 million households during its first four weeks.
During the earnings interview, content chief Ted Sarandos reiterated that Netflix wants to be more transparent about viewing activity with both content creators and its customers. The company has been testing the sharing of top-10 lists for various content categories in the U.K..
7. A Mobile-Only Service Plan Is Launching in India
Four months after it was learned that Netflix is testing a mobile-only streaming plan in India that costs less than $4 per month, the company says it's officially rolling out the plan.
"We believe this plan, which will launch in Q3, will be an effective way to introduce a larger number of people in India to Netflix and to further expand our business in a market where Pay TV ARPU is low (below $5)," Netflix says. The company
low-cost plans in some other emerging markets.
8. Content Spending Remains Very High

On a cash basis, Netflix's streaming content spend totaled $3.3 billion in Q2, up from $3 billion in Q1 and a year ago. The company's cash content spend totaled $13 billion in 2018, and it has suggested its 2019 spending will be higher.
In spite of this spending growth, Netflix's streaming content obligations only rose by $100 million annually to $18.5 billion. The company attributed this to its ongoing shift in spending towards originals relative to licensed shows and movies.

9. Netflix Highlighted How Its Tech Investments Have Become Competitive Strengths

During the earnings interview, product chief Greg Peters argued the superior efficiency of Netflix's video encoding across a variety of network environments was a competitive strength, and one that Netflix's massive scale helped enable. Likewise, he noted Netflix's scale helped justify investments in automating the indexing of video content, which in turn allows trailers to be quickly put together, and the company runs about 400
per year on its platform to help improve content discovery and other aspects of the user experience. 
10. Netflix Downplayed the Pending Loss of Popular Licensed Content

While discussing the pending departure of Disney 
(DIS)
films,
Friends
and
The Office
, Netflix said that even its most popular titles "account for only a low single digit percentage of streaming hours." And on the earnings interview, Sarandos suggested that the viewing and availability of such content skews heavily towards the U.S. relative to international markets.
Separately, when asked about Netflix's addressable market, CEO Reed Hastings noted there are roughly 700 million households outside of China (where Netflix's services aren't available) that pay for TV, and that YouTube is still about 7 times larger than Netflix in terms of viewing hours.

TheStreet's Eric Jhonsa also covered Netflix's earnings report and interview through a live blog.
Save 76% with our Prime Time Sale. Join Real Money to become a smarter investor! Click here to sign up!