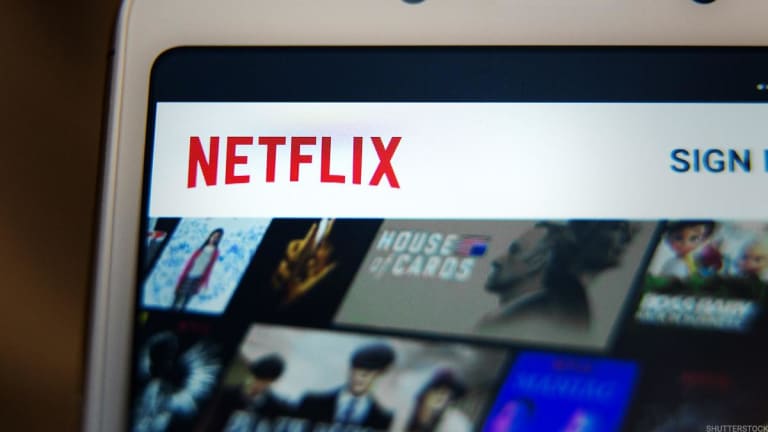 Netflix Shares Fall Despite Beating Earnings and Subscriber Numbers -- Live Blog
TheStreet's Eric Jhonsa digs into Netflix's fourth-quarter earnings report and 'video interview' with company executives.
Netflix added more subscribers than expected and beat earnings estimates for the fourth quarter, but so far, that hasn't been enough to impress investors following the company's big run-up this year.
Shares were down about 3% in after-hours trading on Thursday shortly following Netflix's report.
Netflix reported fourth-quarter revenue of $4.19 billion, slightly missing a $4.21 billion consensus estimate, while EPS of $0.30 beats a $0.24 consensus. It added 8.84 million paid streaming subs in the quarter, above guidance for paid net adds of 7.6 million.
The streaming giant said it expected to add 8.9 million paid subscriptions, above a consensus estimate of 8.2 million paid adds.
TheStreet's tech columnist, Eric Jhonsa, is analyzing the company's earnings after the close and then the "video interview" with Netflix executives that's scheduled to begin streaming at 6 p.m. ET.
LIVE BLOG
6:40 p.m. Netflix's call has ended. Shares are currently down 3.4% after hours to $341.15. Thanks for joining us.
6:39 p.m. Hastings hands the mic over to departing CFO David Wells to make some concluding remarks. Gives "a giant thank you" to Netflix investors. Says he has "super high confidence" in new CFO Spencer Neumann.
6:37 p.m. Question about Netflix's shareholder comments about the competitive landscape.
Hastings reiterates Netflix's view that there are plenty of digital entertainment options (Xbox, Fortnite, YouTube, HBO, etc.) out there, and it just wants a larger piece of the pie. 
Regarding Disney, Hastings says Netflix is "excited" for their launch. But adds the arrival of one new rival "only makes a difference on the margins."
6:32 p.m. Question about how much Netflix plans to directly finance originals relative to licensing them.
Sarandos reiterates Netflix likes to directly produce originals, while adding that it's not always possible. In addition to financial benefits, directly producing can allow Netflix to take a hands-on role.
Also mentions 23M households have watched British series Bodyguard during its first 4 weeks.
6:30 p.m. Question about a comment in shareholder letters about prioritizing investments in originals versus licensed (second run) content.
Sarandos: We're still a buyer of second run content. But it makes sense to prioritize originals. The lion's share of our most-watched content consists of originals. 
6:29 p.m. Question about Netflix's bundling deals with telcos and pay-TV providers.
Peters: We're pleased with how those partnerships are going. They help us reach additional customers. However, in terms of subscriber growth, they still only account for a small percentage of it relative to organic growth.
6:27 p.m. Question about Netflix's heavy marketing spend growth (65% in 2018).
Hastings: Most of its is driven by efforts to promote Netflix's content, rather than efforts aimed at direct customer acquisition.
6:25 p.m. Question about Netflix's Q1 U.S. subscriber add guidance (1.6M paid net adds) in the wake of the price hike.
Wang: The guidance is our best guess for subscriber adds. It's not meant to be aggressive or conservative. We'll see how things go.
6:23 p.m. Question about the price hike.
Wang: The price hike will be phased in for existing subs over the next few months. We expect it to drive ASP growth and help revenue growth accelerate over the course of 2019.
6:21 p.m. Question about cash flow trends and Netflix's strategy for continuing to finance the business.
Neumann: We feel very good about the operating leverage in the business long-term. Our aspiration is to eventually be self-funding (i.e. cash-flow positive). We'll continue tapping debt markets to raise capital.
6:19 p.m. Question about Black Mirror: Bandersnatch, which lets users control how the story ends.
Peters says it's excited about the interactive story telling format, and plans more such work. Sarandos: Some storytellers are "salivating" over the chance to offer interactive content.
Hastings jumps in to say that 73% of consumers prefer Frosties relative to Sugar Puffs. Laughs ensue.
6:14 p.m. Question about the viewership stats Netflix recently shared for Birdbox and other originals.
Sarandos: It helps to let both consumers and artists know a bit about the reach of Netflix's originals. Consumers should know that when they're watching Netflix, they're "in the zeitgeist."

6:12 p.m. Question about how incremental revenue dollars are being invested in content.
Sarandos: As Hastings said, we're doing more of the same, just at a larger scale. Having more revenue does make it easier for us to directly produce originals as compared with licensing them. Also helps us create more content for markets such as Japan and India.
IR chief Spencer Wang adds that Netflix isn't giving specific spending guidance, but does expect content spend to rise on a profit-and-loss basis this year.
6:09 p.m. Question about the price hike. What goes into Netflix's thinking when it makes pricing moves.
Product chief Greg Peters: We feel we're providing great value with our service and continue investing heavily in it. Company felt this was the right time for a price hike.
6:06 p.m. Question about strong Q4 international subscriber growth, and whether local-language content helps.
Content chief Ted Sarandos notes the global popularity of originals such as Birdbox, and how their appeal cuts across borders and creates a global audience. Also mentions the success of Spanish original Elite.

6:05 p.m. Question for Reed Hastings. What did you learn in 2018, and how do you look to apply it in 2019?
Hastings: We'll be doing the same things we've always been doing, just at greater scale. We've been working for 20 years on how to please subscribers.
6:03 p.m. Netflix's interview has started. The interviewer is UBS analyst Eric Sheridan. First question is to new CFO Spencer Neumann and his priorities going forward.
Neumann, who previously worked at Activision: I love Netflix's business. Since joining, I've been impressed by the company's collaborative environment and the passion of the team as it tries to drive a "positive flywheel" for both customers and the business.
5:55 p.m. Netflix's shares are now down 3.9% in after-hours trading to $339.50. Some investors are clearly in a profit-taking mood following a 50%-plus run-up from the company's late-December lows.
In addition, some investors might not be thrilled that Netflix's Q1 revenue guidance ($4.49B) is below a $4.6B consensus amid forex pressures. However, it's hard to complain a lot about the company's reported and guided subscriber figures.
5:53 p.m. Hi. I'm back to cover Netflix's earnings interview, which should be starting in a few minutes. Here's the interview link, for those interested.
5:00 p.m. I'm taking a short break, but will be back to cover Netflix's earnings interview, which starts at 6 p.m. Eastern Time. Following a big rally over the last three weeks, Netflix's shares are currently down 2.6% after hours to $344.00 in spite of strong subscriber add figures (particularly for international markets).
4:53 p.m. In 2018, Netflix's GAAP marketing spend rose 65% to $2.37 billion. Tech and development (R&D) spend rose 28% to $1.22B.
4:51 p.m. Ahead of a 2019 where it expects roughly $3B of cash burn, Netflix ended 2018 with $3.79B in cash and (following a Q4 debt offering) $10.36B in long-term debt. Management: "As long as we judge our marginal after-tax cost of debt to be lower than our marginal cost of equity, we'll continue to finance our working capital needs through the high-yield market."
4:47 p.m. Netflix once more uses its shareholder letter to highlight how many Instagram followers it has helped actors and actresses starring in its originals reel in.
4:44 pm. Regarding Birdbox, Netflix now says it will be "enjoyed by over 80 million households" during its first 4 weeks of availability. The company adds it's seeing "high repeat viewing" for the movie.
4:41 p.m. Management once more asserts that it's not worried about streaming rivals, and that it views the competition as digital entertainment options in general rather than just streaming services.
"In the US, we earn around 10% of television screen time and less than that of mobile screen time...We compete with (and lose to) Fortnite more than HBO...Our focus is not on Disney+, Amazon or others, but on how we can improve our experience for our members."
4:39 p.m. Netflix ended Q4 with $19.3B worth of streaming content obligations. That's up from $18.6B at the end of Q3 and $17.7B a year earlier.
4.36 p.m. The remarks come after Netflix said over 45 million accounts watched at least 70% of horror movie Birdbox. The company -- perhaps looking to better market itself to studios and artists who want a large audience for their work -- now seems to be a little more willing to share viewing data for its biggest hits. 
4.33 p.m. Netflix forecasts recently-launched psychological thriller You will be watched by "over 40 million member households" in its first four weeks of availability. It also expects similar viewership for British comedy Sex Education.
4:30 p.m. Not surprisingly, Netflix forecasts its U.S. price hike will boost its ASP going forward. The company also notes it recently hiked prices in Japan, Canada and Argentina.
Regarding content spend, Netflix says its "multi-year plan is to keep significantly growing our content while increasing our revenue faster to expand our operating margins." However, it hasn't shared a 2019 content budget in its shareholder letter.
4:21 p.m. A key reason Q4 revenue slightly missed estimates even though subscriber adds beat: Netflix's average selling price (ASP), which has been hurt by a strong dollar's impact on international ASPs, rose just 3% annually. That compares with 8% growth in Q3.
Excluding forex, international ASP grew 1% Q/Q and 6% Y/Y, after having risen 11% Y/Y on a forex-neutral basis in Q3.
4:18 p.m. In the wake of the price hike, Netflix expects 1.6M U.S. streaming paid net adds in Q1, which is a little below a 1.86M consensus. On the flip side, it forecasts 7.3M international paid net adds, which is above a 6.37M consensus. The company might be choosing to be conservative with its U.S. net add guidance, given how recent the price hike is.
4:15 p.m. Netflix reports its 2018 free cash flow (FCF) was negative $3 billion; that meshes with their October guidance. In spite of the price hike, the company reiterates 2019 FCF will be similar to 2018 levels, and "improve each year thereafter."
4.13 p.m. In addition to the 8.84M paid net adds, Netflix reports it added 2.52M free trial subs in Q4, which is a seasonally big quarter for free trial sign-ups. Between the free trials and paid net adds, Netflix added over 11.3M streaming subs in Q4, well above guidance of 9.4M.
4.09 p.m. Netflix is still ticking lower for now: Shares are down 1.8% in after hours trading. The market's response would quite likely be different if not for the big rally Netflix has seen in recent weeks.
4:05 p.m. 1.53M paid streaming subs were added in the U.S. in Q4, nearly even with a 1.51M consensus. 7.31M paid subs were added in international markets, easily beating a 6.14M consensus.
4:02 p.m. Netflix expects 8.9M paid net adds in Q1. That's above a consensus of 8.2M.
4:02 p.m. Netflix's stock is down 2.7% after hours.
4:01 p.m. 8.84M paid streaming subs were added. That's above guidance for paid net adds of 7.6M.
4:00 p.m. Netflix's results are out. Revenue of $4.19B slightly misses a $4.21B consensus. EPS of $0.30 beats a $0.24 consensus.
3:59 p.m. In spite of its recent rally, Netflix is still down 17% from a summer 2018 peak of $423.21. On the flip side, shares are up 62% over the last 12 months, leaving the company sporting a $154B market cap.
3.54 p.m. Netflix's stock is up 0.5% in Thursday trading heading into the close. Shares have been on a roller-coaster ride since the Q3 report. They got hammered during the December selloff, but have rebounded strongly over the last three weeks. And certainly, this week's price hike did nothing to spoil the mood.
3.51 p.m. I recently previewed Netflix's earnings. Among the things to watch besides the subscriber figures: The impact of the recent price hike on Q1 guidance, the company's 2019 spending budgets, free cash flow guidance and commentary about Asian progress and pricing. 
3.49 p.m. In October, Netflix forecast it would add 9.4M streaming subs globally in Q4 (1.8M in the U.S., 7.6M in international markets). For Q1, the analyst consensus is for 1.6M U.S. and 6M international streaming net adds.
3:48 p.m. The consensus among analysts polled by FactSet is for Q4 revenue of $4.21B (+28% Y/Y) and GAAP EPS of $0.24. However, Netflix's stock generally moves in response to its reported and guided subscriber numbers far more than its reported revenue and EPS.
3:46 p.m. Hi. I'm Eric Jhonsa, TheStreet's tech columnist, and will be covering Netflix's Q4 report (due after the close) and earnings interview (starts at 6PM ET).
3:45 p.m. Welcome to TheStreet's live blog of Netflix's fourth-quarter earnings!