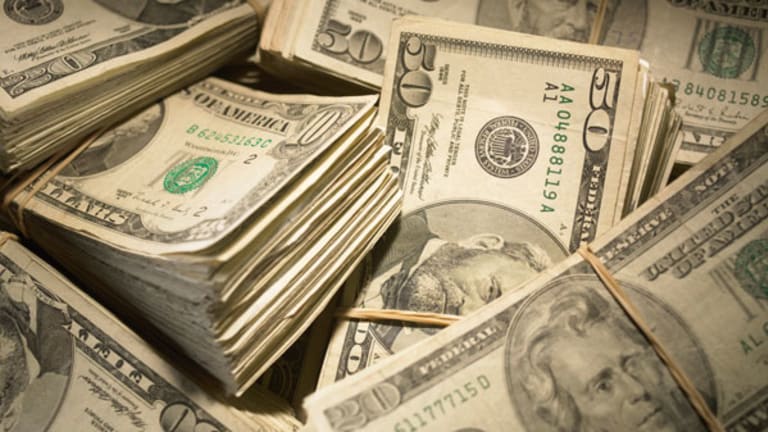 Netflix On Pace To Have Larger Audience Than All Networks, FBR Says
Shares of Netflix are rising again this morning after the company announced a stock split...
NEW YORK (TheStreet) -- Shares of Netflix (NFLX) are rising again this morning after the company announced a stock split and one of its most bullish supporters predicted that the streaming television provider is on track to soon have a bigger audience than all of the major TV networks.
WHAT'S NEW: FBR Capital analyst Barton Crockett says that while Netflix is not rated by Nielsen (NLSN) , the 10B hours streamed in Q1 reported by the company are equivalent to having a 24-hour rating of 2.6, on par with Disney's (DIS) ABC and Comcast's (CMCSA) NBC. While ratings at broadcasters are falling on average, Netflix is growing its ratings at a 40%-plus compound annual rate, Crockett tells investors this morning in a research note. At this pace, Netflix in a year will have a larger 24-hour audience than all broadcast networks, he contends. Regarding last night's 7-for-1 stock split announcement, Crockett says the move reflects management's confidence in the "durability of the recent stock surge." Crockett has an Outperform rating on the stock with a $900 price target.
WHAT'S NOTABLE: Netflix announced last night that its board has approved a seven-for-one stock split to be effected in the form of a stock dividend of six additional shares of common stock for each outstanding share of common stock. The stock dividend will be payable on July 14, to stockholders of record at the close of business on July 2.
PRICE ACTION: Netflix shares are trading up $19.25, or 2.9%, to $700.95 in the pre-market. For perspective, three years ago the shares were around $60.
The Fly
is a leading digital publisher of real-time financial news. Our financial market experts understand that news impacting stock prices can originate from anywhere, at any time. The Fly team scours all sources of company news, from mainstream to cutting-edge, then filters out the noise to deliver short-form stories consisting of only market moving content. Follow @theflynews on Twitter. For a free trial, click