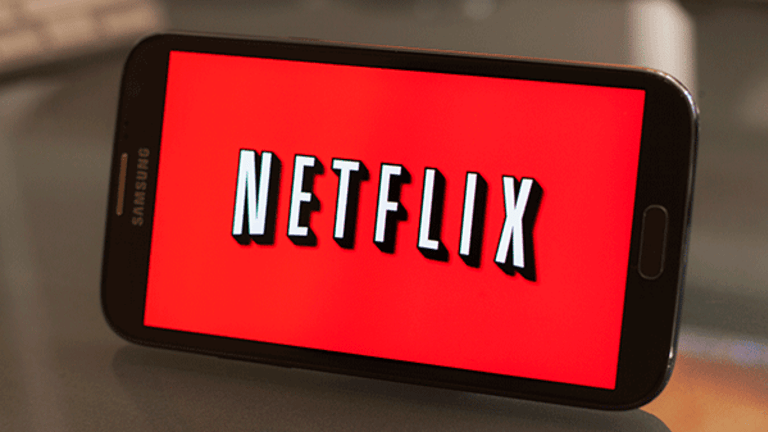 Netflix Is Still a Serious Beast, Despite Wall Street's Fresh Hatred
Netflix projects it will pass the 100 subscriber mark this weekend; no other rival in the space is even close.
One would think Netflix (NFLX) - Get Netflix, Inc. (NFLX) Report missed earnings estimates by 10 cents on Monday evening and said it's bleeding market share to rival Hulu, judging by the reaction by Wall Street and the media at the time.
Sure, it wasn't an entirely clean quarter for the streaming giant, by any means. Cash burn continues to be an ongoing concern and yes, Netflix missed its U.S. subscriber guidance. Further, the company said it expects to add 8.15 million new members in total in the first half of the year, just shy of the 8.42 million members it added a year earlier. So in Wall Street lingo, "growth appears to be slowing."
Shares of Netflix fell 2.6% to $143.36 in Tuesday trading. 
But to completely abandon Netflix after a squishy quarter may prove foolish longer-term. Betting against CEO Reed Hastings has been a losing wager through the years. For it's important to keep the bigger picture in mind on Netflix: the company is still a growth beast that is playing into human's fundamental desire to sit at home and watch content sans paying for cable, and also consume it on the go.
Consider this: Netflix projects it will pass the 100 subscriber mark this weekend; no other rival in the space is even close (excluding HBO, which is somewhere around 134 million subs). The company only stands to widen its lead vs. rivals by spending $6 billion in content this year, with $1 billion alone dedicated to marketing.
"The U.S. market is continuing to grow nicely, even if every incremental 10 million subscribers is harder than the last 10 million," Hastings said on an video shared to YouTube on Monday evening.
The key point is that Netflix will likely get those 10 million new subscribers. 
Read This Or Lose Out
Sorry Disney, it's all about Ferrari Land: With all due respect to Disney's (DIS) - Get Walt Disney Company Report Magic Kingdom, the new Ferrari Land that just opened in Spain looks way more fun. Ferrari Land is the second theme park built as a homage to the supercar brand, with the first one opening back in 2010 in Abu Dhabi, points outMotor Authority.
Relax, Ferrari (RACE) - Get Ferrari NV Report shareholders, the company isn't footing the bill for these parks -- each is operated by an investment firm that licenses all the Ferrari graphics and logos. Yes, the park's main rollercoaster goes from 0 to 112 mph in a mere five seconds (see below)
The real thrill, nonetheless: shares of Ferrari have raced 60% higher over the past year. 
Aren't any other stocks driving the stock market: The 10 largest stocks in the S&P 500 have powered roughly 53% of the S&P 500's 4.7% increase this year, reportsThe Wall Street Journal. Tech stocks have led the charge, with Apple (AAPL) - Get Apple Inc. (AAPL) Report up more than 22% this year, Facebook (FB) - Get Facebook, Inc. Class A Report up about 23% and Amazon (AMZN) - Get Amazon.com, Inc. Report rocketing 20%. Combined, shares of these three tech giants represent one-third of the S&P 500's year to date advance, notes WSJ. 
Go figure, Chipotle shares are rocking: Couldn't agree more with research firm Bespoke on being surprised Chipotle's (CMG) - Get Chipotle Mexican Grill, Inc. Report stock is now at a 52-week high. A couple of things powering the move: (1) latest round of price increases spurring hope for a second quarter profit boost; (2) with Panera Bread (PNRA) being swallowed up by JAB Holdings, Chipotle could be next, given its clean food message, growth characteristics and how far the stock has plunged post E.coli crisis; and (3) the brand staged a traffic rebound in the first quarter amid aggressive marketing. 
If you believe all of those things, I have a bridge to sell you in China. Zero confidence in the leadership capabilities of founder and CEO Steve Ells. 
FedEx falls to new lows for the year: Here's something to fuel your growing suspicion the U.S. economy will falter in the second half of the year thanks to rising interest rates. Shares of transport company FedEx (FDX) - Get FedEx Corporation Report fell to new lows for the year last Thursday, TheStreetreports. This may not be a company-specific issue, either.
The Dow Jones Transportation Index has dropped nearly 1% this year, lagging the 4.4% gain the Dow Jones Industrial Average. Most of the selling has come since the transports hit a high for the year on March 1 (when questions on Trump's effectiveness this year began to appear).
Here's why Kentucky Fried Chicken is cooking up strong sales:Yum! Brands (YUM) - Get Yum! Brands, Inc. (YUM) Report owned KFC has been the rare standout in the sluggish fast food space of late, but there is more behind the brand's surprisingly strong performance than endless catchy TV commercials of founder Colonel Sanders.
"The reality is that our operations have never been stronger, our taste scores and overall satisfaction scores are at the highest levels they have been in a long, long time," KFC U.S. president and Chief Concept Officer Kevin Hochman told TheStreet in an interview. Hochman explained KFC has spent 100,000 hours re-training store cooks and other employees in the "Colonel's values", such as how to better use the pressure fryer to make juicier chicken.
Says Hochman, "A lot of people think they can get the secret recipe and they can make KFC, but that is not true." Judging by these sales numbers, KFC is doing something very right. 
Editor's Pick: Originally published April 18.