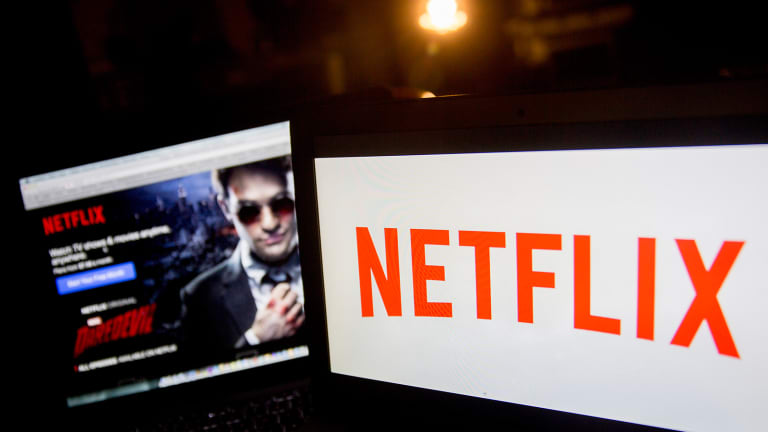 Netflix's Blowout First Quarter: What Wall Street's Saying
Netflix reported a host of positive news in its first quarter. Here's what stock analysts are saying about the streaming video giant.
Netflix Inc. (NFLX) - Get Netflix Inc. Report  delivered again on Monday, announcing impressive subscriber growth for its first quarter, solid guidance for the second quarter and a beat of earnings and revenue expectations. Netflix shares surged after the close on Monday on the report, and were up 6.2% to $326.88 Tuesday morning, capping an incredible 70% rally so far this year.
Here is what analysts had to say about Netflix's first quarter results:
John Blackledge, Cowen (Outperform, Price target raised to $375)
"NFLX reported strong 1Q18 results, led by better than expected US and Int'l net sub adds, while 2Q18 US and Int'l sub guides were also meaningfully above our estimates and consensus. We raised our '18-'28 sub and financial forecast, which drives PT to $375 from $325 prior. Maintain Outperform. NFLX shares were up ~5% after hours off the big quarter."
Scott Devitt, Stifel (Hold, PT raised to $345)
"Netflix posted another quarter of broad-based outperformance, reaching 125mm total subscribers globally. Additionally, 2Q guidance beat Street expectations for net adds by approximately +1mm, as the company expects to have approximately 131mm subs in the quarter. Netflix modestly raised its outlook for operating margin for the year to 10%-11%, from 10% previously, and reiterated its outlook for negative FCF of $3.0B-$4.0B. We are increasing our estimates on strong results / 2Q trends; we however remain Hold rated given current valuation levels. Our 12-month target price rises to $345."
Mark Mahaney, RBC Capital Markets (Outperform, PT raised to $360)
"We believe secular demand for Internet TV is ramping rapidly globally, and Netflix has positioned itself extremely well to benefit from this. Pricing power helps. We also believe the breadth of NFLX's content offering is paying dramatic dividends in terms of Sub Adds and Retention. (Per our "Kings Of Content" report, each $1 of monthly subscription paid to Netflix gives a user access to $1.1B of content spend - almost 2X the ratio of most Media companies.) Increased Marketing spend and distribution partnerships (T-Mobile, Sky, Comcast, etc...) are also helping. And the scale advantages of the business model are proving out - U.S. Streaming Gross Margin now @ record-high 51%."
Michael Pachter, Wedbush Securities (Underperform, $307.78 PT)
"Our competitors appear to believe that the company will deliver leverage from its
content spending as it grows its revenue base. We disagree, given that the vast
majority of Netflix's content (including the bulk of its "originals") is licensed; so long
as that is true, Netflix's content spend is likely to grow in lock step with its revenue
growth. In our view, this is the reason that cash burn has increased each of the last
four years, and is likely the reason that cash burn will continue for the "next several
years", as the company has stated."