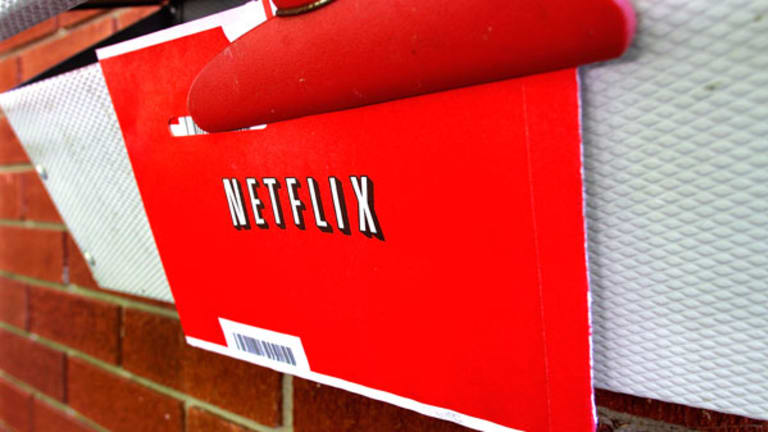 Netflix Doubles Down on Original Content, Accelerates Amortization
Netflix is accelerating its content amortization, as the streaming service ramps up its investment.
NEW YORK (TheStreet) -- Netflix (NFLX) - Get Netflix Inc. Report is speeding up its amortization of original content spending after a few quarters of insight into customers' binge viewing habits. The accounting change comes as the Reed Hastings-run company said it would double its investment in original content next year.
In better-than-expected third quarter earnings released on Monday, Netflix said it will accelerate its amortization of upfront expenses the firm incurs for its original series. The accounting change, which Netflix said it would consider in the second quarter, did not tip the company's overall cash flow negative for the quarter.
Initially, Netflix used straight line amortization accounting to reflect the expenses it incurs to invest in original content. Now, the company will be accelerating that amortization, given heavy initial user consumption of new shows that are released on the streaming site.
"When we started with original content we didn't have specific data about viewing patterns over time for content that premieres on Netflix. We decided to use straight line amortization based on our experience with TV series from other networks," Netflix said in its third quarter earnings release.
"Now we have more specific viewing data for original content which shows more viewing in the early months of a show's debut, so we are accelerating the amortization of such content commensurately," the company added.
Previously, Netflix capitalized spending on original series, and then amortized those costs on a straight-line basis over the shorter of four-years, or the show's license period.
Netflix said on Monday the faster amortization of original content is small enough that it won't change the firm's profitability and margin targets. Earnings results also indicate the firm was able to continue generating free cash flow for the second straight quarter. Netflix generated $7 million in free cash flow (FCF), reversing year-ago negative free cash flow of $20 million.
When Netflix first embarked on its original content strategy, it made heavy cash payments to create series such as House of Cards, Hemlock Grove, Orange is the New Black and new seasons of Arrested Development, which tipped the firm's cash flow negative for three out of the last five quarters.
TheStreet first explained Netflix consideration of accounting changes in July.
Netflix said it was still judging how to recognize costs that the over 30 million member streaming service incurs to produce its original shows in the second quarter. The company also disclosed it had amortized about $150 million in spending on such original series through the first half of 2013. "In terms of relative size, of the approximately $3 billion in content library net book value we are amortizing, currently around 5% is for Originals," Netflix said in July.
Now, the company expects to double its overall investment in original content spending. "In 2014, we expect to double our investment in original content (though still representing less than 10% of our overall global content expense)," Netflix said in the letter to shareholders.
The company will release the second seasons of House of Cards, Orange is the New Black, Derek and Hemlock Grove as well as the just announced project from the creators of Damages. The company also said it roll out a number of new animated series from DreamWorks Animation (DWA) .
Netflix's disclosure of its plan for accelerated amortization may give investors added clarity on the firm's strategy to make original shows a means to drive for subscriber growth.
The firm was able to add nearly 1.3 million new streaming subscribers in the third-quarter, beating its guidance and analyst forecasts compiled by Bloomberg.
How Netflix recognizes costs of original series is a point of uncertainty for shareholders, and had created a divergence between the company's reported profits and its cash flow at certain points of 2013.
While Netflix spends heavily up front to make its original series -- about $50 million a season -- very little of that money is expensed to the company's bottom line. Instead, Netflix treats its original programming as a capitalized asset that will be amortized over multiple quarters.
Because of the accounting, Netflix's earnings don't reflect the full cost of its spending, however its cash flow statement shows the full amount of the money going out the door for originals.
Given a lack of detail on how much Netflix had spent on original programming and how it would amortize content expense, there was some uncertainty heading into recent earnings on whether original programming could drag on profitability.
The company has warned profits and cash flow could diverge. "Our investments in content, including Originals, will continue to weigh on FCF relative to net income and thus our FCF trends," the company said in its second-quarter earnings report.
However, accelerated amortization doesn't appear to be harming Netflix's cash flow metrics or its expectations of profitability. That may give credence to analyst expectations that the company will become increasingly profitable as it scales costs among a growing user base.
No language on cash flow volatility was included in Netflix's Monday press release.
Netflix shares were rising over 10% in after-hours Monday trading on the firm's better than forecast earnings. Shares have gained over 250% year-to-date.
Reed Hastings appeared to notice the firm's rising stock price and indicated a momentum or bubble-driven volatility in the firm's shares.
"In calendar year 2003 we were the highest performing stock on Nasdaq. We had solid results compounded by momentum-investor-fueled euphoria. Some of the euphoria today feels like 2003," Hastings said.
-- Written by Antoine Gara in New York