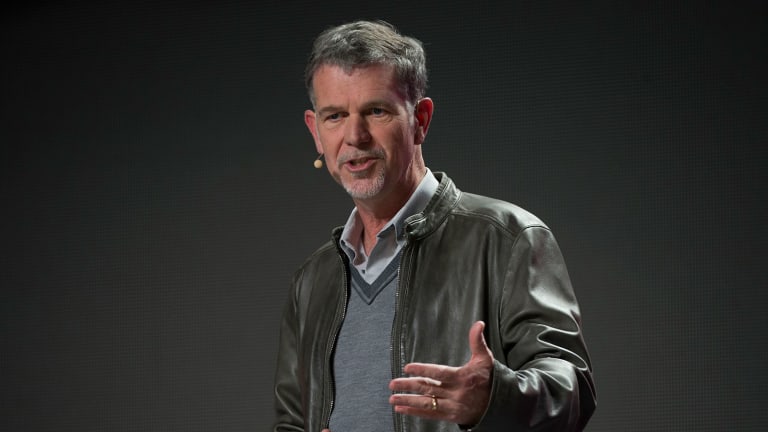 Netflix CEO Reed Hastings: Don't Look for Us to Reduce Spending on Content
The streaming giant chief also revealed what metric he'll be focusing on as competition from the likes of Disney and Apple heats up.
Contrary to some expectations, Netflix (NFLX) - Get Report chief Reed Hastings said Wednesday afternoon that the streaming giant is planning on spending more, not less, money on content in the future as it attempts to capitalize on the massive global opportunity presented by the decline of linear TV.
"We plan on taking spend up quite a bit," Hastings said at the New York Times' Dealbook conference. "We've been strong on series, now we're getting really strong on movies. A big thrust for us, a little bit this year with Klaus, is animated. Next year, we'll be getting a really strong animation slate so we're investing heavily there."
Netflix's spending of billions a year, some of it fueled by debt, on content has concerned some analysts, especially as the company's subscriber growth rates show some signs of slowing down.
But Hastings added that in terms of producing content, "we've got a long way to go, especially on a global basis," noting that Americans only make up 5% of the world's population.
On the question of growing competition from the likes of Apple (AAPL) - Get Report and Disney (DIS) - Get Report , Hastings said, as he has before, that there's room for multiple players in the streaming space as linear TV undergoes a long-term decline. But he said the true measure of success will be in the share of users' time that each platform is able to secure.
"People will subscribe to a couple services, they way they subscribe to a couple news services," Hastings said. "The tricky thing in this streaming war is that Apple and Disney aren't going to break out their revenues. You'll hear some subscriber numbers, but you can just bundle things in so that's not going to be real relevant. So the real measurement will be time - how do consumers vote w/ their evenings."
Hastings noted that in the first quarter of next year, Nielsen and other tracking companies will start to show breakouts of time spent on various services.
Hastings was extremely complimentary of Disney, saying he would subscribe to Disney+ and predicting that they would produce some great shows.
"They're a wonderful competitor because they really understand creativity," Hastings said. "We learn from them, we observe them -- we admire the heck out of them"
Of Apple, however, Hastings diplomatically said less.
"There's a bunch of tech companies in entertainment, but i think Disney is the one we really have the most to learn from, in terms of entertainment," Hastings said.
Apple and Disney are holdings in Jim Cramer'sAction Alerts PLUS Charitable Trust Portfolio. Want to be alerted before Cramer buys or sells these stocks? Learn more now.